George Soros: The billionaire investor who became the favourite target of conspiracy theories and antisemitic hatred
Some attacks contain overtones of antisemitism while others target the billionaire who 'broke the Bank of England' for being a 'globalist' financier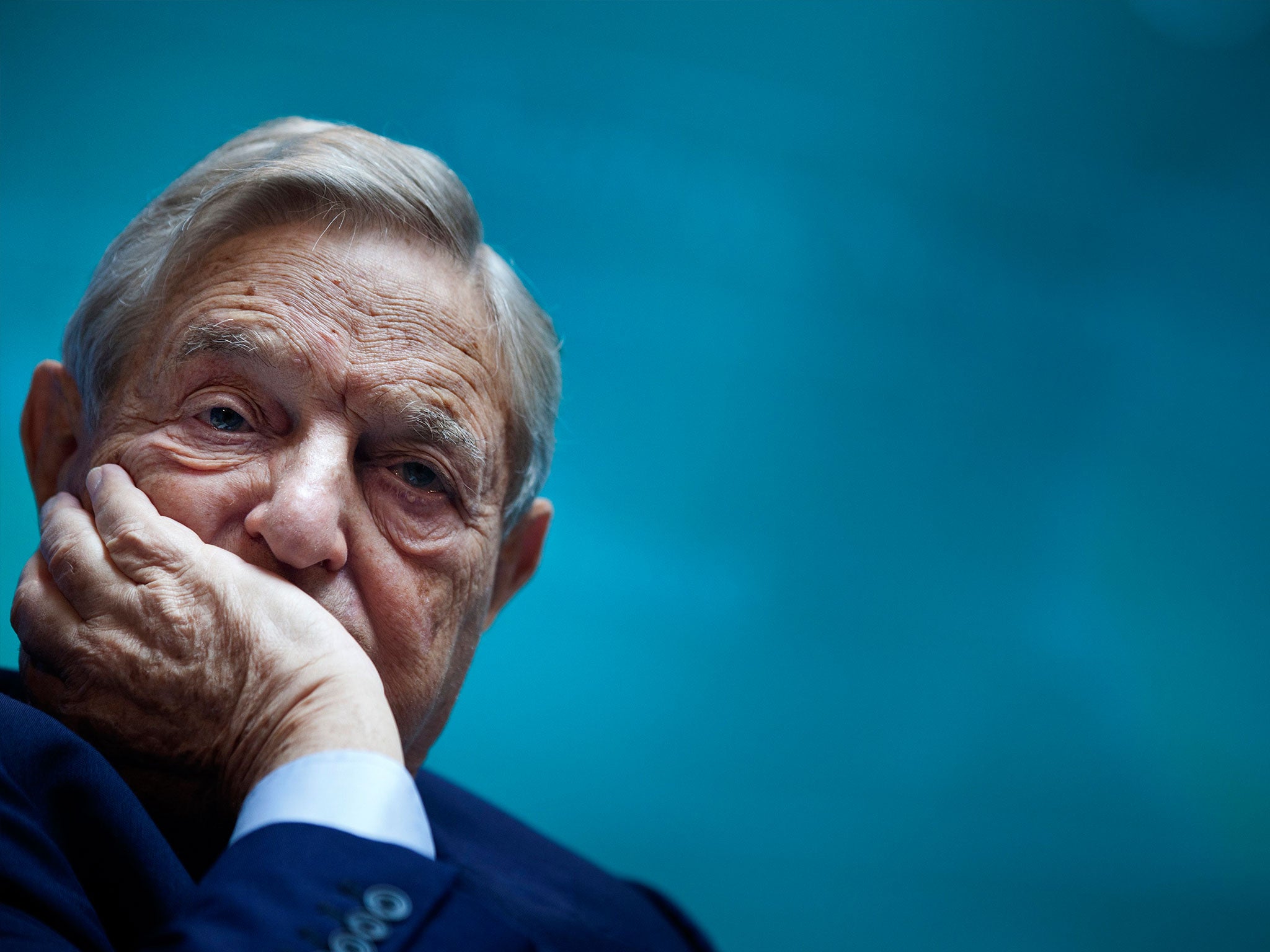 It was a headline to have every right-thinking, Brexit-backing reader spluttering over their breakfast: "Man who 'broke the Bank of England' backing secret plot to thwart Brexit".
Not only was the "billionaire financier" George Soros backing a campaign to overturn Brexit, he was also seeking to undermine the democratically-elected Prime Minister of Great Britain, Theresa May.
Mr Soros had entertained six Tory donors, hoping to win them over to the cause of the pro-Remain Best for Britain campaign.
Co-authored by ex-Downing Street chief of staff turned columnist Nick Timothy, the Daily Telegraph story also revealed that Mr Soros had donated £400,000 to Best for Britain.
And all this was being done by a fabulously wealthy financier who, as the Telegraph put it, "has been accused of organising rallies against Donald Trump in the US and interfering in the democracies of several European nations".
An accompanying profile described the Hungarian-born, US-based billionaire as "a rich gambler who is accused of meddling in nations' affairs".
Mr Soros, Telegraph readers learned, wasn't just the man who made $1bn when "his bets against the pound forced the UK to withdraw from the European Exchange Rate Mechanism" on what became known as Black Wednesday in 1992.
Via his Open Society Foundations (OSF), which he has turned into the world's second largest philanthropic fund, Mr Soros, said the Telegraph, had been accused of undue interference "by many governments around the world".
All broadly accurate stuff from a newspaper group which, it has to be said, is not antisemitic.
The trouble, however, is that although the Telegraph didn't mention it, 87-year-old Mr Soros is a Jew.
He is, moreover, a wealthy Jewish financier who has been accused of everything from profiting from a British recession, to "fuelling the Asian financial crisis of 1997", to "trying to destroy Hong Kong's economy" and breaking the Bank of Thailand, "with all the viciousness of a hammerhead shark".
And so people like Stephen Pollard, the editor of the Jewish Chronicle, were worried.
He knew the Telegraph isn't antisemitic, and accepted that the words "secret plot" were almost certainly used in an innocent attempt to talk up the story, but, he said, "Language matters so much and this is EXACTLY the language being used by antisemites here and abroad.
"The idea it's a secret plot is exactly the line being used in Hungary and elsewhere precisely because he [Soros] is Jewish."
The uncomfortable truth is that in Mr Soros, who never lost his east European accent, a malevolent few see what the Jerusalem Post once called, "the shadow of the court Jew, the wandering Jew and the medieval money lender who for centuries fed antisemitism's sick imagination."
His philanthropic organisation, to which he has donated more than $32bn of his own money, may have the stated aim of helping to "build vibrant and tolerant democracies whose governments are accountable and open to the participation of all people".
But for antisemitic conspiracy theorists, this just makes Mr Soros look even more like the kind of bogeyman that Hitler created, and referred to in speeches like the one he gave to the Reichstag in January 1939: "If the international Jewish financiers in and outside Europe should succeed once more in plunging the nations into a world war, then the result will… [be] the annihilation of the Jewish race in Europe."
Nor, it should be said, is it just antisemites who see Mr Soros as a key player in a massive global conspiracy.
By virtue of being an international financier with a $25bn (£18bn) fortune, Mr Soros is also demonised as a "globalist", a "master criminal" or a "globalist criminal mastermind".
Right-wing supporters of Israel hate him too, because of his foundation's backing for critics of Israeli government policy.
Hence the bizarre spectacle, last October, of the chairman of the board of the Israeli American Council tweeting an image of Soros' head superimposed on an octopus in the act of devouring the globe.
"Soros gives $18bn to his Open Society Fdn," wrote Adam Milstein, "$$ used for civil unrest, dividing Americans and suppressing free speech".
He deleted the tweet after it was pointed out that the picture of Soros as all-consuming octopus was similar to the images of all-consuming Jews used in antisemitic cartoons of old.
Needless to say, America's antisemitic right-wing is convinced that Mr Soros is behind almost every conspiracy going.
According to some, Mr Soros was one of the three "criminal masterminds" who were really behind the Las Vegas shootings.
The other two were a powerful "Harvard-educated son of a rabbi" and a billionaire supporter of Israel. And they were all making a fortune because the shooting sent the share prices of companies selling security equipment into orbit.
But much of America's far-right, regardless of its feelings for Jews, also hates the "globalist" Soros for his free market and liberal views.
They hated him even before he called Donald Trump's administration "a danger to the world", at Davos, that supposedly arch-conspiratorial gathering of the global elite, that this year was also attended by the US President.
Breitbart has drawn its readers' attention to Mr Soros' supposed "history of destabilising governments for personal financial gain, [and] funding left-wing campaigns".
And here a certain symbiosis seems to have occurred between Breitbart, with its links to former Trump adviser Steve Bannon, and a new wave of right-wing governments in Eastern Europe that haven't taken kindly to being criticised by Mr Soros or local organisations funded by his foundation.
In March 2017 Cvetlin Cilimanov, the co-founder of Macedonia's "Operation Stop Soros" group told Reuters: "Our inspiration comes from the United States, from the American conservative organisations, media and congressmen with the same views, especially the new administration of President Trump."
Operation Stop Soros was started in January 2017. In the same month the Macedonian nationalist Nikola Gruevski, who had to resign in 2016 after a decade in power, told a local magazine: "Soros turns Macedonian NGOs into a modern army.
"They crush you. They make you a criminal, a thief, traitor, idiot, a monster, whatever they want. Then you have to go to elections."
Mr Soros has also been attacked by members of Poland's ruling Law and Justice party, and in Romania the Social Democrat party leader Liviu Dragnea has told a TV interviewer, (two years after resigning from the cabinet following a conviction in a case involving alleged electoral fraud): "The foundations and structures that he [Soros] has funded since 1990 have financed evil in Romania".
But it is in Hungary that the demonisation of Mr Soros has become most intense.
Here large billboards, part of a political campaign by Prime Minister Viktor Orban, can be seen with the words "Stop Soros", or featuring a picture of the billionaire grinning and the slogan "Let's not let Soros have the last laugh."
"Anywhere you go," wrote one Twitter user, "You can't escape these posters. Politics of hatred, fears, brainwashing. Like in the 1930s."
The Human Rights Watch campaigner Lydia Gall told Reuters that the poster of a laughing Mr Soros, "evokes memories of the Nazi posters during the Second World War showing 'the laughing Jew'."
In July last year Andras Heisler, president of the Federation of Hungarian Jewish Communities, noted the antisemitic graffiti with words like "stinking Jew" scrawled over some of the billboards and publicly called for the poster campaign to stop.
"The billboard campaign, while not openly antisemitic, can still very much unleash uncontrolled antisemitic and other feelings," he said. "This poisonous message hurts all of Hungary."
So far, though, Mr Orban has shown no signs of relenting in his pursuit of Mr Soros, who for his part, has shown no signs of being cowed into silence.
Mr Orban has been quoted as boasting about creating an "illiberal democracy" in Hungary. Mr Soros has publicly stated: "I am full of admiration for the courageous way the Hungarian people have resisted the deception and corruption of the mafia state the Orban regime has established."
Opposition to immigration has been the core of r Orban's political message since 2015, when more than a million migrants and refugees entered the EU through the Balkans.
True to the stated aims of his foundation, Mr Soros has supported Hungarian charities that help asylum seekers.
The OSF has also put out a statement saying: "The Hungarian crisis demonstrates the dangers radical populist regimes pose not only to the hundreds of thousands of refugees, but also to the values of Europe and to the humanity of the local populations."
Mr Orban and his government have taken to talking about "the Soros plan", as if it was the billionaire who somehow, behind the scenes of course, made the EU come up with the idea of countries taking a certain quota of migrants.
Szilard Nemeth, the deputy leader of Orban's ruling Fidesz party, has been quoted as saying: "Fake NGOs of the Soros empire are sustained to suppress national governments in favour of global capital and the world of political correctness.
"These organisations must be repressed by all means and I think they must be culled altogether."
The anti-Soros billboards all carry anti-immigration messages.
To what extent the billionaire Holocaust survivor despairs of it all, however, is not known.
And on Thursday, some were suggesting he should take a certain amount of pride in it.
Lord Adonis, one of those "unelected Remoaner peers" we hear so much about, and himself no stranger to being labelled a saboteur of Brexit, was full of admiration.
"George Soros," he wrote, "has all the right enemies – Trump, assorted East European autocrats, now Farage, Rees-Mogg and the Daily Telegraph.
"All he needs now is a Mail expose and he merits a knighthood!"
A spokesman for the Telegraph said: "The Telegraph has a proud history of fighting antisemitism and any suggestion that our story about George Soros was in any way antisemitic is offensive and unfounded."