George Osborne's botched Budget sends Conservative ratings to a new low
The Independent's 'poll of polls' gives Labour its biggest lead since February last year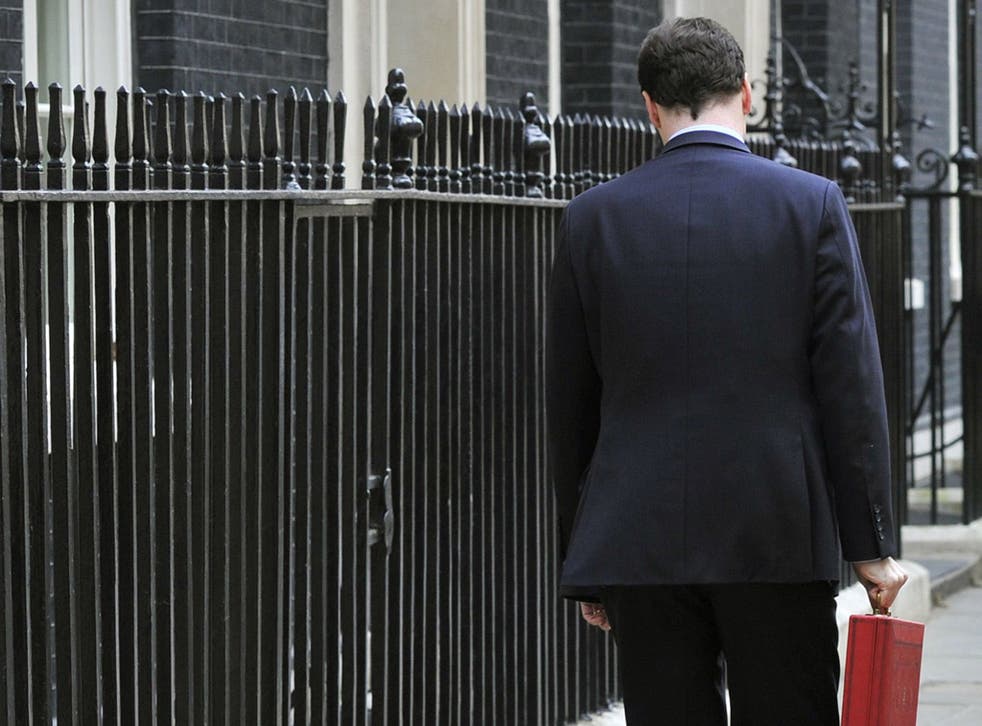 The Conservative Party has been hit by a backlash from voters after last month's Budget and is less popular now than at any point since taking office, according to the latest "poll of polls" for The Independent.
It puts the Tories' level of support at its lowest since the 2010 election, while Labour's six-point lead is higher that at any time since February last year.
George Osborne appears to have sparked a decline in Tory fortunes by combining a cut in the 50p top rate of tax with a so-called "granny tax" for pensioners. Senior Tory MPs have protested to David Cameron that the two measures, while justified, should not have been announced in the same package. "The communications around the Budget were dreadful," one said.
The Conservatives may also have angered the public by sparking panic buying at the petrol pumps ahead of threatened strikes by tanker drivers.
"March was very much a month of two halves," said John Curtice, professor of politics at Strathclyde University, who compiles the monthly weighted average of surveys conducted by ComRes, ICM, YouGov and Populus. In their polls before the Budget, Labour averaged 39 per cent and the Tories 37 per cent, but in their most recent surveys, Labour is up to 40 per cent, the Tories down to 34 per cent and the Lib Dems unchanged on 11 per cent.
Overall figures for March show Labour on 40 per cent, the Tories on 36 per cent and the Lib Dems on 11 per cent, enough to give Labour an overall majority of 16 in a general election fought on the proposed new constituency boundaries. Prof Curtice said: "Perhaps most disturbingly for the Tories, there are signs that their and the Government's reputation for competence have taken a knock."
There are signs of a decline in Mr Cameron's personal ratings; in the number of people who believe the Coalition Government is handling the economy well; those who have confidence in Mr Cameron and Mr Osborne and who think the Tories are capable and competent. However, there is little evidence of any advance in Labour's reputation. Ed Miliband is still less highly regarded than Mr Cameron and his standing is only marginally better than a month ago. Voters still think that the Tories can handle the economy better than Labour would.
"Labour's own reputation for general competence continues to lag behind the Tories' – and, in fact, also fell away at the end of the month, perhaps because of the adverse publicity generated by the Bradford West by-election result," said Prof Curtice. There is one positive sign for Mr Miliband: although fewer people blame the Coalition than Labour for the need to make public spending cuts, the proportion blaming the Coalition has crept up to a new record high of 28 per cent. The proportion blaming Labour slipped to a record low of 35 per cent, so the gap is closing.
Prof Curtice concluded: "The end of March witnessed an unwelcome political gale for the Conservatives. For the first time since the formation of the Coalition their competence and ability (as opposed to that of their Lib Dem partners) seems to have been called into question in the minds of the electorate. But perhaps their biggest reason for optimism is that Labour's poll lead still seems to be founded far more on discontent with the Government than any enthusiasm for the party as a potential alternative."
Yesterday Mr Miliband admitted that the Government's failure to bring about change had not translated into a boost for Labour. Insisting that his party was embarking on "real, deep, genuine change" to reconnect with disenchanted voters, he said: "People turning away from an unpopular government doesn't automatically mean they turn to Labour.... It certainly didn't turn out that way in Bradford West two weeks ago. The uncomfortable truth for Labour is that people turned to a protest party rather than to us."
Last night, the Labour leader made an unannounced visit to Bradford to keep his promise to learn from his party's surprise by-election defeat by George Galloway, leader of the Respect Party. "The fourth party who says 'a plague on all your houses' is an issue we've got to confront," said Mr Miliband.
Join our new commenting forum
Join thought-provoking conversations, follow other Independent readers and see their replies