George Osborne's Evening Standard role 'could lead to change in rules on MPs' second jobs'
Lord Bew said: 'We have not ruled out MPs having second jobs, quite deliberately, up until now, but we now have to look again at our rules'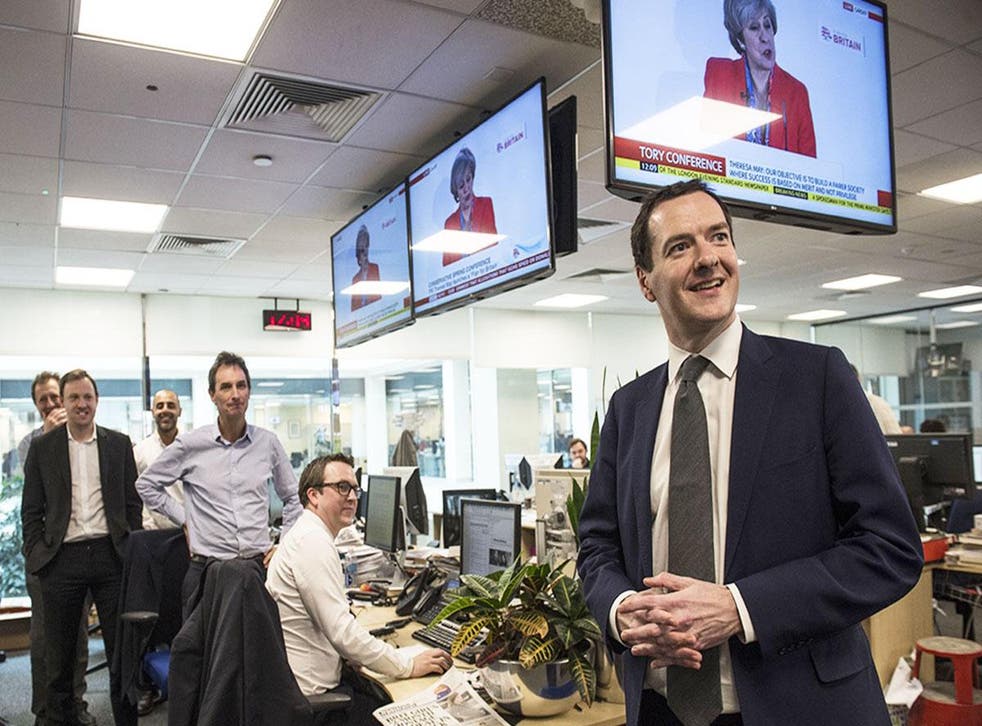 Rules on MPs taking second jobs will be reviewed after George Osborne's appointment as editor of the London Evening Standard, the chairman of the country's chief standards watchdog has said.
Lord Bew, the chief of the Committee of Standards in Public Life, made the comments after the former Chancellor said he would continue to serve his constituents in Tatton as an MP while editing the daily newspaper for Londoners.
Speaking to the Sunday Times, Lord Bew said: "We have not ruled out MPs having second jobs, quite deliberately, up until now, but we now have to look again at our rules.
"We are going to discuss whether our rules on second jobs need to be changed in light of this. We had something that up to a degree worked. It now seems to be getting into rockier waters."
Lord Bew told the paper the editor role did not fit the current policy on second jobs, but stressed that the issue was "not personal" to Mr Osborne. However, he said his case raised the "issue of how much time MPs have to devote to their parliamentary work".
SNP MP Tommy Sheppard, who sits on the Committee on Standards, added to the Sunday Telegraph there was "broad agreement" that an additional job "must be something that demonstrably doesn't prevent you doing your first job as an MP".
He said: "You cannot edit the Evening Standard and represent your constituents in any meaningful sense. How many votes would you miss in the Commons, for example? It beggars belief."
The comments came as more than 140,000 people signed a petition urging Mr Osborne to 'pick a job'.
"When it comes to standing up for constituents – helping someone in need or providing vital support to struggling families – that should always be George Osborne's number one priority," said text posted on the 38 Degrees website.
However, Tony Blair appeared to back the editorship of Mr Osborne, who will succeed Sarah Sands and take up his role in early May. Speaking on the BBC's Andrew Marr Show, the former Prime Minister said: "I think it's a great thing for the Evening Standard. Why not? He's a highly capable guy and it should make politics more interesting."
He refused to be drawn on whether Mr Osborne would be able to cope with the demanding schedule.
Tony Blair endorses George Osborne's appointment as Evening Standard's editor
Despite this, the Scottish Conservative leader Ruth Davidson voiced doubts over his appointment at the London Evening Standard and his ability to do the job. "I have to say, I thought, 'he's a better man than me'," she said.
"I spent 10 years as a journalist and I've spent six years as a politician and I'm not sure I could combine the both. I work a pretty busy week as it and this week in particular. So I'm not sure you could do both at the same time, if I'm honest."
On Saturday the proprietor of the Evening Standard and The Independent, Evgeny Lebedev, defended Mr Osborne's appointment in the face of intense criticism.
Mr Lebedev, who has owned the free daily newspaper for eight years, said critics should "wait to see a paper before judging" adding that the former Chancellor would provide a "more effective opposition to the Government than the current Labour party".
He added: "Sad old commentariat. Wait and see his paper before judging. Tories saying he will criticise the Government now. Labour say he is a Tory stooge. So, which is it?!
"Frankly George Osborne will provide more effective opposition to the Government than the current Labour Party. And will stand up for the interests of London and Londoners."
Register for free to continue reading
Registration is a free and easy way to support our truly independent journalism
By registering, you will also enjoy limited access to Premium articles, exclusive newsletters, commenting, and virtual events with our leading journalists
Already have an account? sign in
Register for free to continue reading
Registration is a free and easy way to support our truly independent journalism
By registering, you will also enjoy limited access to Premium articles, exclusive newsletters, commenting, and virtual events with our leading journalists
Already have an account? sign in
Join our new commenting forum
Join thought-provoking conversations, follow other Independent readers and see their replies