Hard Brexit will make Britain 'permanently poorer', George Osborne warns
Former Chancellor also hints he still hopes to be Conservative leader one day
Rob Merrick
Deputy Political Editor
Friday 23 September 2016 13:27 Comments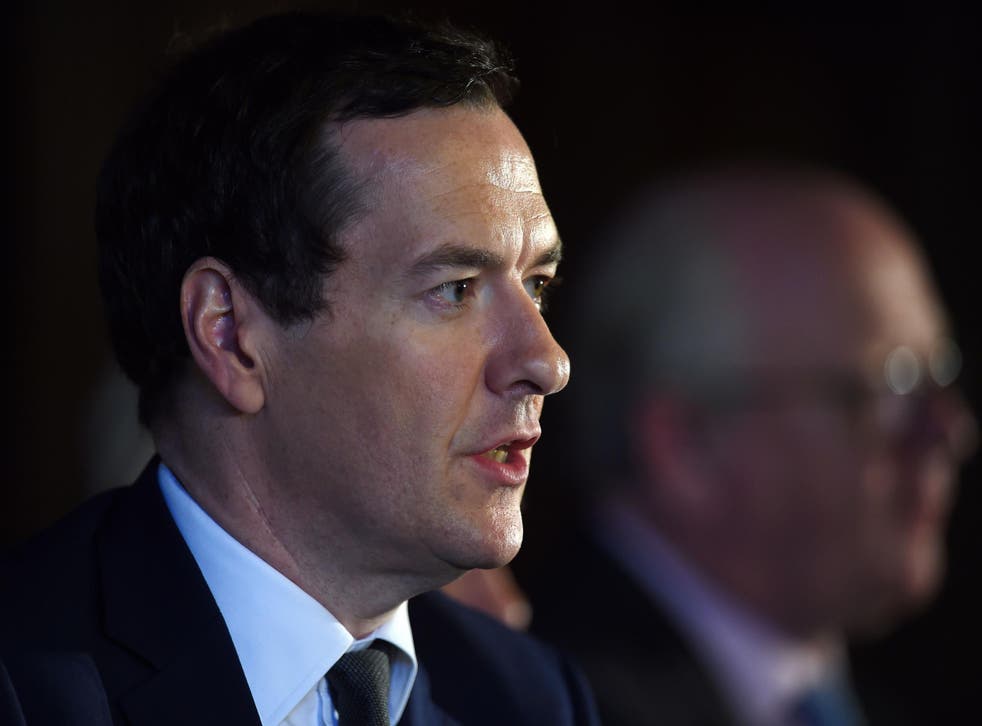 George Osborne today urged Theresa May not to pursue a "hard Brexit", arguing the public did not vote for a future that makes the country "permanently poorer".
In a shot across the Prime Minister's bows, the former Chancellor warned of the dangers of putting up economic barriers in Brexit talks – with the heaviest price to be paid by "precisely those who already feel the most marginalised".
Mr Osborne – sacked by Mrs May in July – also branded Leave campaigners who believe other EU countries will easily agree to a favourable Brexit deal for Britain as "naive".
Intriguingly, the warning – in a speech delivered in Chicago – came as Mr Osborne, in a separate interview, made clear he still wanted to be Conservative leader one day.
Twisting a phrase used by Boris Johnson, when asked about his leadership ambitions, he told the Financial Times: "If the ball came loose at the back of the scrum, I wouldn't fumble it."
Mr Osborne also made clear he intended to put himself at the head of the campaign for what is known as a "soft Brexit" – maintaining the closest possible economic links with the EU.
That is likely to put him on a collision course with the Prime Minister, who has made clear that cutting immigration – rather than membership of the single market – will be her priority in the Brexit talks.
Speaking in Chicago, Mr Osborne pointed to evidence that only 6 per cent of Leave voters backed Brexit because they believed it would make the country better off.
He said: "Precious few Leave voters thought the country would be more prosperous outside the EU.
"This was not a popular mandate for less free trade or for a more closed economy. We should bear that in mind as we approach the decisions that lie ahead."
The 6 most important issues Theresa May needs to address

Show all 6
Pointedly, Mr Osborne then added: "Brexit won a majority. Hard Brexit did not."
The former Chancellor said Britain faced its most important decisions since the Second World War, adding: "Get them wrong – consign Britain to a relationship with our neighbours that makes us permanently poorer and more insecure – and the people most likely to pay the price will be precisely those who already feel the most marginalised."
And he turned his fire on Brexit ultras, saying: "I find some of the take-or-leave-it bravado we hear from those who assume Europe has no option but to give us everything we want more than a little naive.
"We need to be realistic that this is a two-way relationship: that Britain cannot expect to maintain all the benefits that came from EU membership without incurring any of the costs or the obligations."
Mr Osborne backed Mrs May over her cautious Brexit timetable, agreeing she was right to take her time and reject calls "to trigger Article 50 this autumn".
But he also warned it is "highly unlikely" that France and Germany – facing important elections next year – would conduct "serious negotiations until the autumn of next year".
He said: "Nothing serious happens until the French and, especially, the German governments take a view – and both countries will be preoccupied with their own domestic elections."
If that is the case, then EU demands for Britain to compete its exit by the middle of 2019 will be in jeopardy – given the two-year timetable for the Article 50 process.
In his interview, Mr Osborne made clear he would be taking a backseat, saying: "I am not going anywhere – I want to see what happens next."
Register for free to continue reading
Registration is a free and easy way to support our truly independent journalism
By registering, you will also enjoy limited access to Premium articles, exclusive newsletters, commenting, and virtual events with our leading journalists
Already have an account? sign in
Join our new commenting forum
Join thought-provoking conversations, follow other Independent readers and see their replies