George Osborne wants two-year freeze in state benefits
Lib Dems face veto decision as Treasury says welfare payments rising faster than wages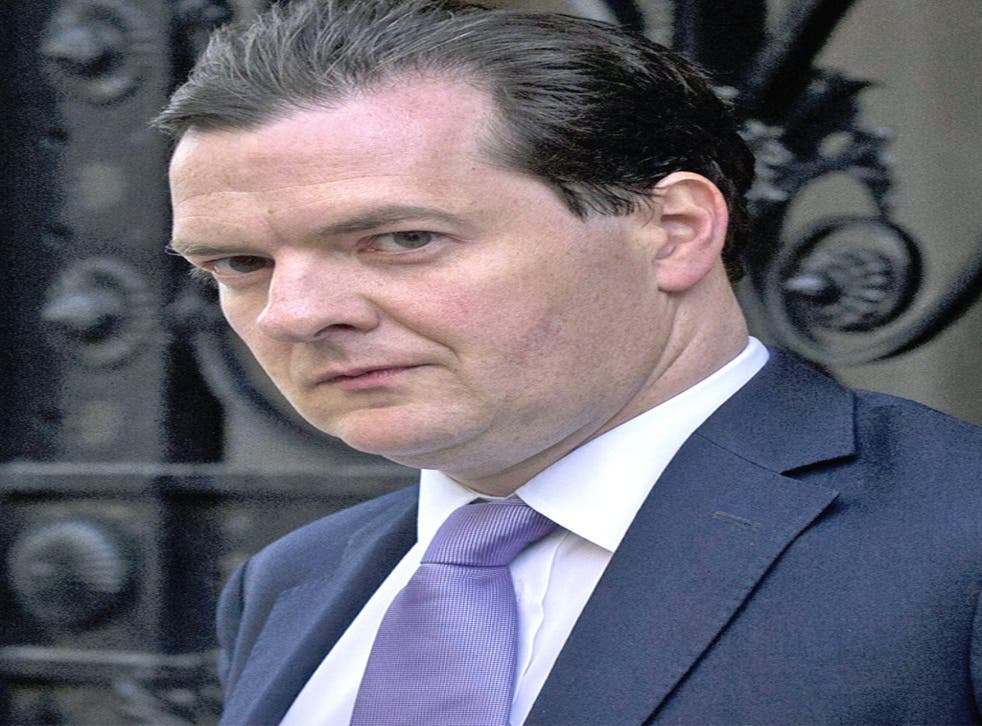 George Osborne is pressing for state benefits to be frozen for two years as he struggles to find a further £10bn of cuts in the welfare budget.
The move provoked controversy yesterday amid warnings that such a policy would harm the most vulnerable. The Treasury argues that benefits, which increased by 5.2 per cent in April in line with inflation, have been rising faster than wages, reducing the incentive for the jobless to find work.
Although Nick Clegg blocked a similar move by the Chancellor a year ago, there are signs that the Liberal Democrats might not repeat their veto this year – provided the proposed freeze was part of a wider package of measures they judged fair.
A negotiation between the two Coalition parties will take place before the Chancellor's Autumn Statement on 5 December, during which the Liberal Democrats will press for a wealth tax or mansion tax on homes worth more than £2m.
Whitehall insiders dismissed suggestions that benefits would be linked to earnings instead of inflation on a permanent basis. That could cost the Treasury more, since the independent Office for Budgetary Responsibility (OBR) predicts that earnings will start to rise faster than inflation from next year.
Any freeze would not cover the basic state pension and it is unlikely to include disability payments in the wake of the Paralympics. But officials estimate that freezing 90 per cent of benefits could save £7bn in one year. They say that, if benefits had been linked to average earnings rather than inflation since 2008-09, the Government would have saved £14bn.
Downing Street and senior Liberal Democrat sources refused to rule out a freeze on some benefits. No 10 said the decision on raising payments in line with inflation was made on an annual basis, usually in December, for the following year. "On some occasions thresholds are frozen or entitlements frozen," a spokesman said.
Gavin Kelly, chief executive of the Resolution Foundation think tank which specialises in the "squeezed middle", said: "Freezing working-age benefits would not only increase overall poverty; it would also increase poverty among those in work. The idea that linking benefits to earnings in a few years time will save money is very far-fetched. So any linking of benefits to earnings in the next parliament would amount to a significant increase in welfare spending compared to existing plans – and I doubt that is what the Treasury is planning".
Paul Jenkins, chief executive of the Rethink Mental Illness charity, urged the Government to "think again" before freezing benefits. He said: "This will come as yet another blow for many vulnerable people who are already struggling and who feel they are being unfairly targeted by cuts. People with serious mental illnesses are being attacked from all sides as cuts to social care, the NHS and benefits all begin to bite at once."
Dame Anne Begg, the Labour chairman of the Commons Work and Pensions Select Committee, said: "More than 50 per cent of benefits go to people in work but on the low pay end. So given the double whammy of lower wages and lower benefits they are going to be hurt badly."
Liam Byrne, the shadow Work and Pensions Secretary, said: "If David Cameron and George Osborne want to fill the big hole in public finances caused by the failure of their economic plan, they should start by looking at their tax cut for millionaires."
Taking the axe to welfare: Policy proposals unpicked
State benefits
Treasury regrets 5.2 per cent rise in benefits which took effect in April and wants to freeze them for next two years. Could happen but unlikely to cover disability benefits or basic state pension.
Basic state pension
Iain Duncan Smith, the Work and Pensions Secretary, plans a flat rate pension of £140 a week – more generous than the current basic £107.45 a week and average £124 a week including top-ups. But David Cameron is said to be getting cold feet about losing the "grey vote" since many existing pensioners could lose out.
Universal credit
Duncan Smith's idea to streamline system by merging working age benefits including jobseeker's allowance, housing benefit and tax credits. Treasury nervous about cost and whether government IT systems will cope. Duncan Smith insists scheme is "on track, on budget".
Child benefit
Already frozen for three years and restricted for families who have one taxpayer on the 40p rate from next January. George Osborne already forced into partial retreat; only people on more than £60,000 a year will lose child benefit entirely.
Join our new commenting forum
Join thought-provoking conversations, follow other Independent readers and see their replies