Google and Facebook among tech giants Theresa May will order to remove extremist content
PM will use a UN forum to claim progress in removing terror-related posts from social media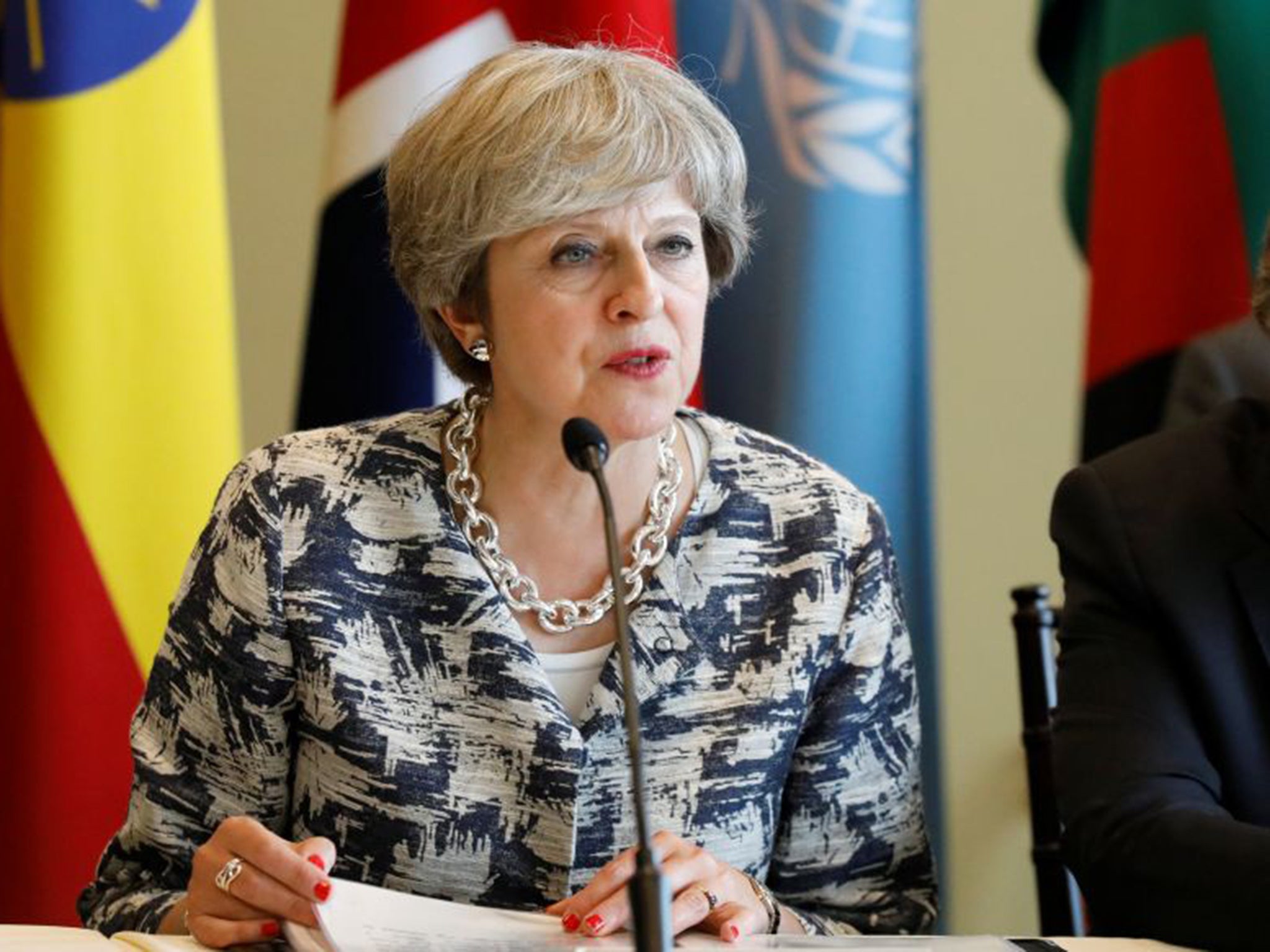 The world's biggest technology firms will be told to take down terrorist propaganda in as little as one hour, as Theresa May seeks to dramatically reduce the danger of it inspiring further atrocities.
The Prime Minister will also challenge them to develop technology to prevent "evil material" ever appearing on the web, as they are forced to defend their efforts in public for the first time.
Social media firms have faced growing criticism that they failing to act to prevent the spread of content blamed for provoking people to carry out terror attacks.
Now Ms May, together with the leaders of France and Italy, will use a UN forum to claim progress, while also piling pressure on the internet giants to go much further.
If they fail to show they are acting by a G7 meeting next month, the Government will consider the threat of fines – a step already taken by Germany, which passed a law in June.
Facebook, Microsoft, Google and Twitter are among the firms who will face their critics in New York, having agreed to set up a Global Internet Forum to Counter Terrorism.
At the heart of the plan is a target for terror propaganda to be taken down within one to two hours – the crucial period during which most of it is disseminated.
Currently, it takes an average of 36 hours for such material to be removed – a figure cut from 30 days one year ago – so one to two hours would be a dramatic reduction.
Theresa May: London terror attack shows Britain too tolerant of extremism
The firms will also be challenged to "develop new technological solutions to prevent such content being uploaded in the first place", as Ms May claims world leadership on the controversy at the United Nations.
A No 10 source told The Independent: "These companies have been doing something, but just not enough.
"They have some of the best brains in the world. They should really be focusing that on what matters, which is stopping the spread of terrorism and violence. We want them to break the echo chambers."
The Prime Minister is determined to act after being told that 68 per cent of terror propaganda posted online is being widely shared within two hours – up from half a year ago.
A staggering 27,000 internet links from the group Daesh, with information on how to make bombs, or attack pedestrians with vehicles, were detected in just five months.
Ms May will tell the event, on the fringe of the UN General Assembly that extremists are adapting to efforts to thwart them online – so the tech firms must do the same.
Terror attack at Parson's Green – in pictures
Show all 23
"Terrorist groups are aware that links to their propaganda are being removed more quickly, and are placing a greater emphasis on disseminating content at speed in order to stay ahead," she will say.
"We need a fundamental shift in the scale and nature of our response – both from industry and governments – if we are to match the evolving nature of terrorists' use of the internet.
"I call on others to join the UK, France, and Italy in pledging their support for this approach. This is a global problem that transcends national interests."
Nevertheless, Ms May will argue both internet companies are already bending to pressure, including from advertisers, including with the automatic identification of terrorist content.
Google and YouTube have announced they are increasing their use of technology to help automatically identify hate videos.
And Twitter suspended 300,000 accounts in the first six months of this year. Three quarters were removed before their first tweet.
Meanwhile, Facebook has vowed to explore the development of artificial intelligence, to automate the identification of terrorist material.
French President Emmanuel Macron and Paolo Gentiloni, the Italian prime minister, will also speak at the forum.
Later, the Prime Minister will expand on her determination to defeat extremist ideology, in her address to the other world leaders at the General Assembly.
She will set out how British people remained resolute after this year's terror attacks in London and Manchester, but say "defiance alone is not enough".
"As Prime Minister, I have visited too many hospitals and seen too many innocent people murdered in my country," she will say.
"When I think of the hundreds of thousands of victims of terrorism in countries across the world, I think of their friends, their families, their communities, devastated by this evil. And I say enough is enough."
The world must "step up our efforts as never before to tackle the terrorists' use of the internet," the Prime Minister will add.