Government accused of suppressing the damning report that suggests its flagship welfare reforms are forcing ever more people to resort to food banks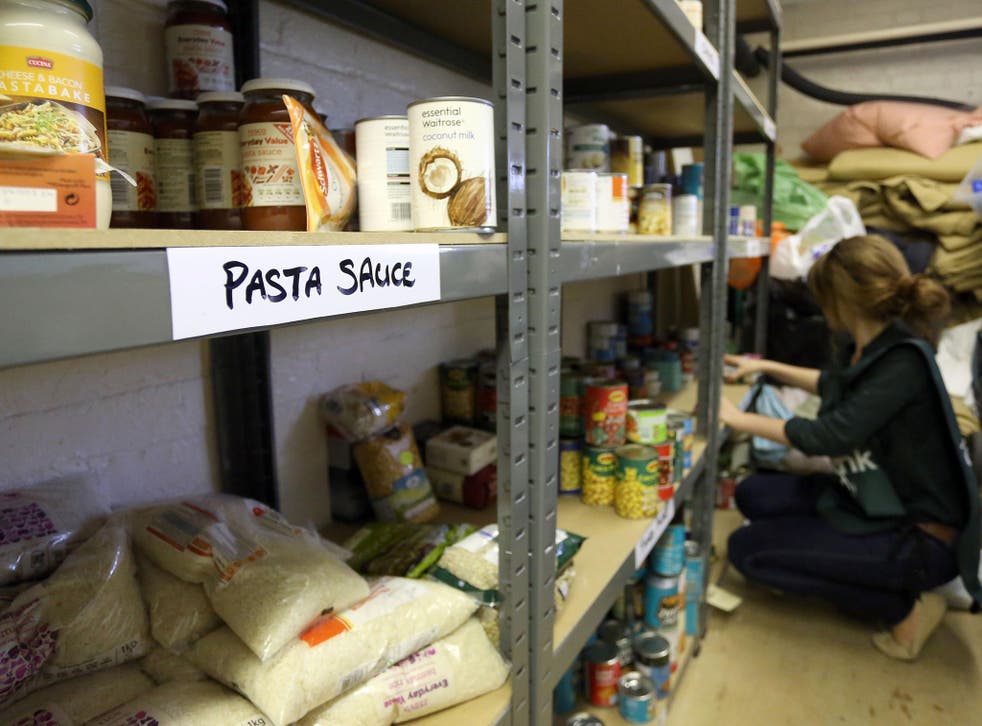 The author of a Government-commissioned report into food banks has told the Independent that welfare reforms since she conducted the research are forcing many more people to resort to emergency food handouts.
The Government is accused of suppressing a piece of research into food poverty in Britain for more than seven months. It was finally published by the Department for Environment and Rural Affairs today morning amid suggestions that it had been "slipped out" while the floods were still in the news.
It concluded that there was "growing demand" for emergency food because of increased need. This directly contradicts the position of Work and Pensions minister Lord Freud, who claimed last summer that the expansion of charities such as The Trussell Trust had driven the demand.
The research was conducted in early 2013, before a raft of welfare reforms were introduced in April. Professor Elizabeth Dowler, a sociologist from Warwick University who led the research, said: "For many people the situation is definitely harder than when we wrote this report. What is different now is many are needing help who didn't need it in the past and people are saying the safety net has gone.
"A lot of things have changed in the last year. We've had the devolution of the emergency fund system and we've had the so-called bedroom tax, which has put a lot of families into rent arrears. The evidence is that there are more and more sanctions being applied [to benefit claimants] and it's hard to see how that could not have a negative effect on households struggling with food security."
Despite being peer reviewed and apparently signed off by a steering committee in June, the report was not put into the public domain until yesterday. Its publication was delayed for more than seven months after officials from the Department for Work and Pensions and DEFRA put it under intense scrutiny.
A source close to the project said: "My sense is that the political advisers got hold of it. We had to be very careful about anything we wrote to do with benefits and social security."
The heavy Government scrutiny was alluded to in the report itself, which said it was "steered closely" by a group with included DEFRA, DWP and the Department of Health.
The report's authors were given less than 24 hours' notice that the research was going to be published yesterday after all this time. Academics told it was finally going online speculated amongst themselves that it was probably being "slipped out" while attention on DEFRA was focused on floods. However, a spokeswoman for DEFRA said this was "categorically not the case".
Professor Dowling said of the delays: "Instead of taking so long to publish this report it seems to me the Government should have got it into the public domain and addressed the problem."
In her official statement published yesterday, she said: "We are delighted our report has been published. We urge the Government to learn from it and from those living in harsh circumstances, and to find creative, fair ways to enable all in this rich country to have enough money to be able to eat healthily. This work is urgent."
The final report was heavily caveated and avoided making its own pronouncement on the causes of the rise in food aid use, instead summarising the views of national charities and NGOs, and local-level research. Citing these groups, it said crises such as the loss of a job or problems with social security benefits would prompt people to seek emergency help with food.
Maria Eagle MP, Shadow Environment Secretary, said: "It is now clear why David Cameron has fought so hard over many months to keep this report hidden, because it rubbishes the claim that the increase in food banks is driving demand. Instead of hiding behind a myth that is insulting to all those parents who have skipped meals to ensure their children do not go hungry, it is time Ministers took this issue seriously."
Steve Turner, the assistant general secretary of Unite, said of the research: "This is a Whitehall whitewash. Ministers and advisers have spent a year poring over it to remove the unpalatable truth that the government has created a national crisis, punishing people when they need help, presiding over a dramatic rise in food bank use while George Osborne squeezes living standards in a way unseen since the Victorian era."
The news follows a joint letter from 27 Anglican bishops published today, blaming David Cameron for creating a "national crisis" which has seen half a million people visit food banks since April last year.
A Government spokesperson said: "Charities such as food organisations have always provided a valued service to those in need in their communities, in addition to the safety net provided by governments, and we should welcome the help they provide.
"That is why this Government has given Jobcentre Plus advisers the ability to say to people who need help that they can go to a food bank. The literature review published today was commissioned as part of Defra's general work on food in the UK to see what information was available on the issue."
Join our new commenting forum
Join thought-provoking conversations, follow other Independent readers and see their replies