Majority of voters believe government's coronavirus contract awards to Tory friends are corrupt, poll finds
For those on the 'high priority' list, the chances of success when bidding for a contract were one in 10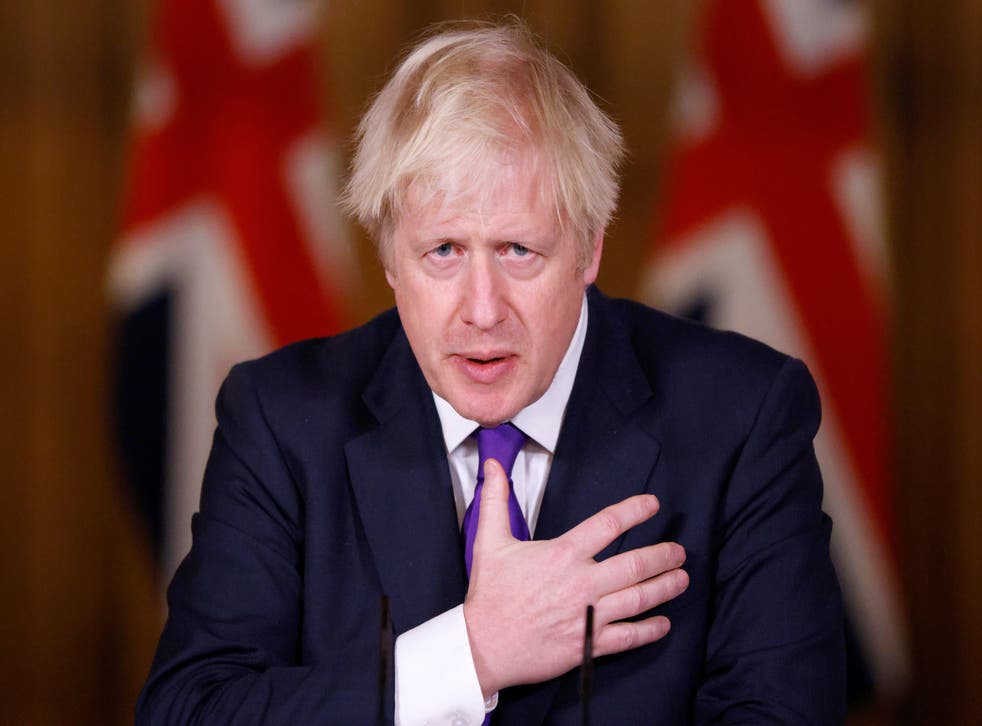 The government procurement process that saw friends of Tory politicians handed billions in contracts during the coronavirus pandemic amounts to corruption, a majority of the public believes.
A survey by pollsters Survation found that 59 per cent of voters think the government's "high priority" lane for friends and associates is corrupt, while just 16 per cent think it is not.
In November the National Audit Office revealed that Boris Johnson's government had set up the fast-track lane "to assess and process potential PPE leads from government officials, ministers' offices, MPs and lords".
For those on the list, the chances of success when bidding for a government contract were one in 10, compared to just one in a hundred for other suppliers.
Of 1,200 central government contracts – worth £16bn in total – handed out by the government during the pandemic, around £8bn ultimately went to companies run by friends and associates of Tory politicians, or to those with a history of controversy or no previous experience, a recent analysis by The New York Times found. 
Campaigners said the NAO report had given the impression that anyone with a "mate in the Conservative party" could get a government contract, under a process that "stinks of corruption".
Companies awarded pandemic-related contracts include Randox, which received £479m for Covid testing. The firm pays Conservative MP Owen Paterson £100,000 a year as a consultant.
Meanwhile, Dominic Cummings's father-in-law Sir Humphry Wakefield is an associate of the director of Admiral Public Relations, which received £670,000.
Health minister Edward Argar is a former senior executive at Serco, which is in charge of much of the contact-tracing system. The company's chief executive is Rupert Soames, brother of ex-Tory MP Sir Nicholas Soames.
Public First, whose directors previously worked for Mr Cummings and Michael Gove, was also paid £840,000 for "focus group research".
And the government awarded a £252m PPE contract to private equity firm Ayanda Capital. Andrew Mills, a senior board adviser to the firm, was formerly one of 12 advisers on Liz Truss's Board of Trade. There is no suggestion that any of the companies or people mentioned have done anything wrong.
Professor Robert Barrington, from the Centre for the Study of Corruption at the University of Sussex, told The Independent that the PPE procurement episode "suggests either corruption or incompetence", and that there are "more than enough red flags to merit a thorough and independent investigation".
"Irrespective of whether it was corruption, the government has a problem if people think it was corruption," he said. "A government that gets that tag finds it hard to shake off, and it sends out ripples to overseas investors and trading partners as well as the electorate."
He added that the government should "halt the emergency procedures and publish full details of all contracts to date" as well as launch an independent investigation with powers to sanction those found to have done anything wrong.
Those members of the public surveyed were told by the pollsters what the high-priority lane was, that companies on it were 10 times more likely to get a contract, and told the government's justification, that the "urgency of the situation required them to suspend normal procurement rules".
UK news in pictures

Show all 50
"The revelations of the National Audit Office's report earlier this year were absolutely shocking. They gave the impression that all you had to do to get a contract from the government was to have a mate in the Conservative Party," said Cat Hobbs, director of campaign group We Own It, which commissioned the polling.
"This mates rates, jobs for the boys approach from the government frankly stinks of corruption – and we now know that the public agree. They're fed up of being treated like mugs.
"To stop this ever happening again, we need to end the disaster of outsourcing throughout our health service, bring the NHS Supply Chain into public hands, and return to an approach to public health which puts people before the profit of private companies."
The Department of Health and Social Care said that the purpose of the high-priority channel was to efficiently prioritise credible offers of PPE.
A government spokesperson said: "We simply do not recognise the allegations made by We Own It. As the National Audit Office themselves noted the government 'secured unprecedented volumes of essential supplies necessary to protect frontline workers' during the pandemic.
"The government thanks both public and private sector workers who have worked together to deliver 5.9 billion items of PPE to the front line, launch the world's first Covid vaccination programme, and increase test capacity to over half a million a day."
Join our new commenting forum
Join thought-provoking conversations, follow other Independent readers and see their replies