Government shelves plans for minimum pricing on alcohol
After cigarette packaging climbdown, Home Office Minister Jeremy Browne says there is not enough 'concrete evidence' to implement minimum pricing - but bans prices lower than VAT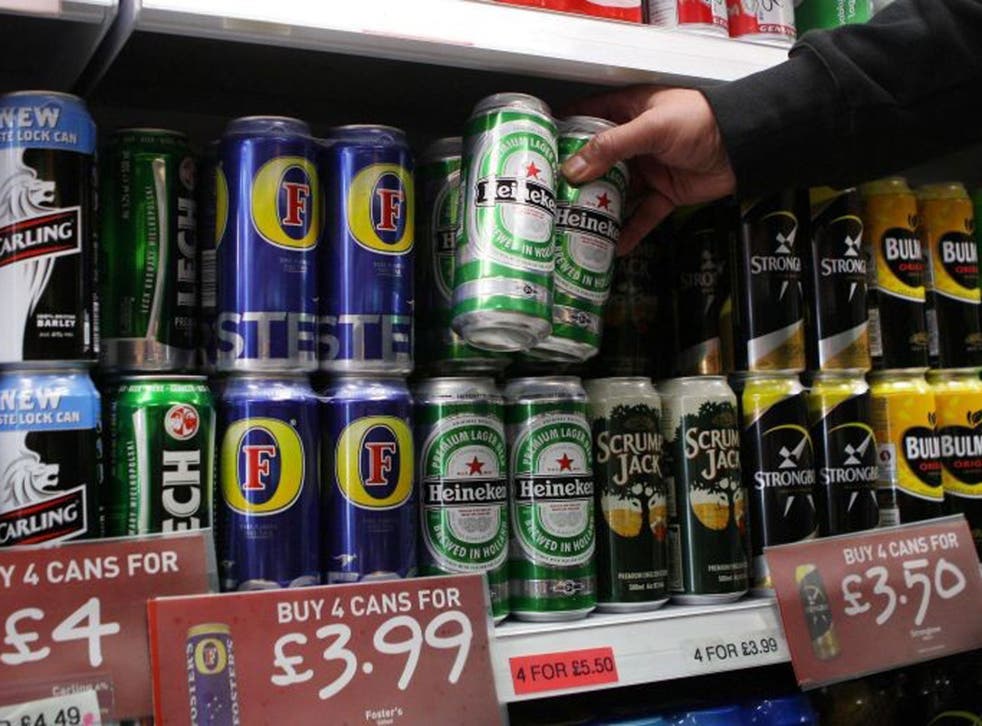 The Government has shelved plans for a minimum unit price for alcohol, but will ban the sale of alcoholic drinks priced below the level of duty and VAT.
A consultation document last year discussed a base price of 45p per unit in England and Wales, but Home Office Minister Jeremy Browne said there was not enough "concrete evidence" that the move would reduce the level of problem drinking without hitting people who drink responsibly.
Mr Browne also ruled out a ban on multi-buy promotions due to a "lack of convincing evidence" that it would have a significant effect on the volumes people consume.
The Prime Minister, who had previously been a vocal supporter of the measures insisted that banning drinks priced below the level of duty plus VAT was effectively a minimum price because selling below this price range will become illegal.
Mr Cameron said: "Supermarkets or shops deeply discounting alcohol will be made illegal. That, I think, will be a positive step forward."
He added that there were arguments with "a lot of merit" in favour of a minimum price but there were also problems. "There's a degree of legal uncertainty - it's been introduced in Scotland but it's still under legal challenge - and there's also question marks about the evidence behind it and how well it can work.
"So, when we have more evidence about how it can work and when we've got more certainty about the legal issues I think it's an idea that has merit, that I'll be happy to consider again."
He stressed that the decision had been made "by me as Prime Minister", as had the shelving of plans for cigarettes in plain packaging.
But the Government is now being accused of caving into lobbying from the alcohol industry by disappointed campaign groups.
Prof. Sir Ian Gilmore, Chairman of Alcohol Health Alliance UK said the alternative measures outlined in the announcement are "just a smokescreen to hide how Government has turned its back on public health".
In a statement to MPs Mr Browne said the ban on the "egregious" sale of alcohol for below the level of duty and VAT in England and Wales would mean a can of lager would cost at least 40p.
He said: "There has been much speculation about the Government's plans on minimum unit pricing. This will remain a policy under consideration, but will not be taken forward at this time.
"We do not yet have enough concrete evidence that its introduction would be effective in reducing harms associated with problem drinking ... without penalising people who drink responsibly."
The Minister added: "We will tackle the most egregious examples of cheap alcohol by banning sales of alcohol below the value of alcohol duty and VAT.
"This will come into effect in England and Wales no later than spring 2014 and will stop the worst instances of deep discounting which result in alcohol being sold cheaply and harmfully.
The decision not to ban deals such as "buy one get one free" was taken because "there remains a lack of convincing evidence that it would have a significant effect in reducing consumption".
Mr Browne said: "It would not be a reasonable course of action for us to introduce a ban, especially at a time when responsible families are trying hard to balance their household budgets."
Additional reporting by PA
Join our new commenting forum
Join thought-provoking conversations, follow other Independent readers and see their replies