Greens get new member every 10 seconds to surge past Ukip's membership numbers ahead of general election
Increase follows media coverage that they were on verge of passing Farage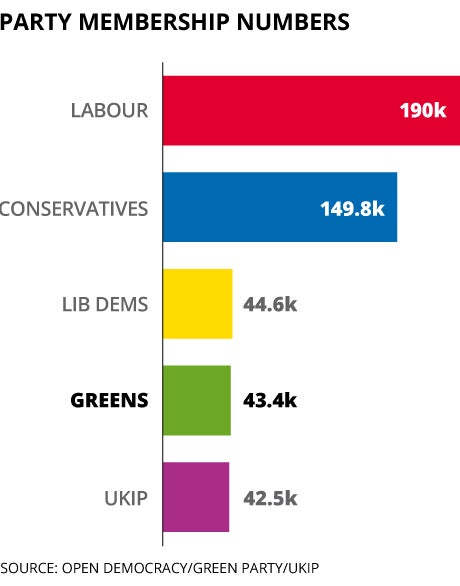 The Green parties have overtaken Ukip after a record-breaking surge in membership numbers.
The Greens – who are devolved into parties in England and Wales, Scotland and Northern Ireland – received a boost of around 2,000 new members yesterday after media coverage that they were on the verge of overtaking Nigel Farage's party.
The parties now have a total of 43,829 people signed up across the UK. Ukip has confirmed 41,966 members as of present. Meanwhile, the SNP currently has 93,000 members.
Natalie Bennett, the leader of the Greens in England and Wales told London Live today that "there was an hour yesterday when a new person was joining every 10 seconds."
Despite the surge in support, the Green Party has not been considered by Ofcom to be prominent enough to qualify for air time during slated TV debates ahead of the general election this May.
Policies: Where the Greens stand on the major issues
Show all 13
Ms Bennett said they were "deeply disappointed" by the decision while Brighton MP Caroline Lucas called it "grossly unfair". Ms Bennett wrote an open letter to the leaders of the three main parties asking them to lobby ITV channel for the inclusion of the Greens.
Conservative Prime Minister David Cameron has been accused by Labour leader Ed Miliband this week to have been "running scared" of participating in discussions during the run up to the general election on 7 May by using the exclusion of Bennett as an "excuse".
Mr Miliband said that the debates should still go ahead and that the production teams should "empty-chair" Mr Cameron if ends up being a no-show.
The leader of the opposition had said on BBC1's Andrew Marr Show: "He is running scared of these debates. I want these debates to happen, I think they should happen with David Cameron or without David Cameron."
The Greens have 35,481 members in England and Wales, 8,026 in the Scottish branch and 322 in the Northern Ireland division.
Join our commenting forum
Join thought-provoking conversations, follow other Independent readers and see their replies