Green Party accuses Conservatives of 'waging war' on young people
Raft of promises to woo younger voters and concerned parents made on tuition fees, rent control, internships and benefits
Rachel Roberts
Saturday 20 May 2017 21:00 Comments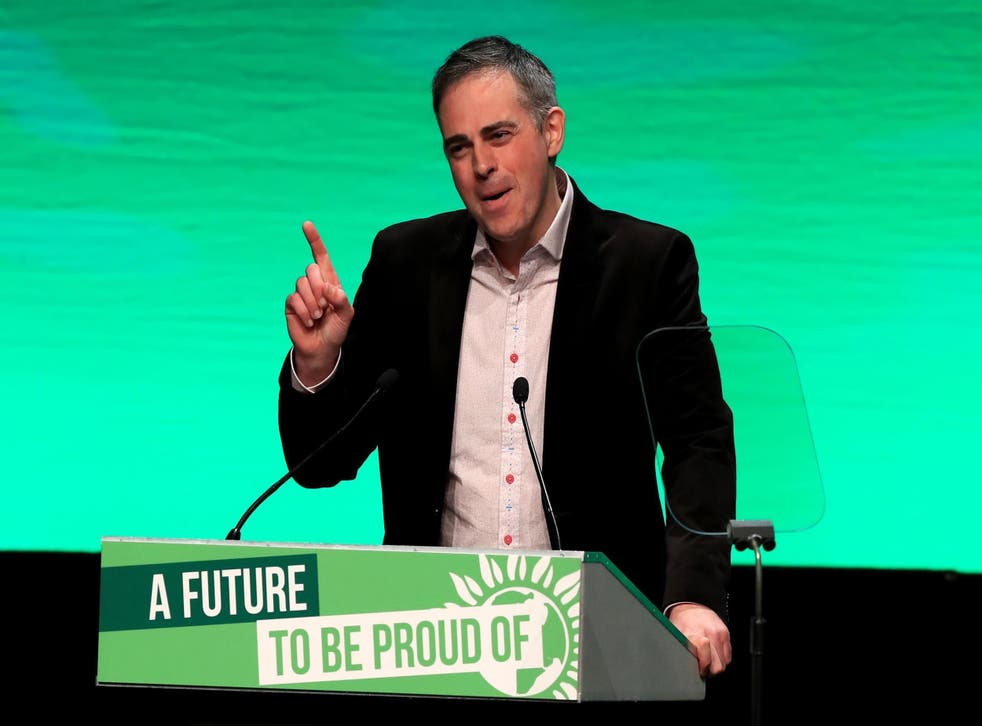 Green Party co-leader Jonathan Bartley has accused the Conservatives of waging war against young people in a speech outlining the party's manifesto pledges.
Mr Bartley, who heads up the party with Caroline Lucas, pledged to ban unpaid internships and to improve improve conditions for renters in the private sector at a campaign event in London.
Launching policies written by young people, Mr Bartley said the Green Party will match Labour's promise to abolish tuition fees and cancel all student debt.
Mr Bartley said that as the father of three children – the oldest of whom is 18 and about to go to university - he worries constantly about their prospects.
"Not a day goes by when I don't now worry about their future. Will they be able to get a job that's both rewarding and pays the bills? Will they find a secure place to live? Will they even get a foot on the housing ladder?
"How will they manage to carry that debt they are burdened with from university as they are trying to raise their own family as this Government transfers the public debt and hangs it around the necks of young people?
"As a parent, I sometime feel absolutely powerless to help."
UK General Election 2017

Show all 47
Mr Bartley accused the Tories of "conspiring to make life harder for young people" through policies such as the removal of housing benefit for under 25s and attacked the Liberal Democrats for breaking their promise not to increase tuition fees, which were hiked to £9,000 a year under the coalition government.
He said the Green Party's youth policies would ensure all interns and trainees are paid the minimum wage, attacking Government minister Matthew Hancock, who once said young people are "not productive enough" to warrant being paid the living wage.
The party's manifesto also pledges to introduce rent controls and more secure tenancies for private renters.
Mr Bartley said he knows leaving the EU is a huge concern for many younger voters, who are more likely to have wanted to remain than their older relatives .
He said: "Together we can build a raft for young people negotiating the Brexit storm.
"Young people have the most to lose from an uncertain future outside the EU, and we're promising a referendum on the final Brexit deal, with the chance to stay in the EU if voters don't like the Government's deal."
Mr Bartley worked on former Conservative Prime Minister John Major's campaign team when he was challenged for leadership by John Redwood in 1995, but has denied he was ever truly a Tory, instead describing himself as a former "floating voter".
He is a descendant of the Quaker prison reformer, Elizabeth Fry, and has said he identifies with the "non-conformist" tradition of social reform.
As the father of a disabled son, he famously clashed with former Prime Minister David Cameron in 2010 over the Tories' policies around mainstream school places for children with disabilities.
The Labour Party is also promising to help younger people with pledges to abolish tuition fees and restore maintenance grants and the Educational Maintenance Allowance (EMA) for 16-18 year-olds.
Labour is also pledging more funding for school-based counselling to improve mental health and to end cuts to youth services.
The Liberal Democrats are attempting to win back the youth vote by re-introducing housing benefit for young people and extending the vote to 16 and 17-year-olds, as well as offering rent-to-buy deposit free homes for young people.
The Conservatives, who have frequently been attacked for hitting young people hardest through spending cuts while protecting the interests of the "grey vote", have pledged to improve technical education and to widen access to mental health care in schools. Young people will also be given the "right to be forgotten" on social media by erasing anything posted online before their eighteenth birthday.
There has been a push to encourage more young people to have their say at the ballot box this time around, after just 43 per cent of those aged 18-24 voted at the 2015 general election, according to Ipsos Mori, compared to a turnout of 78 per cent among the over 65s.
Current opinion polls show Labour 19 points ahead of the Conservatives among 18-24-year-olds, although this is reversed among older age groups, with the Tories still around 15 points ahead overall.
Register for free to continue reading
Registration is a free and easy way to support our truly independent journalism
By registering, you will also enjoy limited access to Premium articles, exclusive newsletters, commenting, and virtual events with our leading journalists
Already have an account? sign in
Join our new commenting forum
Join thought-provoking conversations, follow other Independent readers and see their replies