Green Party membership doubles in England and Wales
The party now has tens of thousands of members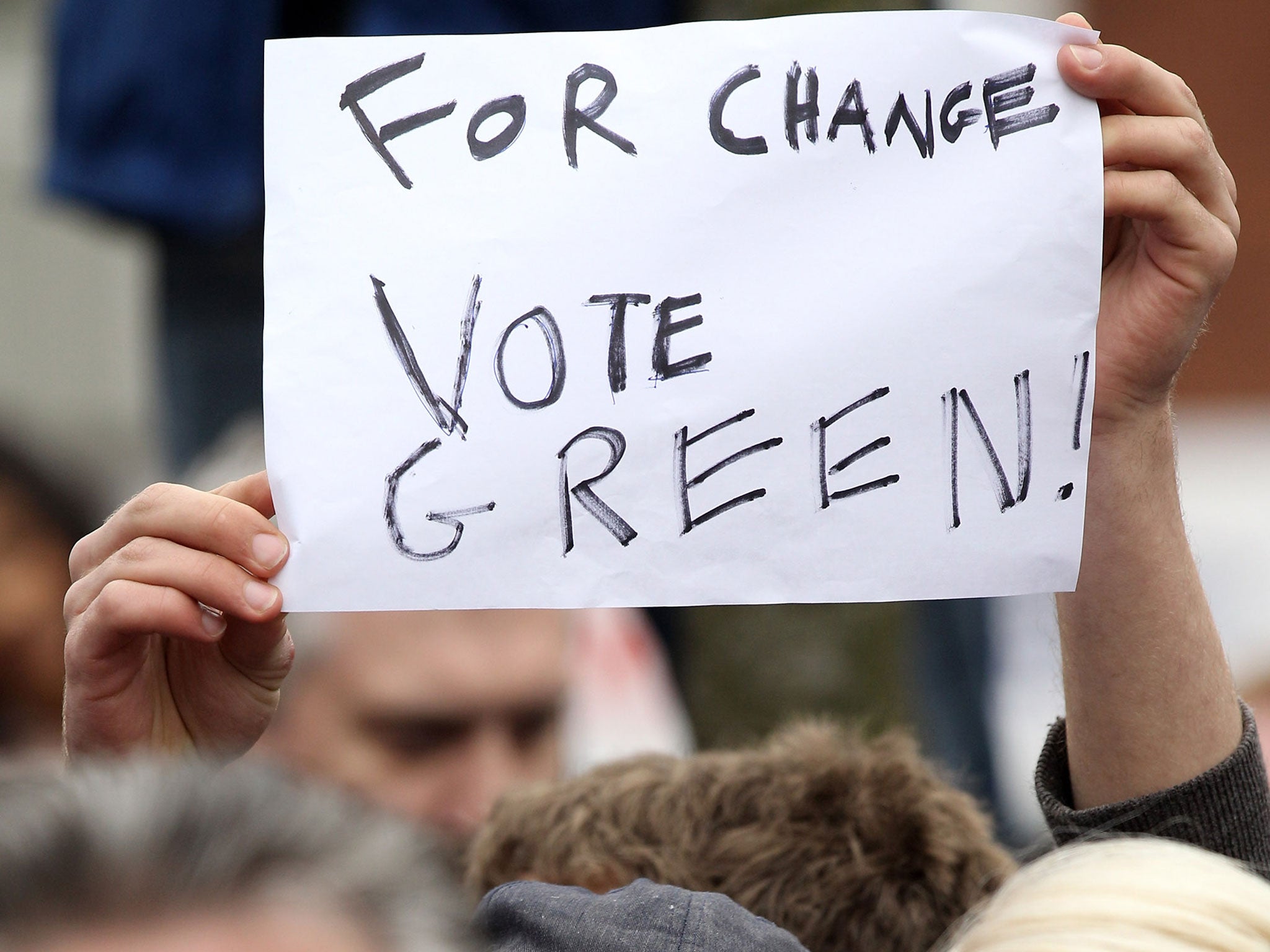 Membership of the Green Party has doubled in England and Wales since the start of the year – hitting almost 28,000.
Party leader Natalie Bennett has hailed the swelling of its ranks as proof that voters will reject "business as usual" at next year's general election.
The environmentalist party currently has 27,618 members – more than half the total of the Liberal Democrats, whom it has overtaken in a number of recent by-elections and opinion polls.
It gained an extra 500 members following a strong performance on BBC Radio 4 Any Questions, the Guardian reported.
Ahead of the 2015 General Election, the Green Party plans to field in at least 75 per cent of constituencies, 50 percent more than it did in 2010, in a trend which has seen parties including Ukip gain confidence against the main three Westminster parties.
At the last election, it clinched its first seat in the Brighton Pavilion constituency.
The party celebrated its growth in membership, by posting a tweet on Tuesday afternoon, using #GreenSurge.
However, Ukip has benefited the most from the mainstream slump, and has seen its membership numbers soar from 15,535 in 2010 to more than 40,000 over four years.
Both parties have enjoyed a surge in publicity recently, over their inclusion in the TV Leaders' Debates ahead of next year's general election. Some 270,750 people are calling for the Green Party to be given the opportunity to stand alongside Ukip.
Read more: Meet the Green Party members
Waste your vote on the Green Party – or choose Labour
The Green revolution sweeping Bristol
The Green party's rise in popularity comes as membership for Conservative, Labour and the Liberal Democrats has plummeted.
Since David Cameron became Tory leader in 2005, Conservative Party membership has halved, down from the 253,600 to 134,000 and Labour's 189,531 remains below the 193,961 recorded in 2010.
And despite a 10 per cent rise over the last 18 months, the Liberal Democrats' 44,526 reflects the loss of almost a third since joining the coalition.
Labour policy chief Jon Cruddas warned last month that "established political parties are in danger of being past their sell by date".
"Our political parties were once vital, intermediary institutions between the people and the state, but in some parts of the country they have become so disconnected from society that they can no longer fulfil this role properly," he argued.
Ms Bennett called the rise "a real landmark in the 'Green surge'."
"To have doubled the membership of the party in less than a year is a real marker of the way in which people in England and Wales are seeing that we need real change in our society, not the business-as-usual politics offered by the three largest parties," she said.
"These new members are putting their grassroots efforts and their financial support, as are many other supporters around the country, into making the 2015 General Election transformatory.
She added: "They understand there is a unique opportunity for a peaceful revolution delivered by enthused, energised voters."
Join our commenting forum
Join thought-provoking conversations, follow other Independent readers and see their replies