Greens, SNP and Plaid Cymru 'may back Labour' - if they scrap Trident
Scrapping nuclear weapons could be the price of Coalition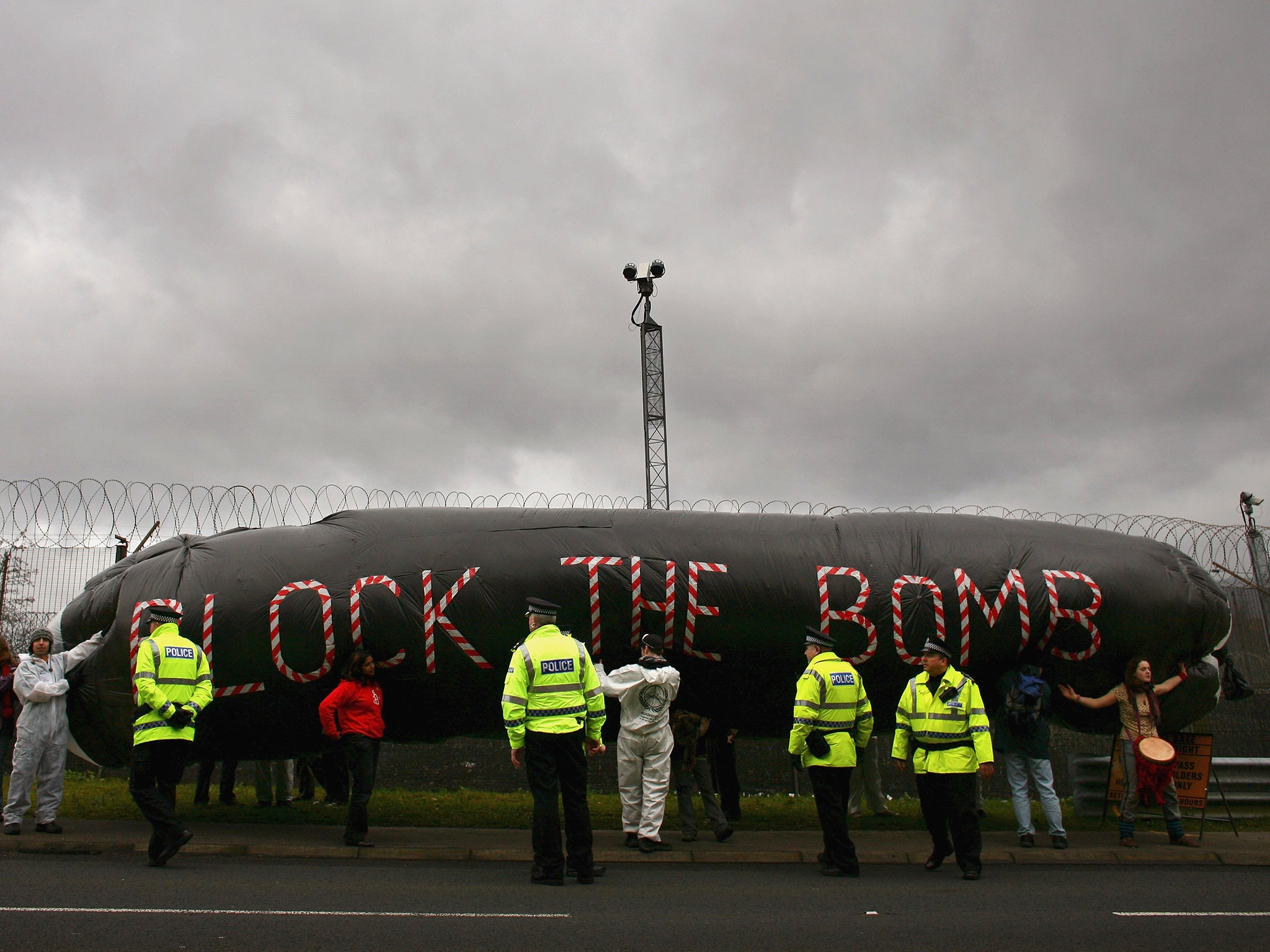 The Scottish National Party (SNP), Plaid Cymru and the Greens would demand for Labour to scrap Britain's nuclear weapons programme as their price for supporting the party in a hung parliament.
In a joint press conference, the leaders of all three parties announced they would be prepared to prop up a minority Labour administration in Westminster but only if it were prepared not to renew Trident. They also intend to cooperate together if no party has a majority after next May's election but would never back any form of Conservative-led administration.
Currently the three parties combined only have 10 Westminster MPs – but the SNP is expected to make significant gains at Labour's expense in Scotland and could hold the balance of power in a future parliament.
The Scottish First Minister, Nicola Sturgeon, said she could not envisage the SNP ever going into a formal coalition with Labour but could see the party negotiating a more limited "confidence and supply" arrangement to keep it power. But she added there would be some "hard conditions" on that support.
"The SNP would never prop up formally, informally or otherwise another Conservative government," she said. "That leads to the conclusion that we would be open to an arrangement with Labour. I would tend away from formal coalition towards confidence and supply. But we would have some hard conditions to lay down there.
"For me [Trident] would be pretty fundamental. I make no bones about this. In principle I am opposed to nuclear weapons but renewing Trident is also economic lunacy at a time when we're facing the scale of public sector cuts."
The Plaid Cymru leader, Leanne Wood, said her party would also not work with the Tories but could do a deal with Labour under the right conditions. "We are the parties that are the alternative to the austerity consensus," she said. "All three of us share many common agendas. It includes an end to Trident replacement and an end to this Tory Government. We are able to offer an alternative to the right."
Labour, like the Conservatives, have pledged to renew Trident if they are elected but some in the party are unhappy with the position and they hope that the issue might not necessarily be a "red line" preventing a deal.
The Green Party leader, Natalie Bennett, said all three believed that their views should be included in any leaders' debates ahead of the election and called on the broadcaster to rethink its current plans.
"Collectively we have a shared view in the terms of the fact that we have to get rid of this Tory Government, we have to get rid of the disastrous inhumane policy of austerity and we need to get rid of Trident nuclear weapons. These are the things which we very much agree on and we have to have these views represented in the leaders' debates. It's very different here to see how this line-up looks compared to other line-ups – and how the leaders' debates might look."
She was speaking after Nick Clegg urged the SNP and the Greens not to give not give the Conservatives an "alibi" to duck out of televised debates.
He said the Tories were clearly reluctant to sign up for the live head-to-heads and objections from the smaller parties may "unwittingly" allow David Cameron to avoid taking part.
But Ms Sturgeon said: "Given the changed political landscape across the UK it would simply be indefensible democratically to exclude our three parties from those debates. We are going to support each other in our very strong call to the broadcasters to think again."
Join our commenting forum
Join thought-provoking conversations, follow other Independent readers and see their replies