Grenfell fire: Some landlords have still not submitted their cladding to tests, Sajid Javid reveals
The Communities Secretary says not enough have come forward yet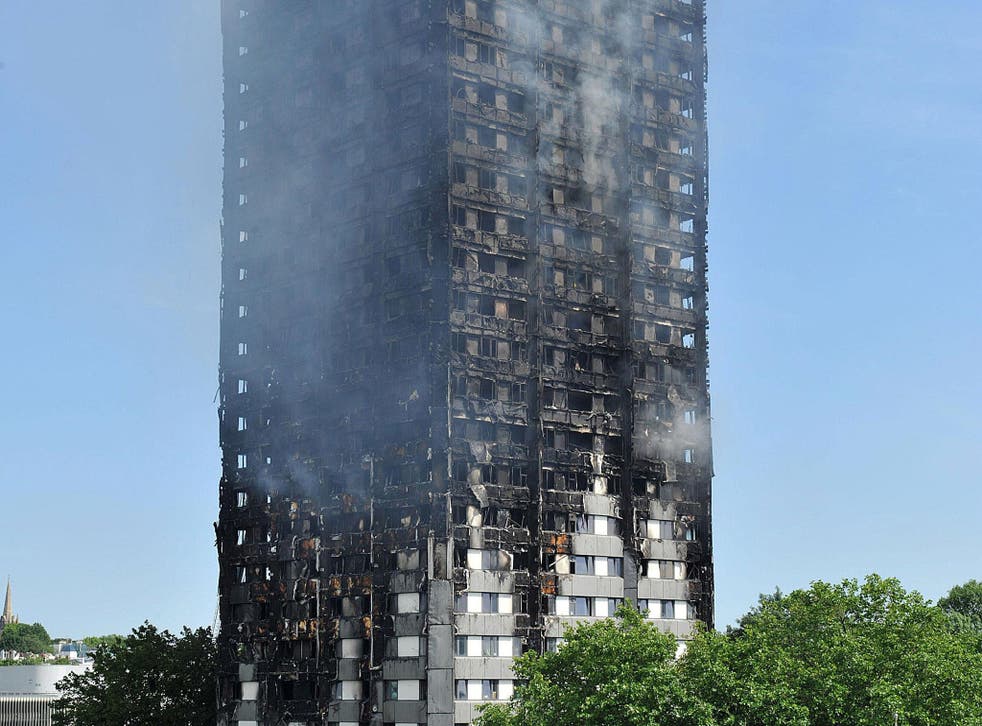 Schools and hospitals have been ordered to carry out checks on their buildings to determine whether any have used potentially flammable cladding of the type used on Grenfell Tower.
The Government has confirmed that its inquiry into the tragedy is likely to widen in scope to investigate why the use of flammable cladding appears to be widespread.
Local authorities have been briefed that they must report potential problem buildings to the Government.
Communities Secretary Sajid Javid confirmed today that 75 high-rise buildings, spread between 26 local authorities, had failed fire-safety tests, as he urged more and more landlords to come forward. The Government's own testing facilities can cope with testing 100 samples a day, and are currently nowhere near capacity.
Mr Javid told the Commons: "I can inform the House that as of midday today the cladding from 75 high-rise buildings in 26 local authority areas has failed the combustibility test."
He added: "The combustibility test has three categories rated one to three and it is judged that cladding material in categories two or three does not meet the requirements for limited combustibility in building regulations.
"I can also confirm to the House that, so far, on that basis, all samples of cladding tested have failed.
"The fact that all samples so far have failed underlines the value of the testing programme and the vital importance of submitting samples urgently."
He added: "I am concerned about the speed at which samples are being submitted.
"I would urge all landlords to submit their samples immediately."
In Pictures: Grenfell Tower after the fire

Show all 51
Labour's John Healey said that a "triple fire safety lock" should be introduced to guarantee the standards of buildings.
The three conditions would be first to include materials fit for purpose, they would have to meet strict safety precautions and undergo regular fire-risk assessments.
Mr Healey said: "We need from ministers a much more thorough review of fire safety in all of the country's residential tower blocks, a total commitment to action to deal with any problems and a guarantee that government will help fund the costs.
"And this applies also to other public buildings such as schools and hospitals over which doubts may hang."
The new Labour MP for Kensington, Emma Dent Coad, said that concerns about immigration are stopping people sleeping rough in the wake of the Grenfell tragedy from coming forward.
Ms Dent Coad asked Mr Javid to make a firm commitment that "traumatised and frightened people have no fear in coming forward".
Mr Javid confirmed he had set up an "an independent expert advisory panel to advise the Government on any steps that must be taken".
The Communities Secretary also announced that an extra £1m of government funds would be spent reimbursing charities for the response to the disaster.
Mr Javid said: "The residents of Grenfell Tower have been through some of the most harrowing experiences imaginable and the response from local charities and volunteers has been remarkable.
"This funding will mean that smaller charities and community organisations can continue to make a huge difference.
"The first payments are in the process of being made and the Government will continue to do everything we can as fast as we can to support those affected by this terrible tragedy."
Join our new commenting forum
Join thought-provoking conversations, follow other Independent readers and see their replies