Tenants' lives at risk after government refuses to act on weak safety rules in rented housing, experts warn
Exclusive: Ministers defend guidance which says fire risks are very small, is unclear on responsibility for fire prevention and weak on electrical safety - all crucial issues at Grenfell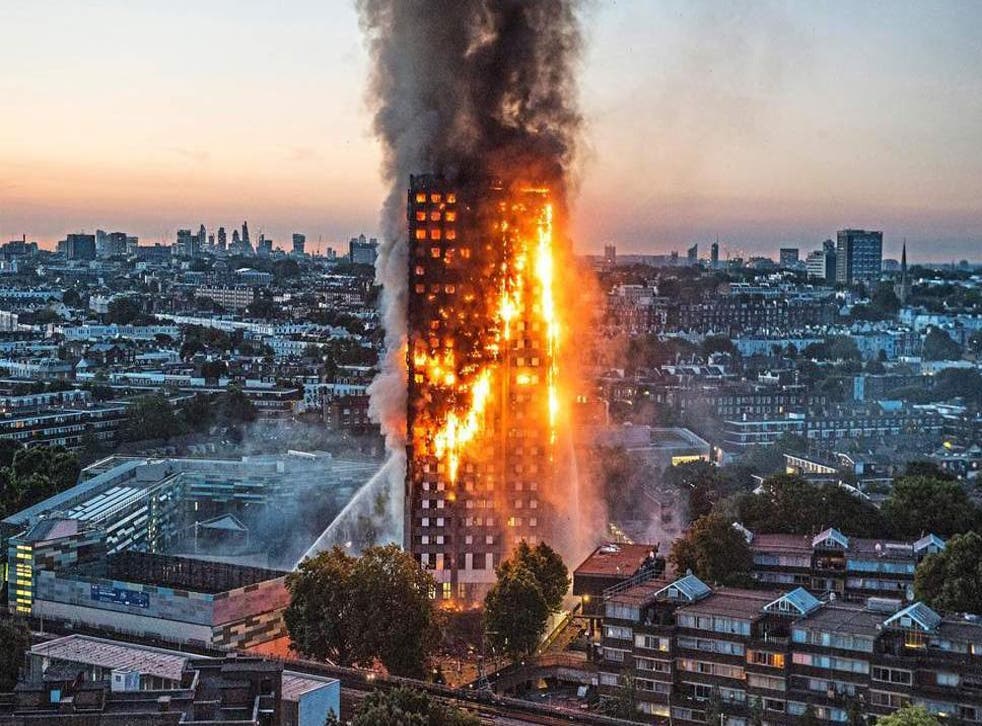 Tenants' lives are being put at risk because the government has refused to beef up weak safety rules in rented housing despite the Grenfell tragedy, experts are warning.
Hazards such as inadequate fire doors, faulty electrical equipment and dangerous heating systems cannot be tackled because officials are unable to prove they fail outdated guidance, they say.
Ninety-seven per cent of environmental health professionals have called for action – with more than half reporting they had "witnessed hazards that could not be addressed".
In April, a committee of MPs backed the demand, agreeing the change was needed to make it crystal clear "whether a property meets minimum standards".
But ministers have now rejected the recommendation – despite the Grenfell inferno being traced to a faulty fridge, amid confusions about responsibility for fire safety.
The rules are also obstructing help for tenants forced to endure cold, damp or mouldy homes, or paying sky-high bills for expensive heating systems, it is alleged.
The Chartered Institute of Environmental Health (CIEH) said its housing safety experts were "bitterly disappointed" at the government's decision.
"The evidence and guidance that local authorities use to take action on dangerous housing conditions has not been reviewed or updated since it was introduced 12 years ago," said Tamara Sandoul, the CIEH's housing policy manager.
Grenfell firefighter Charles Batterbee in tears reviewing thermal imaging footage
"This is simply not good enough and the millions of people currently in the private rented sector expected better."
And Clive Betts, the chairman of the Commons Housing, Communities and Local Government Committee, which condemned the guidelines as obsolete in April, said: "They are not for purpose.
"What professionals are saying is that faults and deficiencies are being missed. This could cause an injury – or someone could lose their life.
"In the current climate, after the Grenfell tragedy, you would have thought that the government would be very sensitive to this issue of residents' safety."
Mr Betts said the committee would demand answers when it took evidence from James Brokenshire, the housing secretary, on Monday.
Ministers have also kicked into the long grass promised decisions on whether to require electrical safety inspections every five years – and on compulsory carbon monoxide alarms.
The Housing Health and Safety Rating System (HHSRS) was introduced back in 2006, to help local councils judge if residents are being forced to live in safe conditions.
A "category 1" hazard gives the authority the power to issue an improvement notice, forcing a landlord to carry out necessary works.
However, the CIEH is raising the alarm over dangers falling into "category 2", warning action often is not taken, depending on resources and how cases are resolved by the courts.
Grenfell Tower memorial service: in pictures

Show all 31
Problems identified by weaknesses in the guidance include:
* It describing the risk of fire as very small – despite councils reporting it being the second most frequent category one hazard, even before the Grenfell blaze
* A lack of clarity about responsibility for preventing fires, whether that lies with local authorities or fire services
* Electrical safety assessments relying on "a visual inspection". The CIEH said: "This obviously again relates to Grenfell and the start of that fire due to a faulty fridge"
* Failing to take into account the effects of excess cold on young children and people with serious health conditions – because only the elderly are classed as "vulnerable"
* The risk to children living in damp and mouldy homes – at double the risk of respiratory disease – again, because the only group defined as vulnerable are over-65s
* A case where electric heaters were shown to be three times as expensive to heat a flat as central heating – but "affordability" is not clearly a factor. preventing action
In April – in a report urging powers for councils to confiscate homes from rogue landlords – the housing committee said the system failed to set out "a clear understanding of the minimum standards that are expected".
"The government must immediately update the baseline assumptions within the operating guidance for the HHSRS, which are now 12 years out of date," it said.
But in its response published a few days ago, the government defended the HHSRS system, saying: "While there is some complexity involved in calculating the level of risk, we believe the overall approach is fundamentally sound and provides the right level of assurance for those professionals who use it on a day-to-day basis."
The response said ministers would "carefully consider whether it needs to be updated" – but failed to set out a process or deadline for doing so, or who might carry out the review.
Register for free to continue reading
Registration is a free and easy way to support our truly independent journalism
By registering, you will also enjoy limited access to Premium articles, exclusive newsletters, commenting, and virtual events with our leading journalists
Already have an account? sign in
Register for free to continue reading
Registration is a free and easy way to support our truly independent journalism
By registering, you will also enjoy limited access to Premium articles, exclusive newsletters, commenting, and virtual events with our leading journalists
Already have an account? sign in
Join our new commenting forum
Join thought-provoking conversations, follow other Independent readers and see their replies