Only 7 out of 160 social housing blocks made safe since Grenfell Tower fire
Labour said the slow pace of progress in removing dangerous cladding was a 'dereliction of duty'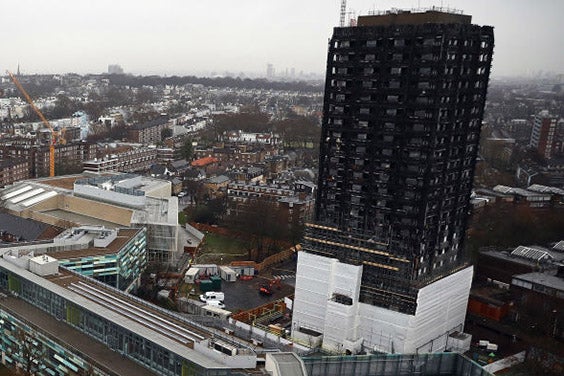 Only seven of the 160 social housing blocks covered in dangerous cladding have been replaced since the Grenfell Tower disaster, while ministers admit they do not know how many private blocks have been made safe.
Campaigners hit out at an "astonishing" lack of progress on removing hazardous building materials since the blaze in the West London high-rise last June, which claimed the lives of more than 70 people and left hundreds of people without permanent homes.
Some 306 blocks have been identified with dangerous cladding, which the government's expert advisers believe would fail fire safety tests, according to monthly data from the Ministry for Housing, Communities and Local Government (MHCLG).
Yet nine months on from the Grenfell fire, vital safety work has only been completed on seven - or 4 per cent - of the social housing blocks deemed unsafe, while no work has been carried out on 35 per cent (103) of the affected towers.
No estimate can be made of the progress in privately owned blocks, the government admitted in its monthly progress report.
It comes after dozens of MPs warned the government that plans to reform fire safety tests would "put lives at risk", by using less robust procedures to assess building materials.
Labour accused the Government of a "dereliction of duty" as it claimed it would take 15 years to replace the dangerous cladding at the current rate of progress, forcing tenants to live in unsafe homes.
Shadow housing secretary John Healey said: "It is shameful that only seven tower blocks with dangerous cladding have had it replaced, more than nine months after the Grenfell Tower fire.
"At the current rate of progress, it will take 15 years for the more than 300 blocks with dangerous cladding to have it removed and replaced. Ministers don't even know how many privately-owned tower blocks have yet to complete this work.
"This is a dereliction of Government's duty to act. It's simply not good enough for ministers to pass the buck while residents live in unsafe homes.
"The Government must now act to help fund essential fire safety work in tower blocks with dangerous cladding."
It comes amid a row between the government and local authorities about who should pay for safety improvements, as some cash-strapped councils claimed they had been denied financial assistance when they requested it.
However housing secretary Sajid Javid has insisted that no requests have been turned down, and the issue was his department's "number one priority".
Greg Beales, director of policy, research and communications at Shelter, said the work was still "mired in delays and confusion" and demanded greater clarity on who would pay for and carry out the improvements.
He said: "It's astonishing there's been such little progress and that we have still failed to replace cladding on so many homes, when it has failed safety tests and is considered unsafe.
"More than nine months has passed since the Grenfell fire and the government has a responsibility to step up and coordinate efforts to ensure these homes are safe. Instead, this vital safety work is mired in delays and confusion.
"The Secretary of State must urgently provide clarity on fire-safety and far stronger guidance on who should pay for and carry out these essential works."
Lucy Grove, Grenfell programme lead at the National Housing Federation, which represents housing associations, said the safety work would take time to complete but interim measures were already in place to ensure the safety of tenants.
She said: "Whilst the data shows nearly 65 per cent of social housing buildings now have contractors on site, 11 more than last month, every housing association we've spoken to has started the remedial work in some way, such as working with teams of experts on designing a remedial solution or securing building control sign off for planned works.
"We do know that some housing associations are experiencing problems with accessing fire safety tests, lengthy waits on new materials and problems accessing qualified professionals such as expert cladders.
"To limit delays, Government should lead a national, co-ordinated response to ensure that resources and capacity are directed strategically and buildings most at risk are prioritised. The government should also remove VAT on cladding works."
The aluminium composite material (ACM) cladding used on Grenfell Tower is thought to have helped the fire spread, so ministers arranged for testing to take place on buildings with similar materials after the disaster.
The latest data from March revealed 306 residential buildings has dangerous cladding in 65 local authority areas, including 158 social housing blocks, 134 private sector buildings and 14 public buildings, including hospitals and schools.
The report said: "The remediation of buildings with ACM cladding is a complex process, involving cladding systems and broader fire safety systems for buildings. As such, properly remediating buildings takes time.
"Of the 158 social housing buildings judged to have failed large-scale system tests, 65 per cent (103) have started remediation. Of these, seven buildings have finished remediation work.
"Data are still being collected on remediation of private sector buildings."
Join our commenting forum
Join thought-provoking conversations, follow other Independent readers and see their replies