Harriet Harman brands Jacob Rees-Mogg a 'deadbeat dad' following his admission he has never changed a nappy
Traditionalist Tory and father of six hits back saying he will 'lose little sleep over her disapproval'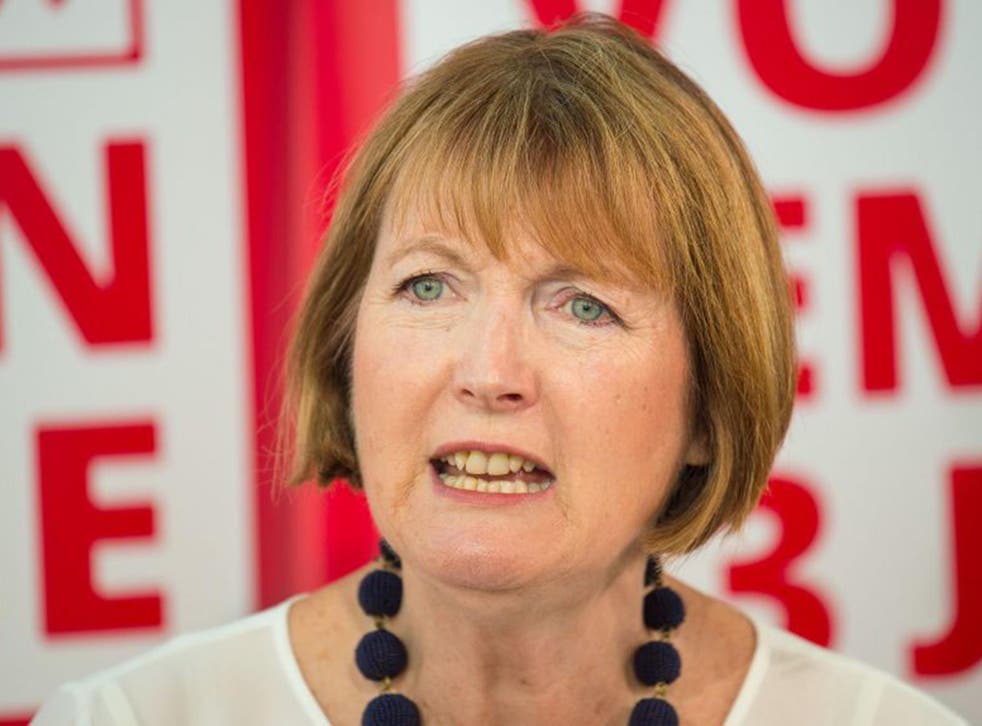 Labour MP Harriet Harman has launched an attack on Tory MP and father of six Jacob Ress-Mogg, calling him a "deadbeat dad" over his admission that he has never changed a nappy.
Ms Harman – now the "mother of the House" as the longest serving female MP in the Commons – said: "Men who don't change nappies are deadbeat dads – and that includes Jacob Ress-Mogg."
"What model of fatherhood do we want parliament to portray? The 'Rees-Mogg model' or the modern father who – as well as the mother – is involved with a newborn," she added, in an interview with the Guardian.
The Tory MP, who has emerged as one of the favourites to become the party's next leader, quickly responded by saying he would "lose little sleep over Harriet Harman's disapproval".
The domestic burden does not fall entirely to his Mr Rees-Mogg's wife, Helena, though, as the wealthy MP said during an interciew with Nigel Farage back in July, "The nanny does it brilliantly", when asked how the nappy-changing was going.
The eccentric backbencher caused a stir after he used Instagram to announce the birth of his sixth child, named Sixtus Dominic Boniface Christopher Rees-Mogg. His other children are Peter, Mary, Thomas, Anselm and Alfred.
Although he has an enthusiastic fan club of Conservative supporters who like his uncompromising style, Mr Rees-Mogg faced criticism this week when he said that as a practising Catholic, he does not approve of abortion in any circumstances even if the woman has been raped.
Equal rights campaigner Ms Harman is trying to change the rules on paid maternity and paternity leave for MPs to allow them to take six months of paid time off after becoming parents.
Since becoming MP for her south-east London seat of Camberwell and Peckham in 1982, Ms Harman has been something of a pioneer and was among the first MPs to breastfeed her child in the Commons.
But in a speech made to women at a Labour event in Newcastle, she said she had lost out after not being allowed to take any paid leave following the births of her three children, returning to work within a matter of weeks on each occasion.
"Eighteen months maternity leave during 35 years' work for three children doesn't seem too much to ask.
"Without maternity leave I lost out. I felt my babies lost out. It's long overdue to sort this out," she said.
She is calling for both men and women MPs who have just become parents to be allowed to nominate a Westminster colleague to vote on their behalf in Parliament and to appoint a local representative to handle their constituency casework.
UK news in pictures

Show all 50
Ms Harman said that while MPs have worked to make workplaces across the UK more family-friendly, the Commons has fundamentally failed to put its own house in order.
"Women have babies – that's a fact of life," she said, pointing out that 17 have been born to serving female MPs since 2010.
"Women are in Parliament - that's a democratic imperative.
'The baby needs time with the mother, the mother needs time with the baby and the constituency needs to be properly represented at all times.
"We need a proper system of baby leave to square that circle. It's long overdue," she said, adding that six months' paid leave would bring MPs in line with the civil service.
A cross-party parliamentary group is due to discuss Ms Harman's proposals next week.
The Commons Reference Group on Representation and Inclusion, set up last year, is due to make recommendations on maternity, paternity, parental, adoption and caring leave.
Register for free to continue reading
Registration is a free and easy way to support our truly independent journalism
By registering, you will also enjoy limited access to Premium articles, exclusive newsletters, commenting, and virtual events with our leading journalists
Already have an account? sign in
Register for free to continue reading
Registration is a free and easy way to support our truly independent journalism
By registering, you will also enjoy limited access to Premium articles, exclusive newsletters, commenting, and virtual events with our leading journalists
Already have an account? sign in
Join our new commenting forum
Join thought-provoking conversations, follow other Independent readers and see their replies