Head of child abuse inquiry Fiona Woolf under fresh pressure to resign
Paul Peachey
Thursday 30 October 2014 20:57 Comments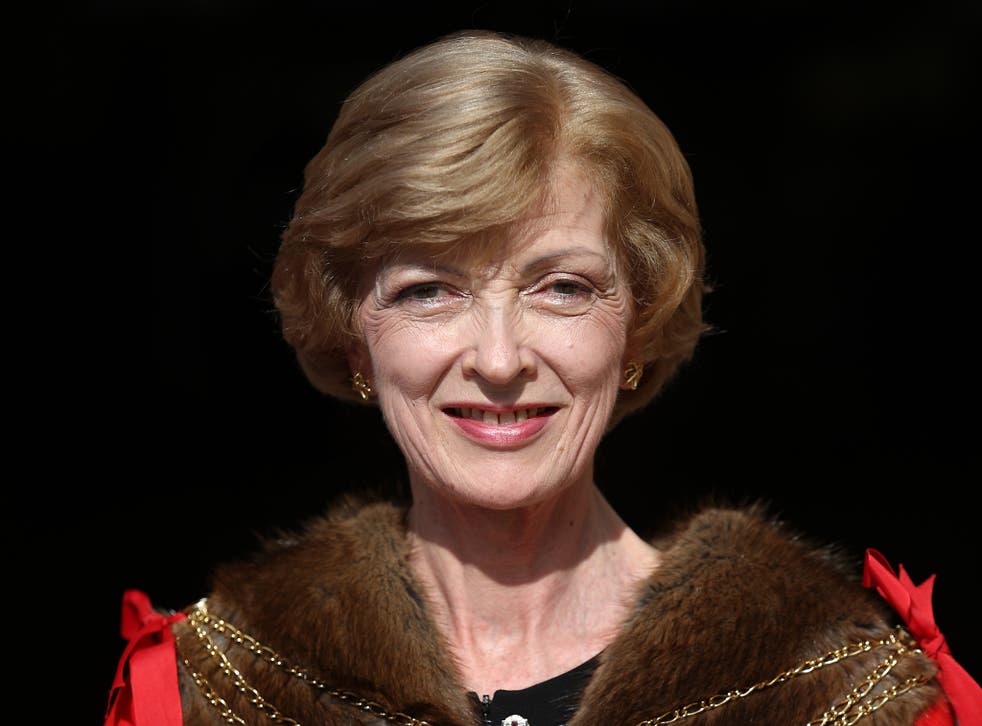 The head of the Government's child abuse inquiry was under new pressure to quit tonight, after being accused of playing down her links with Lord Brittan in a letter disclosing their contacts – which was re-drafted seven times with the help of the Home Office.
In her letter accepting her role chairing the inquiry, Fiona Woolf had outlined the extent of her relationship with the peer, who has denied being part of a paedophilia cover-up in the 1980s and is expected to be a central part of her inquiry.
The letter was published last week, but yesterday the six previous versions of the document were also released – and critics of the appointment of Ms Woolf, the current Lord Mayor of London, said they added weight to their demands that she should step down amid accusations of an establishment cover-up.
Keith Vaz, the head of a committee of MPs who questioned Ms Woolf last week, said the seventh draft of her letter gave a "sense of greater detachment" between Lord and Lady Brittan and Ms Woolf than was suggested by her previous attempts.
The role of Lord Brittan, a former Home Secretary, is likely to come under scrutiny as he received a "dossier" from an MP in the 1980s that reputedly detailed evidence of VIP sex rings. He said he passed on the file to be dealt with, but it has since been lost and nobody has been prosecuted as a result of its contents.
Ms Woolf had been asked to hand over the early versions of her letter after she told MPs that officials at the Home Office had a role in drafting them. They revealed that she had hosted dinner parties for the Brittans, met Lady Brittan for coffee and sponsored her £50 for a fun run.
Her initial meeting with Lady Brittan, initially said to be through a "mutual acquaintance", had been changed to a "third party" by the time the last version was produced.
And while the first version spoke of an "another exchange of dinner parties", the final one stressed the business nature of a meeting at which other City figures were present. The final version said she had had no social contact with the Brittans in 2013 – two years later than in original drafts of the letter.
"Mrs Woolf's letter to the committee raises more questions than it answers about an appointment process that has been chaotic, and [about] a series of exchanges with the Home Office and others, where words, and sometimes even facts, have been amended," said Mr Vaz.
"It is extraordinary that Mrs Woolf did not even write the first draft of her letter, which was supposed to detail her own personal experiences. The letter then underwent seven drafts with a multiplicity of editors. The final version gave a sense of greater detachment between Lord and Lady Brittan and Mrs Woolf than her previous attempts."
Since last week, details of further events have emerged where she might have met the couple. But she insisted she could do the job and would "show no favours".
Lest we forget: Woolf's recollections
Version one
I was introduced to Lady Brittan by a mutual acquaintance in (insert date). I first met with Lord Brittan in a personal capacity when I was invited by Lady Brittan to a dinner hosted at their residence in 2008. From recollection there were approximately eight people… [there].
Version seven
I was first introduced to Lady Brittan through a third party. I subsequently met Lord Brittan in a personal capacity when I invited Lord and Lady Brittan to a dinner party at my residence on 9 January 2008. From recollection there were at least four other people present. I hosted two further dinner parties at my residence, where Lord and Lady Brittan were invited and attended along with other guests. These took place on 27 October 2008 and 9 February 2009… City matters were a significant focus of the occasions.
Register for free to continue reading
Registration is a free and easy way to support our truly independent journalism
By registering, you will also enjoy limited access to Premium articles, exclusive newsletters, commenting, and virtual events with our leading journalists
Already have an account? sign in
Join our new commenting forum
Join thought-provoking conversations, follow other Independent readers and see their replies