The Chinese human rights abuses David Cameron won't raise with Xi Jinping
The Chinese President is visiting the UK but officials say he is not here to 'debate' human rights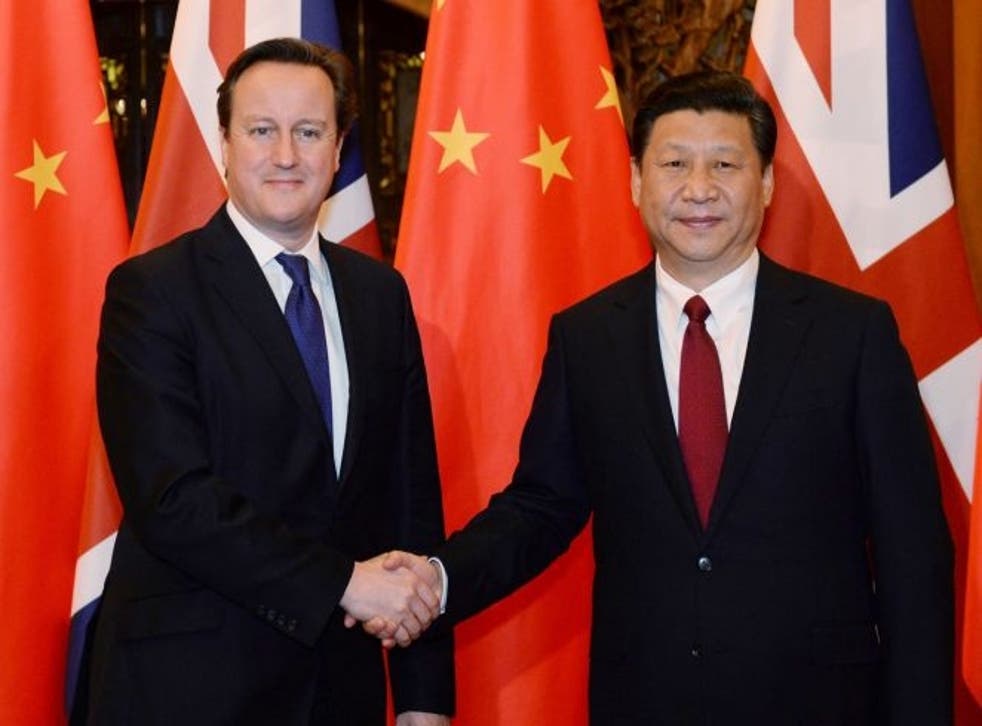 Chinese President Xi Jinping is visiting the UK this week for the first time - but the country's ambassador has warned British politicians that he isn't here for a "debate" on human rights.
George Osborne was praised by Chinese state media for not mentioning the country's abuses when he visited in September, and it looks increasingly unlikely that David Cameron will focus on them this time.
Jeremy Corbyn has reportedly secured a one-on-one meeting with Mr Xi to raise the issues amid fears that he would use a state banquet to do so.
What about China worries Mr Corbyn, and what will Mr Cameron be ignoring?
Routine use of torture in Chinese prisons
The use of torture is still routine in Chinese jails, according to the international human rights group Human Rights Watch.
Tortures catalogued in a report released in May this year include starvation, electrocution, freezing, and the spraying of chili oil in sensitive areas.
The practices are still used to extract forced confessions despite a du jure ban on the use of evidence gained through torture introduced before Xi Jinping came to power.
Arbitrary detention of human rights activists and lawyers
Since Xi Jinping became President of the People's Republic of China (PRC) in March 2013, the human rights group CHRD has documented more than 1,800 cases of arbitrary detention and torture of human rights activists and lawyers.
Many of those documented by the US-based group were charged with the generic offences of "disturbing social order" which can be applied to anything to organising a trade union or holding a peaceful protest.
The campaign group Amnesty UK in particular highlights 245 lawyers targeted in a campaign to silence criticism this year, with many remaining "missing" or in police custody.
Repression of ethnic and religious minority groups
The Chinese state continues to repress various ethnic groups. Ethnic Uyghur Muslims in the Xinjiang have had restrictions placed on growing beards, wearing veils, and even fasting during Ramadan. Uyghurs under the age of 18 have been banned from entering mosques entirely.
In Tibet Chinese Communist Party officials have been posted to oversee Buddhist temples, herders have been forcibly resettled, and villages have been subject to collective punishments in response to protests. Certain religious rites have been banned.
Christianity is also highly regulated with state-approved churches where doctrine is scrutinised by officials and places of worship under the control of the state. Church membership banned for those under 18.
Detention of supporters of Hong Kong pro-democracy protests
Mainland China activists who supported 2014's pro-democracy protests in Hong Kong have been arrested and detained by police. Eight remain custody as of September 2015, according to Amnesty International.
Most of the activists were charged with an offence called "inciting subversion of state power", while two could face five years in prison on charges of "picking quarrels and provoking trouble".
The activists' support including posted messages online and displaying banners with messages such as "support Hong Kong's fight for freedom".
Lack of workers' rights and trade unions
Independent trade unions are illegal in China with the All China Federation of Trade Unions the only approved organisation.
China Labour Bulletin, a Hong Kong-based NGO which monitors the labour rights situation in the country, said in a 2014 report: "All too often … workers are confronted with authoritarian and exploitative managements who deny them even these basic entitlements.
"The lack of an effective trade union, and the absence of any permanent mechanism for collective bargaining in the workplace, leaves workers with no option but to go on strike, work to rule, or stage protests and demonstrations in order to get their voices heard."
Rising numbers of wildcat strike and protests have been recorded in recent months and years.
Restrictions on media freedom
China's press is ranked "Not free" by the Freedom House organisation, which describes it as "one of the world's most restrictive".
"The Chinese Communist Party maintains direct control over news media coverage through its Central Propaganda Department and corresponding branches at lower administrative levels that determine the boundaries of permissible reporting," the organisation says.
Earlier this year a Chinese journalist, Wang Xiaolu, was forced to apologise on live television for reporting market movements that party officials said had led to a stock market crash.
Foreign reporters also face flash "inspections" and expulsions by authorities when they publish critical reports.
The International Federation of Journalists says state's grip on the press and media is, if anything, tightening rather than liberalising.
One-party state with little democracy
China has changed economically in the past few decades, moving from a largely planned economy to one based on a state-led capitalist market. But the country's political system has been left virtually unchanged.
The constitution names the Chinese Communist Party as the country's leading political party and it effectively controls the candidates who can stand for office.
Direct popular elections only take place to local government with other levels of government elected in turn by officials.
Join our new commenting forum
Join thought-provoking conversations, follow other Independent readers and see their replies