Home Office rapped for illegal use of font in 'Go Home' ad vans
French designer accuses UK Government of using his typeface without permission in campaign which has been 'unpopular abroad'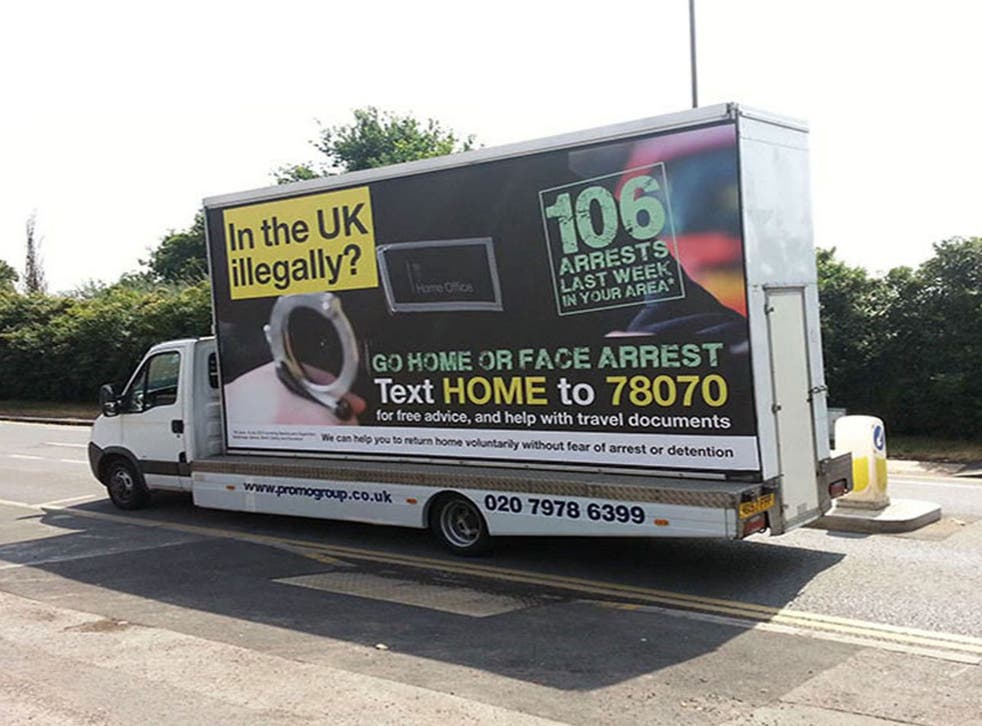 A French designer has accused the Home Office of using his typeface without permission on its controversial "Go Home" ad vans.
Fabien Delage claims that the UK Government used his Plane Crash font for the "Go home or face arrest" caption without paying him or requesting a licence.
The font, which is available for download on the Dafont website, is free for personal use but requires a licence and explicit approval if used for commercial purposes.
The controversial billboards were transported around six London boroughs in July in a Government effort to urge illegal immigrants to "go home" or face arrest and deportation.
The campaign faced harsh criticism from politicians across all parties.
Diane Abbott, the Labour MP whose Hackney North and Stoke Newington constituency was one of the target areas, told The Guardian: "It is not so much dog-whistle politics as an entire brass band. It is akin to scrawling 'Paki go home' on the side of buildings.
"I don't believe this policy is going to achieve anything besides stoking fear and resentment."
Even Ukip leader Nigel Farage spoke out against the billboards, calling them "nasty" and "unpleasant".
However, according to a YouGov poll, 47 per cent of the public approved of the scheme.
The Advertising Standards Authority (ASA) launched an investigation into the campaign last month after receiving 60 complaints that the ads were "reminiscent of slogans used by racist groups to attack immigrants in the past".
British designer James Jessiman was using the font for a book cover when he noticed it matched the letters on the billboard.
He told The Independent: "I got in touch with Fabien who was disgusted that they had used it without his permission. We agreed to keep it quiet as he was seeking settlement on the grounds that it didn't get into the media, but the Home Office are yet to reply."
Jessiman has no doubts that it is the same font.
"If you look at the 'O' in 'home' or 'A' in 'arrest' you can see from the distortion that it's the font that Fabien has designed," he said.
Delage told Design Week: "I found out that the Home Office was using my font thanks to a British graphic designer who told me he recognised the typeface printed two-feet high on vans.
"My partners and customers now suspect I might have been involved in this campaign which, let me tell you, has been quite unpopular abroad.
"I create typefaces and that's how I earn my living. I have absolutely no way to control who's using my fonts except for freelance artists that play the game, buy the licence online and get a licence agreement from me."
Delage warns on his website that any breach of these conditions would "involve legal proceedings".
A Home Office spokesman said: "We are seeking to contact the copyright owner in relation to the use of the font. It would not be appropriate to comment further at this stage."
Join our new commenting forum
Join thought-provoking conversations, follow other Independent readers and see their replies