Home Secretary faces Tory backlash on counter-terrorism
Backbenchers 'appalled by shabby Bill' which gives Theresa May increased powers of exclusion
Mark Leftly
Sunday 04 January 2015 01:00 Comments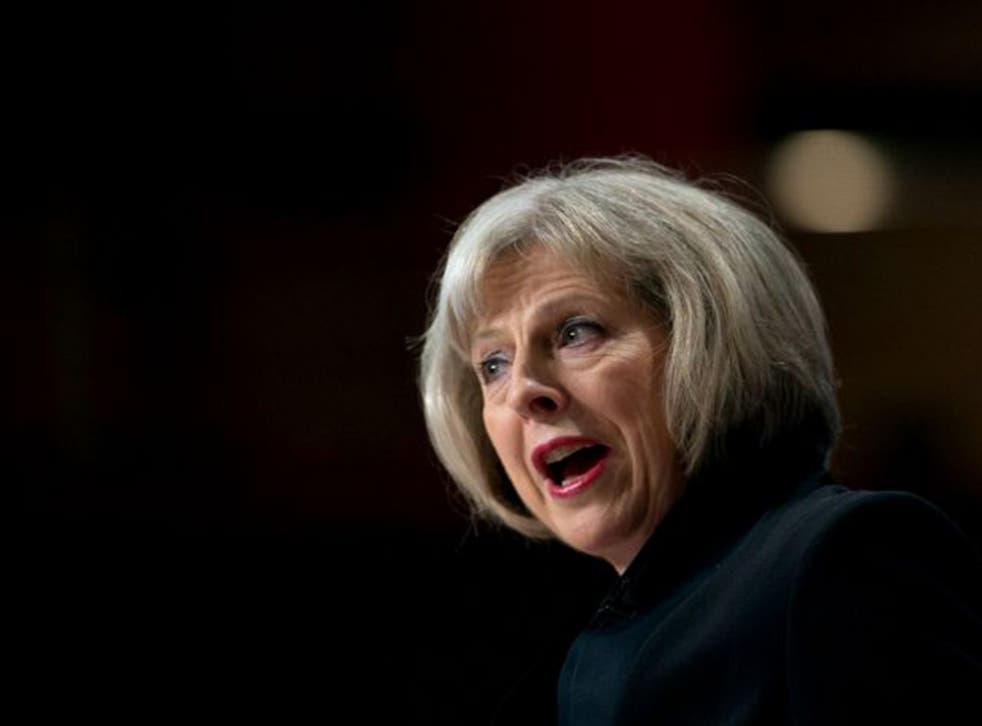 Theresa May faces a backlash this week from Tory backbenchers over attempts to strengthen her counter-terrorism powers.
The Home Secretary would gain the right to cancel the passports of returning British citizens for two years or more, if they are suspected to have been involved in terrorist activity abroad, as part of the Counter-Terrorism and Security Bill. The major parties are increasingly concerned by estimates that 500 British nationals, of interest to police and security forces, have travelled to Syria and Iraq and, if radicalised, could pose a threat on their return to the UK.
But critics have argued that blocking their return would, in effect, render them stateless and threaten their civil liberties, if the decision to stop or control their return was made by a politician. David Anderson QC, the Independent Reviewer of Terrorism Legislation, is concerned that Ms May would be able to impose these temporary exclusion orders without getting approval from the courts.
A number of senior Conservatives are preparing to back a Labour-led amendment that would force the Home Secretary to go to the courts. Ms May told concerned MPs last month that "as the minister with responsibility for national security, it is right that I, as Home Secretary, and not the courts, impose an order of this kind".
She now faces a large rebellion from the civil libertarian wing of her party. One prospective rebel said that many backbenchers are appalled by this "fairly shabby Bill", and will be looking to the party's former shadow home secretary David Davis and Dominic Grieve, the former attorney general, to help "make up their minds" on how to vote.
Mr Davis said that he will back the amendment, which was tabled by Shadow Home Secretary Yvette Cooper last week.
"My view is that these orders should not be in the gift of the government; there should be a judicial mechanism," Mr Davis said. "There are plenty of countries that can take away your passport at the stroke of a pen, but they tend to be places like North Korea."
Dominic Raab, the Tory MP for Esher and Walton, said that he was "sympathetic" to the amendments and "would find it hard to vote against them". Former cabinet minister Andrew Mitchell said that he would "listen to all the arguments with some care" before deciding which way he would vote.
Sir Edward Garnier, who, as solicitor general, was the coalition's second most senior law officer from 2010 to 2012, won't vote against the Government but said he was "sceptical about power staying with the Home Secretary". There could also be a substantial Liberal Democrat rebellion. "There is disquiet about a few aspects of this Bill in its detail," said a senior MP.
Ms Cooper said: "We are putting forward amendments this week including additional judicial safeguards. The police and security agencies need to be able to take swift action, but there also needs to be proper oversight and judicial safeguards to make sure powers are not abused. We also believe further reforms are needed to ensure that measures are effective and proportionate, and we expect further debate in the House of Lords."
Labour doesn't think the rebellion will be quite large enough to pass the amendment, but believes there will be sufficient political momentum to get the change introduced and included in the House of Lords. Many law lords are greatly worried about the lack of judicial oversight included in the Bill.
Mr Anderson, who is the country's terror-law watchdog, told MPs in November: "My central concern is, where are the courts in all this?" He is also worried about the Bill's introduction of a Privacy and Civil Liberties Board. This would be used to support the work of the Independent Reviewer. Mr Anderson has previously argued that the post is under-resourced yet also does not cover a wide enough range of laws.
Last night he warned: "If appropriately staffed and directed by the Independent Reviewer, the proposed new body could sharpen that investigative function and increase its scope. But if the Board is allowed to become a talking shop for the great and the good, the Reviewer's efforts will be dissipated by competing agendas and the requirements of compromise." The post has existed since the mid-1970s and is part time. This ensures independence, as the QC is financially secure by having a professional practice to fall back on for regular work.
Register for free to continue reading
Registration is a free and easy way to support our truly independent journalism
By registering, you will also enjoy limited access to Premium articles, exclusive newsletters, commenting, and virtual events with our leading journalists
Already have an account? sign in
Join our new commenting forum
Join thought-provoking conversations, follow other Independent readers and see their replies