Home Secretary Theresa May discloses that radical preacher Abu Qatada could be prosecuted in Britain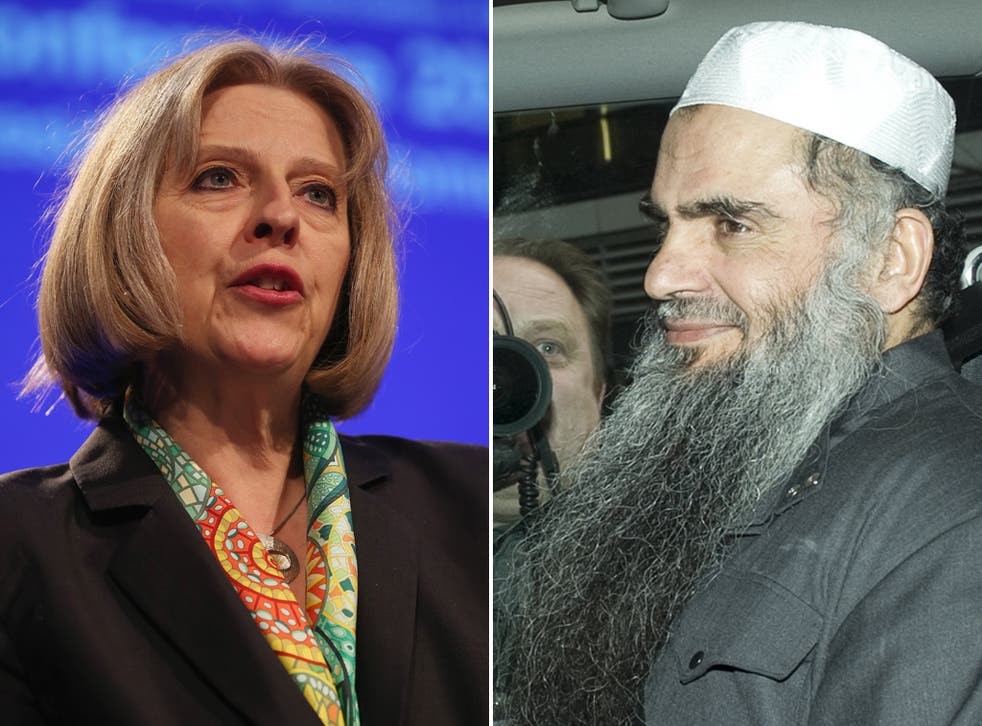 Theresa May intensified her attack on European judges today for blocking Abu Qatada's deportation to Jordan as she disclosed that the radical preacher could be prosecuted in Britain.
The Home Secretary berated the Strasbourg-based European Court of Human Rights (ECHR) for having "moved the goalposts" in the legal battles over efforts to remove the Islamist cleric from the country.
Qatada has successfully resisted attempts to send him to Jordan for a decade, with the ECHR raising fears he could face trial there on evidence obtained by torture. British judges have also blocked his removal, leading to a fresh legal battle in this country over his fate.
Qatada, once described as Osama bin Laden's right-hand man in Europe, is currently in high-security Belmarsh prison in south-east London after breaching bail conditions.
Ms May, who has visited Jordan to obtain reassurances over Qatada's case, was challenged during tense exchanges with the Commons home affairs select committee over his continued presence in Britain.
The Conservative MP, Mark Reckless, accused her of "craven surrender" to the ECHR and asked why she was persisting with the same lawyers and the same legal strategy.
The committee's chairman, Keith Vaz, challenged her over a prediction a year ago that Qatada was about to be deported.
She replied: "It is deeply frustrating he is still here. We thought we had the assurances we needed from the Jordanian authorities."
Challenged over who was to blame for the impasse, Ms May said the ECHR changed part of the criteria it considered when assessing whether evidence could have been obtained by torture. She said: "The European court moved the goalposts."
Her comments come a month after she became the most senior Conservative to float the idea of leaving the European Convention on Human Rights, which is enforced by the court, because it interferes with Britain's ability to fight crime and control immigration.
She said: "By 2015 we'll need a plan for dealing with the European Court of Human Rights. And yes, I want to be clear that all options - including leaving the Convention altogether - should be on the table."
During her appearance yesterday, Ms May told MPs that police and the Crown Prosecution Service "have looked and continue to look at what evidence is available" for Qatada's prosecution in this country.
They are considering whether he could be prosecuted over breaching his bail conditions and over extremist material allegedly discovered in his house, she said.
Qatada has lived in Britain since 1993 when he arrived on a forged passport. He was re-arrested last month after spending seven months in jail in 2012 for alleged bail breaches.
He us being detained on immigration legislation, which means he can only be held if there is a realistic prospect of deportation.
Mr Vaz said after the meeting: "I am very disappointed it appears there is no road map in place for deporting Abu Qatada. It is exactly a year since the Home Secretary said he would be on a plane 'soon', but it seems we have run out of runway."
Chris Bryant, the shadow Immigration Minister, accused Ms May of allowing Qatada's lawyers to "run rings around her department" and of bungling her strategy for removing him.
The Home Secretary also confirmed police numbers would be boosted at the London Marathon this weekend in the light of Boston Marathon bombings on Monday.
She said: "They've made some adjustments to policing. They've put in some increased policing for the marathon."
Join our new commenting forum
Join thought-provoking conversations, follow other Independent readers and see their replies