Homeless people with terminal illnesses could be offered automatic right to housing
Exclusive: Former minister Sir Ed Davey wants to change the law to stop people with cancer or long term illnesses 'dying on doorsteps'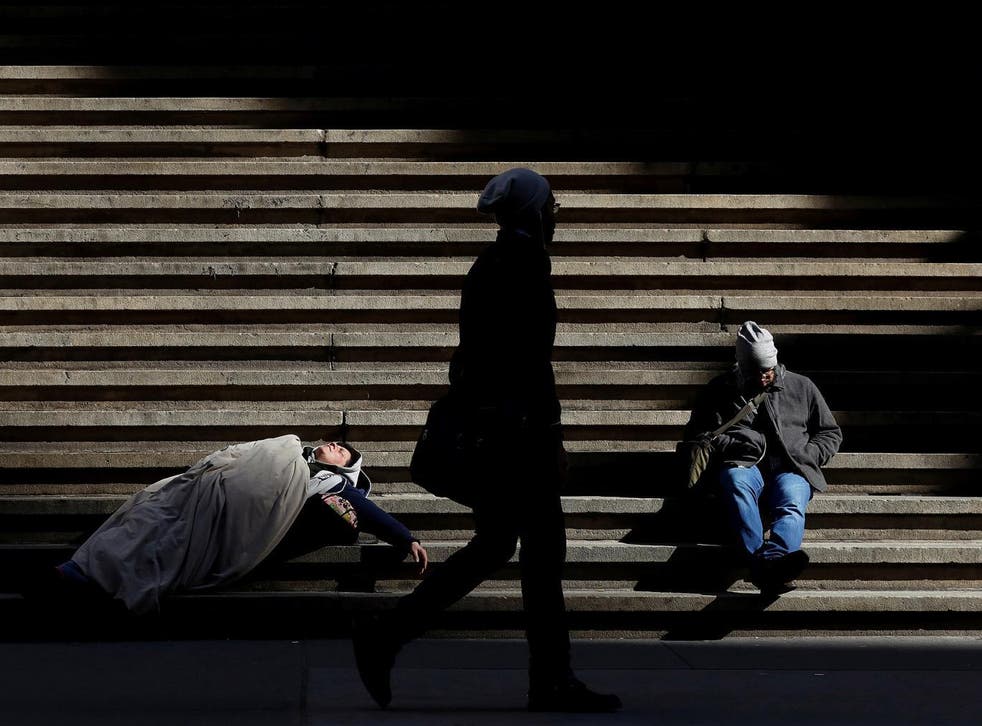 Homeless people with terminal illnesses who are "dying on doorsteps" will be offered an automatic right to housing under new plans going before Parliament.
Former Cabinet minister Sir Ed Davey wants to tackle gaps in the law to make it easier for homeless people with cancer or long-term illnesses to get end of life care and stable housing.
Under current laws, many people who are sleeping rough, living in hostels or staying on friends' sofas are not automatically eligible for long-term housing if they are dubbed "intentionally homeless" – where the local authority deems they have other options.
The Liberal Democrat MP wants to change the law to remove the "intentionally homeless" distinction for dying people and use GP palliative care registers to flag up people who are expected to die in the next 12 months.
It comes after the number of people sleeping rough in England hit record highs, as official data revealed 4,751 people were sleeping on the streets each night last autumn, a figure that has more than doubled since 2010.
Sir Ed told The Independent: "Across the country there are very bad experiences for homeless people at the end of their lives.
"So you have people dying on doorsteps, cold and in pain, but you also have people in hostels who are there with staff who are doing their best to help them, but they've got no medical training, they've got no painkillers or drugs and they are managing people who are dying.
"That is very stark and it's unacceptable in Britain in the 21st century.
"We are rightly trying to improve end of life care for everybody, but unless we are thinking about the most vulnerable and getting it right for them, I don't think we will ever manage to do that for everybody."
Homeless people often face significant health problems due to many enduring chaotic lives marred by abuse, deprivation and violence.
They are 10 times more likely to die early – the average life expectancy for a homeless woman is 43 and 47 for a man, according to research by the charity Crisis.
Palliative care is often wildly unsuited to their lives, despite a clear need as people who are homeless are also six times more likely to have heart disease and five times more likely to suffer a stroke than the general population.
Dr Caroline Shulman, a GP specialising in homelessness and inclusion for Pathway, in London, said there was an "urgent need" to tackle the problem as soaring numbers of rough sleepers could soon swell the numbers of homeless needing end of life care.
The palliative care expert told The Independent: "It is not a blame game, but there really is nowhere for people to be properly supported.
"We have a real gap in health provision for the homeless, many of whom end up in hostels where it is difficult for staff to give them adequate support."
Keeping people off the streets is the most important step in preventing a "vicious downward spiral" into ill health, she argued.
Jonathan Ellis, Director of Advocacy and Change at the charity Hospice UK, said: "People who are homeless are currently poorly served when it comes to receiving quality care at the end of life as they often struggle to access services. Even when they do, their needs are not always understood or acted upon by health and care services.
UK news in pictures

Show all 50
"We welcome this debate, which will highlight the need for action on this important and neglected issue."
The Homelessness (End of Life Care) Bill will go before Parliament on Wednesday but it will need to win the support of MPs and ministers to move forward.
The Conservatives committed to offering "attentive, high quality, compassionate care" to everyone at the end of life in their 2017 manifesto and NHS England is leading this work as part of a drive to improve palliative care.
The Department of Health and Social Care declined to comment.
Register for free to continue reading
Registration is a free and easy way to support our truly independent journalism
By registering, you will also enjoy limited access to Premium articles, exclusive newsletters, commenting, and virtual events with our leading journalists
Already have an account? sign in
Register for free to continue reading
Registration is a free and easy way to support our truly independent journalism
By registering, you will also enjoy limited access to Premium articles, exclusive newsletters, commenting, and virtual events with our leading journalists
Already have an account? sign in
Join our new commenting forum
Join thought-provoking conversations, follow other Independent readers and see their replies