Honours list: Jeremy Corbyn accused of 'buying' Labour anti-Semitism report after author is given peerage
Britain's chief rabbi says the credibility of Shami Chakrabarti's report 'lies in tatters'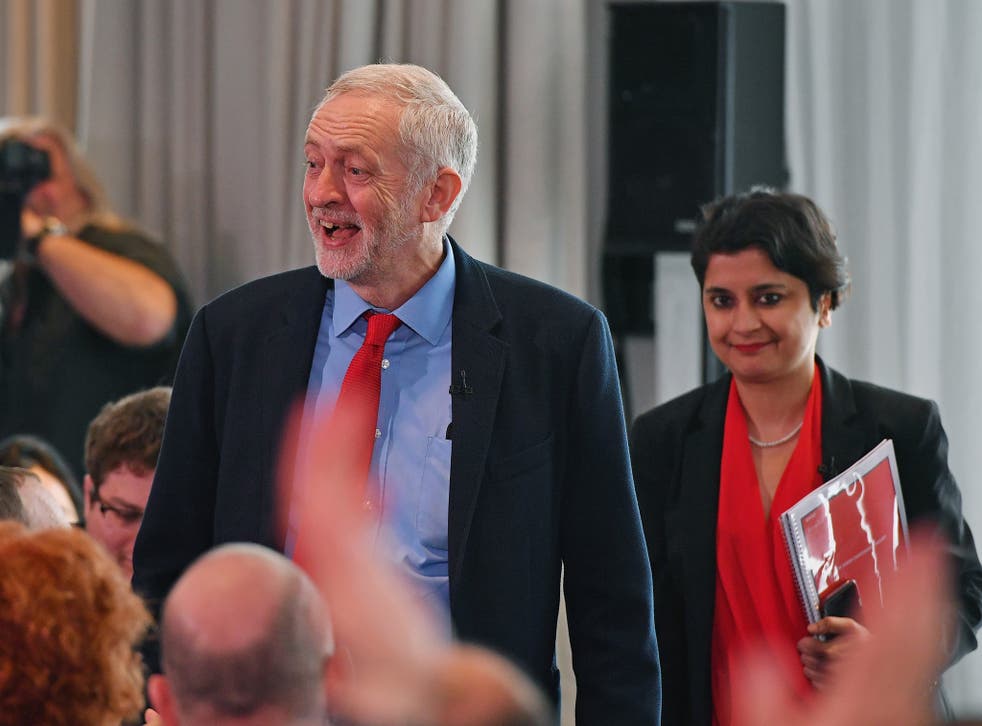 Jeremy Corbyn has been accused of "buying" a report which cleared the Labour Party of anti-Semitism after he nominated its author for a peerage.
The Labour leader backed the former director of civil rights charity Liberty joining the House of Lords as a peer despite previously promising he would never nominate anyone for a peerage.
In her report, which was published in June, Ms Chakrabarti concluded that racism was not endemic within the party, but she recommended members stop making reference to Hitler, the Nazis or using Holocaust metaphors.
Jeremy Corbyn slams David Cameron's honours list
She also said epithets such as "Zio" should have no place in Labour discourse but did not recommend lifetime bans for people who use them.
Britain's Chief Rabbi, Ephraim Mirivis, said the credibility of her report "lies in tatters" now she has accepted the peerage.
He said: "Shami Chakrabarti has a proud record of public service, but in accepting this peerage, the credibility of her report lies in tatters and the Labour Party's stated intention, to unequivocally tackle anti-Semitism, remains woefully unrealised".
Jonathan Sacerdoti, the Director of Communications for the Campaign Against Anti-Semitism, told The Independent the nomination proved Mr Corbyn's "declared opposition to anti-Semitism" was not serious.
He said: "If anybody still took Shami Chakrabarti's report or Jeremy Corbyn's declared opposition to anti-Semitism seriously, this must be the final straw.
"Shami Chakrabarti's inquiry into anti-Semitism was suspected of being a fraud from the moment she promised to conduct it in Labour's interests.
UK news in pictures

Show all 50
"Sure enough, she delivered a whitewash which failed to deal with Labour's anti-Semitism problem in any meaningful way.
"She did not tackle allegations of anti-Semitism in the Labour Party or their woeful handling by Jeremy Corbyn, and she even refused to adopt a definition of anti-Semitism.
"Having promised to never send anyone to the House of Lords, that is exactly what Jeremy Corbyn has done in return for a clean bill of health."
Ms Chakrabati was the only Labour peer to be named as part of David Cameron's resignation honours.
Labour's deputy leader Tom Watson had previously called for the party to boycott the list after calling Mr Cameron's suggestions the worst example of the "old boy's network".
Commentators on Twitter said even if Ms Chakrabarti did not accept a peerage in exchange for a favourable report, the timing of her appointment seemed "sordid" as a result.
But others came to her defence, saying she was a worthy addition to the upper chamber:
A spokesman for Mr Corbyn said: "Shami Chakrabarti shares Jeremy's ambition for reform of the House of Lords. Her career has been one of public service and human rights advocacy.
"Her legal and campaigning skills, and the trust that she has gained from many ordinary Britons, will be a considerable asset to the House of Lords."
Ms Chakrabarti said: "I am honoured to accept Jeremy Corbyn's challenge and opportunity to help hold the Government to account.
"This is a dangerous moment for our country and we share vital human rights values that need defending more than ever before in my lifetime."
Join our new commenting forum
Join thought-provoking conversations, follow other Independent readers and see their replies