House of Lords appointments: The new unelected peers promoted by David Cameron
The unelected House is now the second biggest legislature in the world after China's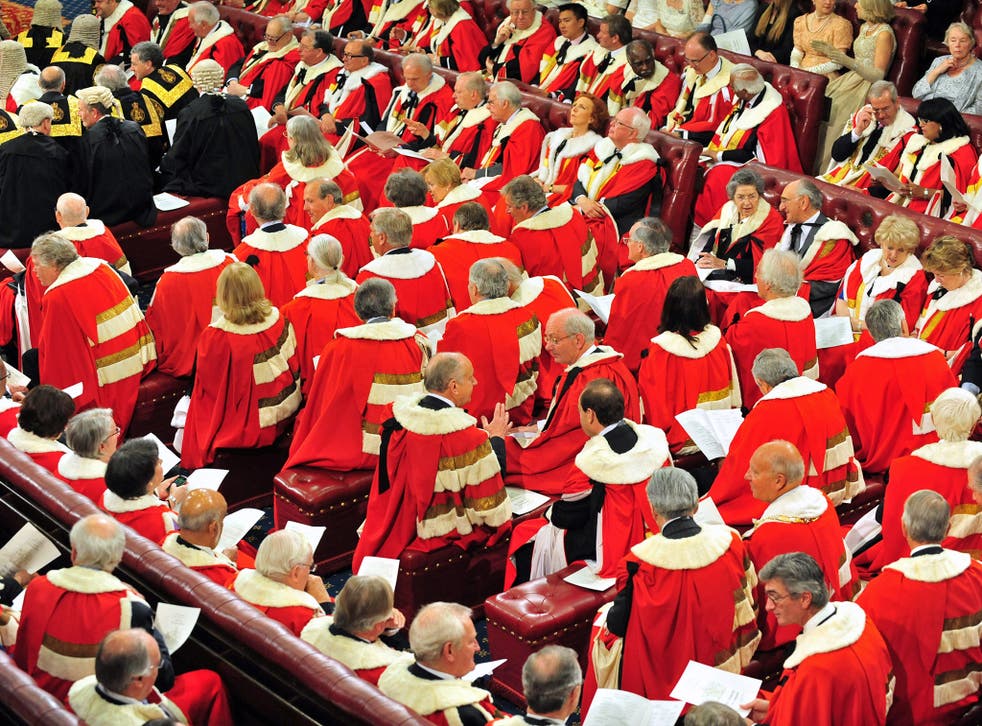 The Government has announced the appointment of new peers to the unelected House of Lords. Here's who David Cameron has rewarded, as well the opposition party nominations.
Tory nominations
James Arbuthnot
Former MP for North East Hampshire and front bench minister
Greg Barker
Former MP for Bexhill and Battle and former Minister of State at the Department for Energy and Climate Change
Kate Fall
Earns about £100,000 as PM's deputy chief of staff
Simone Finn
Special adviser to the Minister of State for Trade
Stephen Gilbert
Deputy chairman of the Conservative Party
William Hague
Former MP for Richmond and former Foreign Secretary
Robert Hayward OBE
Former MP for Kingswood, board member of Dignity in Dying and a trustee of the YMCA
Douglas Hogg QC
Former MP for Sleaford and North Hykeham and held several ministerial roles. Indirectly billed taxpayers for cleaning the moat at his country house and tuning his piano. Had to repay £20,639
Andrew Lansley CBE
Former MP for South Cambridgeshire and former cabinet minister. Claimed for having thatched Tudor cottage painted and driveway re-shingled before selling for £433,000. Repaid £4,733.
James Lupton CBE
Chairman of Greenhill Europe and former co-treasurer of the Conservative Party
Ruby McGregor Smith CBE
CEO of Mitie Group PLC
Anne McIntosh
Former MP for Thirsk and Malton and chairman of the Environment, Food and Rural Affairs Select Committee
Michelle Mone OBE
Entrepreneur on the board of directors for The Prince's Scottish Youth Business Trust
James O'Shaughnessy
Managing director of Floreat Education
Emma Pidding CBE
Former Chiltern District Councillor and former chairman of the National Conservative Convention
Stuart Polak CBE
director of the Conservative Friends of Israel
Gary Porter
Councillor for South Holland District Council and chairman of the Local Government Association
Liz Redfern
Leader of North Lincolnshire Council
Andrew Robathan
Former MP for South Leicestershire and several front bench and government roles
Kate Rock
Vice-chairman of the Conservative Party
Jane Scott OBE
Leader of Wiltshire Council
Kevin Shinkwin
Long-standing voluntary sector professional; lobbyist for Wine and Spirits trade association
Philip Smith CBE
Chief executive of Association of Conservative Clubs
Philippa Stroud
Special adviser to the Work and Pensions Secretary
David Willetts
Former MP for Havant and several front bench roles
Sir George Young Bt CH
Former MP for North West Hampshire and former cabinet minister
Lib Dem nominations
Sir Alan Beith
Former MP for Berwick-upon-Tweed and former chair of the Justice Select Committee
Sharon Bowles
Former MEP for South East England
Sir Malcolm Bruce
Former MP for Gordon, and former Deputy Leader of the Liberal Democrats
Lorley Burt
Former MP for Solihull and former chair of the Liberal Democrats
Sir Menzies 'Ming' Campbell CH, CBE, QC
Former MP for North East Fife and former Leader of the Liberal Democrats
Lynne Featherstone
Former MP for Hornsey and Wood Green and held several Ministerial positions
Don Foster
Former MP for Bath and former Liberal Democrat Chief Whip
Jonny Oates
Former Chief of Staff to the Deputy Prime Minister in the Coalition Government
Shas Sheehan
Former Councillor for Kew and involved in several community groups
Sir Andrew Stunell
Former MP for Hazel Grove and former DCLG Minister
Dorothy Thornhill MBE
Mayor of Watford; former councillor and assistant headteacher
Labour nominations
David Blunkett
Former MP for Sheffield Brightside and Hillsborough and former cabinet minister
Alistair Darling
Former MP for Edinburgh South West and former cabinet minister
Peter Hain
Former MP for Neath and former cabinet minister
Rt Hon Tessa Jowell DBE
Former MP for Dulwich and West Norwood and former cabinet minister
Spencer Livermore
Senior Campaign Strategist for the Labour Party
Paul Murphy
Former MP for Torfaen and former cabinet minister
Rt Hon Dawn Primarolo DBE
Former MP for Bristol South and former minister
Dave Watts
Former MP for St Helens North and former chair of Parliamentary Labour Party
Join our new commenting forum
Join thought-provoking conversations, follow other Independent readers and see their replies