HS2, benefit cap and broadband roll-out: Government flagship projects are 'unachievable'
23 schemes, totalling billions of pounds worth of public money, were given an amber/red rating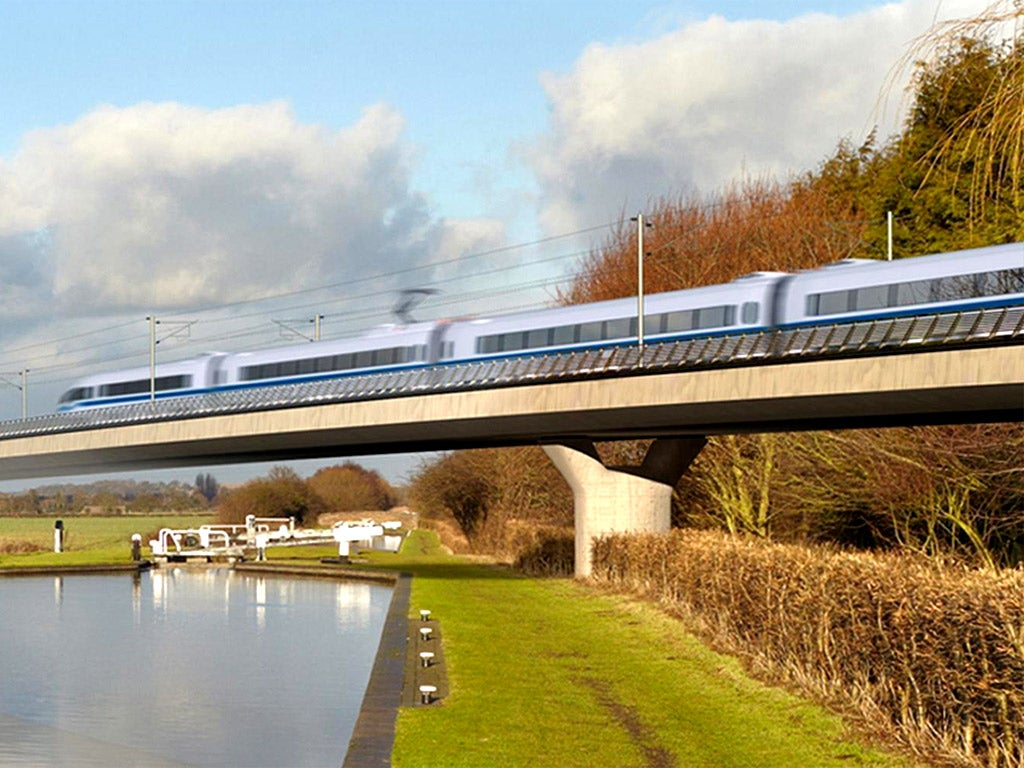 More than 30 of the Government's flagship projects are at serious risk of failure with some classed as unachievable, Whitehall documents have revealed.
High-profile schemes including High Speed 2, the benefit cap, a pilot scheme introducing payment by results for companies aiming to reform offenders and broadband roll-out, have all had warning flags raised against them.
Overall 23 schemes, totalling billions of pounds worth of public money, were given an amber/red rating, meaning successful delivery of the project is in doubt and urgent action needs to be taken to tackle problems in a number of areas.
A further eight, including the troubled aircraft carrier programme which has been dogged by delays and spiraling costs, were given a straight red rating - assessed as appearing to be unachievable as a result of schedule, budget or delivery problems.
Of the 191 programmes assessed in the Major Projects Authority's (MPA) annual report, just 32 were given the green all clear rating while 49 were classed as amber/green, 58 were amber and 21 were exempt from ranking.
Critics are likely to seize on the timing of the release - late on a Friday during Parliament's recess - as proof the government was keen for the findings to go unnoticed.
The Cabinet Office put out the slew of documents setting out the status of projects worth £350 billion with a release stating it has saved taxpayers £1.7 billion through better project management.
Francis Maude, Minister for the Cabinet Office, said: "Major projects need scrutiny and support if we are to succeed in the global race. Publishing this report will transform the management of expensive, important projects and will help hold Whitehall to account.
"I was staggered when I came into Government and found a relaxed approach to managing projects worth hundreds of billions of pounds. Problems were swept under the carpet where they festered at the taxpayers' expense. In many places the Civil Service lacked project management skills and had a lamentable record of project delivery.
"Since the general election we have got things back on track and are equipping the civil servants with the skills they need. Our new Major Projects Authority has helped save over £1.7 billion - that's £100 per working household. There's much more to do but thanks to the work of excellent officials we now expect to double the success rate of major projects, compared with the figures from 2010".
David Pitchford, head of the Major Projects Authority, said: "I've led major projects around the world and I have to say that when I started this job in the UK standards were not great. There have been big changes and Britain is now well on the way to becoming world-class. The Major Projects Authority has real power to intervene in failing projects and stop taxpayers' money being wasted. Of course it's just the start, we must keep up the pressure all the time - our annual report will make sure that happens."
Jon Trickett, shadow Cabinet Office minister, said: "This is yet more proof that David Cameron's Government has no answers to the challenges facing this country.
"The economy is flatlining, prices are going up faster than wages, almost one million young people are unemployed and there's a crisis in A&E - yet all David Cameron offers is failure and more of the same."
Matthew Sinclair, chief executive of the TaxPayers' Alliance, said: "Alarm bells will now be ringing yet again for taxpayers over central government's ability to deliver value for money on some of its multi-billion pound projects.
History is littered with examples of Whitehall failing to deliver initiatives on time and on budget and it appears that many of the same expensive mistakes are still being made at taxpayers' expense. Serious scrutiny is required to ensure that we are not left footing eye-watering bills for failing schemes and those responsible for any failures must be held to account. The fact that this report was quietly slipped out on a Friday evening will only add to suspicions that the Government was trying to bury bad news."
PA
Join our commenting forum
Join thought-provoking conversations, follow other Independent readers and see their replies