Hung parliament: Key Labour critics of Jeremy Corbyn issue public climbdowns in wake of shock election result
'I hold my hands up: I got it completely wrong. Jeremy Corbyn offered people hope'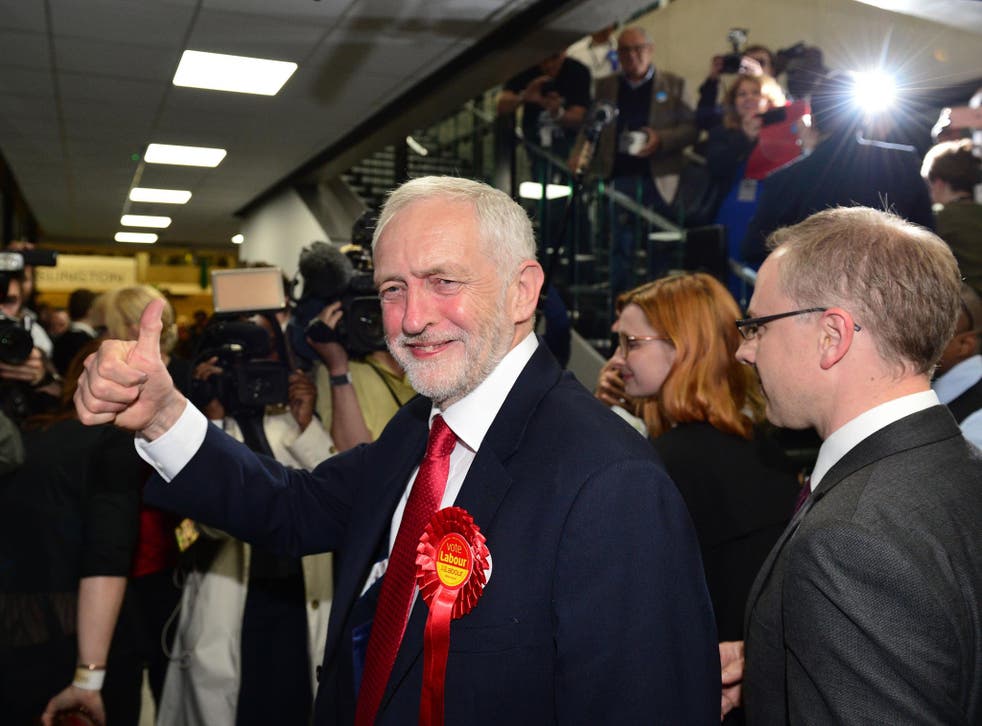 Senior Labour MPs have publicly shifted their stance on Jeremy Corbyn after the Labour leader defied expectations to increase the party's vote share and number of parliamentary seats.
Moderate MPs who had previously been critical of their leader today praised the campaign he had run and said he should be applauded for the election result.
Chuka Umunna, who has previously hinted that Mr Corbyn's "flaws" could "destroy the Labour Party", said: "[Theresa May] is not up to campaigning, being with people and talking to people about the issues – that was exposed in technicolour. Whereas Jeremy is absolutely at home campaigning, talking to people, getting involved in the debate.
"The effect of Jeremy running this kind of campaign – positive, optimistic, dynamic, engaging with young people, putting forward policies… is having thwarted Theresa May's attempts to pursue a hard Brexit, and I give not just Jeremy but the entire Labour team full credit for that because it was a solid, good national campaign.
"The only talk of replacing a leader is around Theresa May. Jeremy Corbyn will remain leader of Labour, quite rightly so."
Yvette Cooper, who has previously said Mr Corbyn is "losing us Labour support across the country", told Sky News: "It's great to see Labour winning back constituencies across the country… It's still a disappointment that the Conservatives are the largest party and obviously we want to be working hard to get a Labour government. But there's no doubt that to see constituencies like Canterbury and Warwick and Leamington come to Labour – very possibly because of a strong youth vote… is obviously really good for our democracy."
Asked if she would now be willing to serve under Mr Corbyn, she said: "We have leadership elections in the Labour Party and Jeremy won the leadership elections fair and square. Since he did, everybody has been working, and particularly during this election campaign, the whole party has come together not just to support Jeremy and Tom [Watson] and the shadow cabinet but to support Labour candidates right across the country."
UK Election Day 2017

Show all 38
Labour's deputy leader Tom Watson, who had last year urged Mr Corbyn to quit as party leader, said: "Labour fought a people-powered campaign, putting passion and principle against the Tories' corporate millions and we did better than many said we would.
"People responded well to Jeremy Corbyn's energy, honesty, candour, and energy – just as they saw Theresa May run away from holding herself to account.
"They saw through the lies of the Murdoch machine who tried to frighten people into voting Tory."
Meanwhile former Ed Miliband adviser Ayesha Hazarika said: "I hold my hands up: I got it completely wrong. Jeremy Corbyn offered people hope."
Writing in The Guardian, she added: "I got it wrong on Corbyn. He ripped up the political rules from the minute he decided to stand for the Labour leadership.
"Many of us thought that if Corbyn faced the electorate he would cost the Labour party seats and wipe us out. That hasn't happened. In fact, the opposite happened. Labour gained votes, but most importantly looks like it will have gained seats.
"I applaud Corbyn and his team on a great campaign and a great night... I urge my fellow Labour colleagues to acknowledge Corbyn's success and to try to find peace with him."
Join our new commenting forum
Join thought-provoking conversations, follow other Independent readers and see their replies