'I've done nothing wrong,' Peter Hain insists, as he battles for his political life
Yesterday the Work and Pensions Secretary tried to draw a line under demands for full details of the funding for his failed deputy leadership campaign. So can he survive? Whitehall Editor Brian Brady reports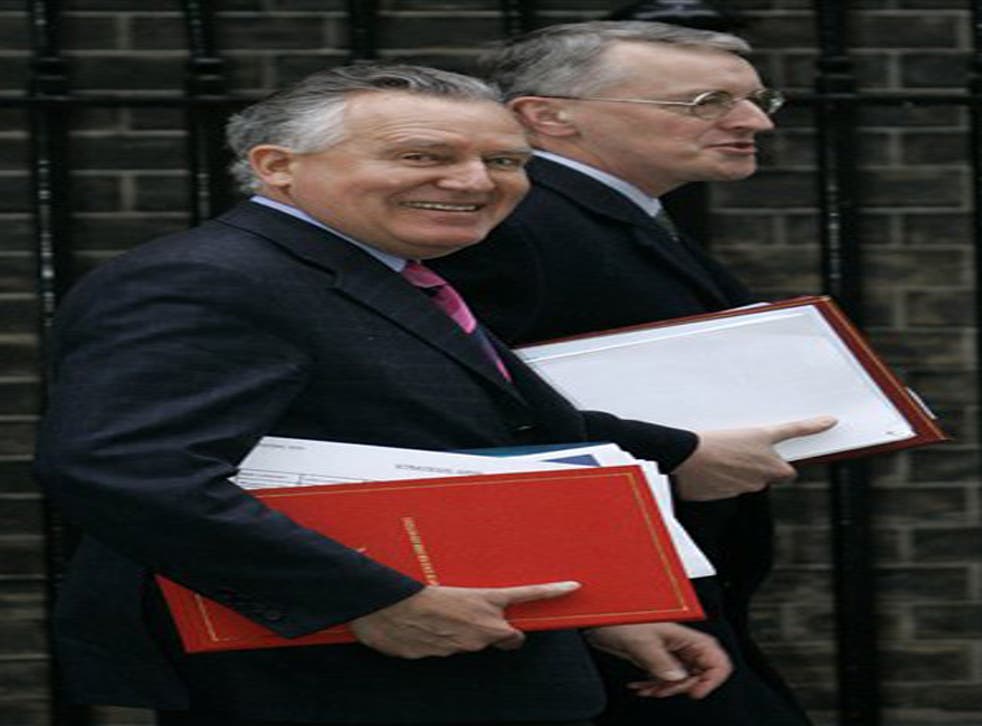 Peter Hain's political career hung in the balance last night after he emerged from lengthy discussions with Gordon Brown to insist that he would be getting on with his cabinet job.
The Secretary of State for Work and Pensions and for Wales ended a week of intense pressure over his failure to declare full details of how his failed deputy leadership campaign was financed with a defiant public statement that he had done nothing wrong.
Mr Hain dismissed as "absurd" any suggestion that he had attempted to hide details of the intricate arrangements for funding the huge £185,000 bill for his unsuccessful campaign. But he did not explain how he had failed to declare more than £103,000 in donations until late last week – some six months after the contest ended.
And, more significantly, he could not offer any explanation of the status of a political think tank that has no staff or publication record but still managed to channel more than £50,000 into his campaign coffers.
Downing Street sources last night confirmed that the brief public statement, delivered in his constituency in Wales yesterday afternoon, was delayed by several long-distance conversations with the Prime Minister over his chances of remaining in the Government. Mr Brown is believed to be ready to back his minister, at least until a parliamentary inquiry rules on his conduct, but he made it clear Mr Hain must not worsen his plight by offering more inconsistencies.
"The notion that there was some attempt by me to hide anything is absurd," Mr Hain said in his statement. "As with all candidates, money was raised by my campaign team. All those who contributed are people and organisations who are eligible and legally entitled to do so. I apologise for the embarrassment caused by poor administration and lack of early and clear disclosure. I am more than happy for the inquiries by the Electoral Commission and the Parliamentary Commissioner for Standards to take their course and meanwhile I will get on with my cabinet jobs."
But the defiant statement, designed to prevent support from the higher government echelons from ebbing away, failed to convince opposition parties which have been calling for the Secretary of State to come clean.
Mr Hain's Tory shadow, Chris Grayling, said: "Peter Hain's statement leaves many important questions unanswered. Unless and until he can provide a proper explanation of these issues, his future will remain in real doubt."
Liberal Democrat leader Nick Clegg also questioned Mr Hain's judgement, claiming he could not "distinguish between what appears to be either utter incompetence in the way his campaign was run, or deliberate obfuscation".
Scottish National Party MP Angus MacNeil said: "It's a bit strange that we have the donating of money to Peter Hain going through somebody else... The whole world around Labour and Peter Hain is very murky."
Plaid Cymru's Westminster leader, Elfyn Llwyd, said: "He does two very important jobs in Cabinet and if he can't get this amount of paperwork right, then the questions must be asked generally about his abilities to carry on in the jobs that he's doing."
Mr Hain said he had already "unreservedly apologised" for failing to register all the donations at the right time. Pressure has been growing on him after he disclosed on Thursday that he had failed to declare £103,000 in donations – on top of the £82,000 he did declare. Mr Hain, who finished fifth out of six in the race, blamed his government responsibilities for distracting him from the running of his campaign.
There were also questions over the role of the Progressive Policies Forum think tank, which channelled money to his campaign. It was set up three months after the launch of Mr Hain's campaign and counts John Underwood, who was involved in financing the campaign, as a trustee. Mr Underwood has said that the £26,000 in donations and £25,000 interest-free loan from PPF to the Hain campaign were "entirely permissible".
It has been suggested that two donors were not told their money was going towards his campaign, but Mr Underwood said: "I can confirm that, as several of these donors have now said, they were content for their contributions to PPF subsequently to be donated to Peter Hain's campaign."
The latest development came as former members of Mr Hain's campaign team attempted to blame each other for the chaotic state of the finances. One source last night said the problems had begun early in the campaign when officials commissioned "expensive and unusable" material including bound volumes of Mr Hain's speeches.
In his statement, Mr Hain said that it was only after the end of the campaign that "the extent of outstanding debt became apparent to me". He said he was also "now making immediate arrangements" to repay the £25,000 interest-free loan.
The supporters: The PR man, the diamond broker and the drugs boss
John Underwood: A former television journalist and a short-lived Labour Party communications director, He moved into public relations and has now emerged as founder of the think tank that channelled over £50,000 in donations and loans to Pater Hain's deputy leadership campaign. Mr Underwood set up the Progressive Policies Forum (PPF) in December 2006, but it has no staff, no board, no website and no published research. Mr Underwood says all who donated to the Hain campaign via PPF knew where their money was going.
Willie Nagel: A diamond broker who was once a Conservative supporter, he caused some embarrassment with his donation to John Major in the 1990s. Mr Hain's relationship with the Hatton Garden trader began when, as a Foreign Office minister, he put him in charge of cleaning up the industry seven years ago. Mr Nagel is the source of a £5,000 donation and a £25,000 loan, both through PPF, to the Hain campaign.
Isaac Kaye: Another unlikely ally for a vociferous opponent of the white supremacist regime in his former home country, Isaac Kaye backed South Africa's apartheid-backing National Party. Mr Kaye, has donated to Labour since 1997. He gave Mr Hain's campaign nearly £15,000 through PPF. He is the ex-head of a pharmaceutical company investigated by police over a suspected £400m price-fixing fraud against the NHS.
To have your say on this or any other issue visit www.independent.co.uk/IoSblogs
Join our new commenting forum
Join thought-provoking conversations, follow other Independent readers and see their replies