Iain Duncan Smith compares being on benefits to slavery and suggests he is acting in tradition of abolitionist
Felicity Morse
Thursday 23 January 2014 17:03 Comments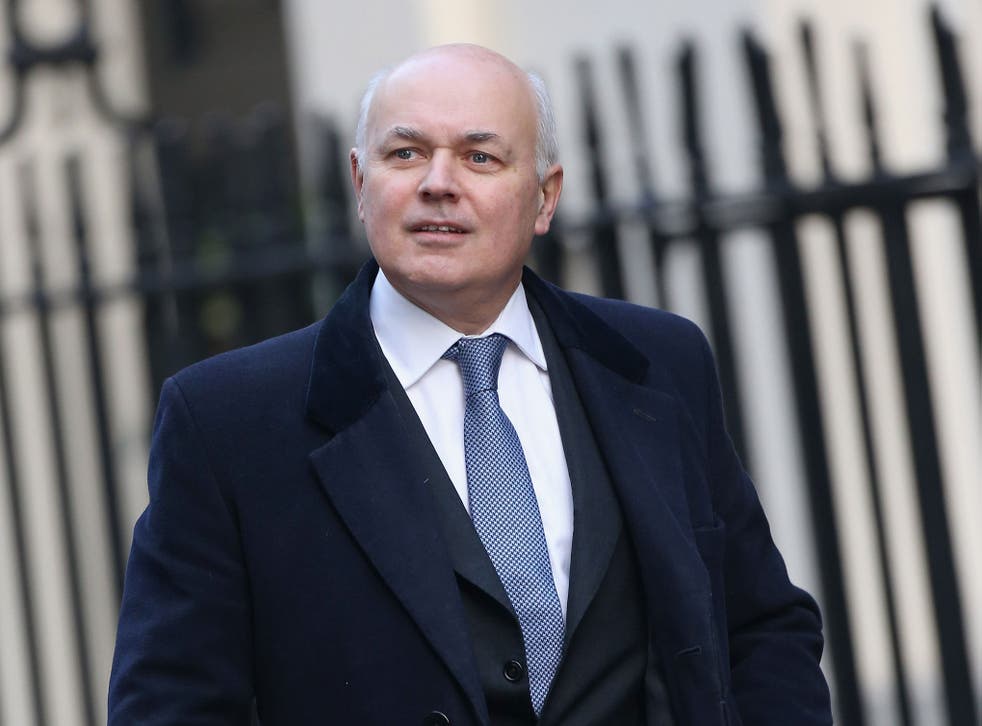 Iain Duncan Smith has suggested being on benefits is a form of slavery and he is like abolitionist William Wilberforce through his introduction of welfare reforms.
The Work and Pensions Secretary made the comparison in a speech to the Centre for Social Justice, a thinktank Duncan Smith set up in 2004.
He said his benefit changes were about a "journey from dependence to independence" and that that was part of the Conservatives "historic mission – just look at Wilberforce and Shaftesbury."
He talks repeatedly about how the reforms will set people "free" from their old lives in Britain's welfare ghettos and twice describes his policies as a "historic" break from the old ways. He talks about those on benefits being "trapped in their clutches" and said his reforms would put individuals back in control of their own lives.
He continues: "Shaftesbury and Wilberforce were people who faced a massive problem, a social problem, and saw only the need to change it, and embarked on that change against the vested interests and accepted wisdom of their age, and the results you can see were massive and transformational.".
However his comments have proved controversial with some. Shadow work and pensions secretary Rachel Reeves said in response to his speech: "This is no time for self-congratulatory speeches from Iain Duncan Smith. His time would be better spent getting a grip of his lamentable policies and the hundreds of millions of pounds of taxpayers' money he is needlessly wasting."
TUC General Secretary Frances O'Grady said: "Iain Duncan Smith's welfare reforms have led to elderly and disabled people being kicked out of their homes for failing to pay the hated bedroom tax, while dying cancer sufferers have faced benefit sanctions for not finding work. To compare this government-directed cruelty to the abolition of slavery is frankly offensive."
On social media, many pointed out the case of Cait Reilly, who took the DWP to court after the jobcentre told her she had to work for free at Poundland or risk losing her benefits. Shiv Malik, the Guardian journalist who broke the story, tweeted: "Hmm was Cait Reilly slave or slave owner then?"
Cait Reilly's work scheme was ruled unlawful at the court of appeal and both Miss Reilly, 24, from Birmingham, and 40-year-old unemployed HGV driver Jamieson Wilson, from Nottingham, succeeded in their claims that the unpaid schemes were legally flawed.
Iain Duncan Smith's speech also defended the controversial spare room subsidy, dubbed the bedroom tax by those who oppose it. He too discussed Universal Credit, saying that it delivered a cultural shift, making those on benefits treating welfare like work in itself. He said that the benefits cap "ended the something for nothing entitlement and returned fairness to the system." Michael Gove was also praised for improving children's education, helping struggling families achieve a better life. He said that Conservatives were winning the argument on welfare against Labour's "broken welfare system."
Last week Reeves announced that unemployed people who fail a basic skills test and refuse training will lose their Jobseeker's Allowance under Labour.
She matched the Tories too, backing tough curbs on when EU migrants to Britain should qualify for benefits. But she is opposing Tory plans to reduce housing benefit for under-25s and rejects proposals to means-test JSA for young people so it takes account of their parents' income.
Register for free to continue reading
Registration is a free and easy way to support our truly independent journalism
By registering, you will also enjoy limited access to Premium articles, exclusive newsletters, commenting, and virtual events with our leading journalists
Already have an account? sign in
Join our new commenting forum
Join thought-provoking conversations, follow other Independent readers and see their replies