Iain Duncan Smith says leaving EU may be the 'only way' to control benefits
Prominent Eurosceptic's comments come as George Osborne begins spelling out vision for 'two-speed' Europe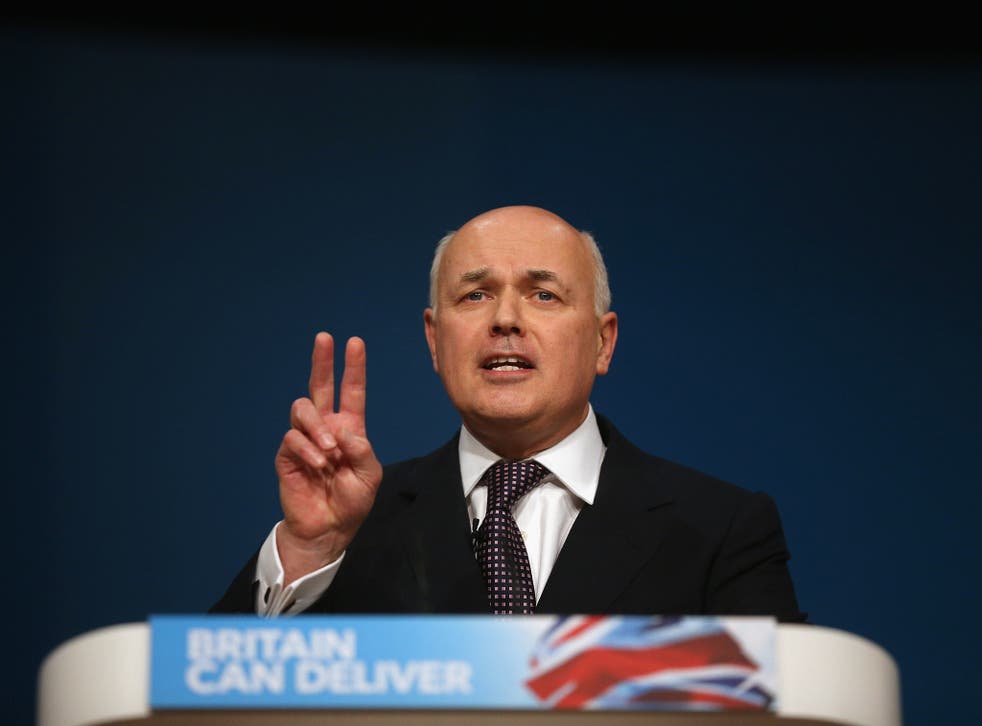 Iain Duncan Smith, the Cabinet's most committed Eurosceptic, has predicted that supporters of Britain leaving the European Union "may well carry the day" in the referendum promised by David Cameron.
The Work and Pensions Secretary signalled his sympathy for the "powerful argument" that leaving the EU was the only way for Britain to regain control over its benefit payment rules.
His comments come as George Osborne starts spelling out in public the Government's vision of a two-speed Europe which will form the basis of its attempts to negotiate a new relationship between London and Brussels.
Mr Duncan Smith was asked by a Tory MP whether "the only way in which the country will ever gain complete control over benefits policy for EU citizens is by leaving the European Union".
He noted the upcoming referendum and added: "I suggest at that moment you are able to make that powerful argument and I'm sure that no doubt under your rhetoric you may well carry the day."
The Chancellor will call today for the UK – and the City of London in particular – to be safeguarded from legislation pushed through by eurozone countries while retaining full access to the single currency.
Next week Mr Cameron will publish the detailed list of demands which he will put before a crucial meeting of EU leaders next month.
Speaking in Berlin, the Chancellor will say Britain is pressing for "principles embedded in EU law and binding on EU institutions" to protect countries outside the single currency from decisions taken by eurozone members.
He will argue: "The principles must ensure that as the eurozone chooses to integrate it does so in a way that does not damage the interests of non-euro members."
Protection for the City from measures such as plans to put eurozone banks under a single regulator will be a crucial British demand, Mr Osborne will indicate. "There will be cases where non-euro members want to participate in developments like the banking union. But that participation must be voluntary and never compulsory," the Chancellor will tell German business leaders.
He will call for an acknowledgment that the EU is a multi-currency grouping and a pledge that companies based outside the eurozone should not face discrimination.
Join our new commenting forum
Join thought-provoking conversations, follow other Independent readers and see their replies