Iain Duncan Smith tells Theresa May not to go on 'bended knee' to EU in Brexit talks
The Ex-Tory leader says the same approach failed for David Cameron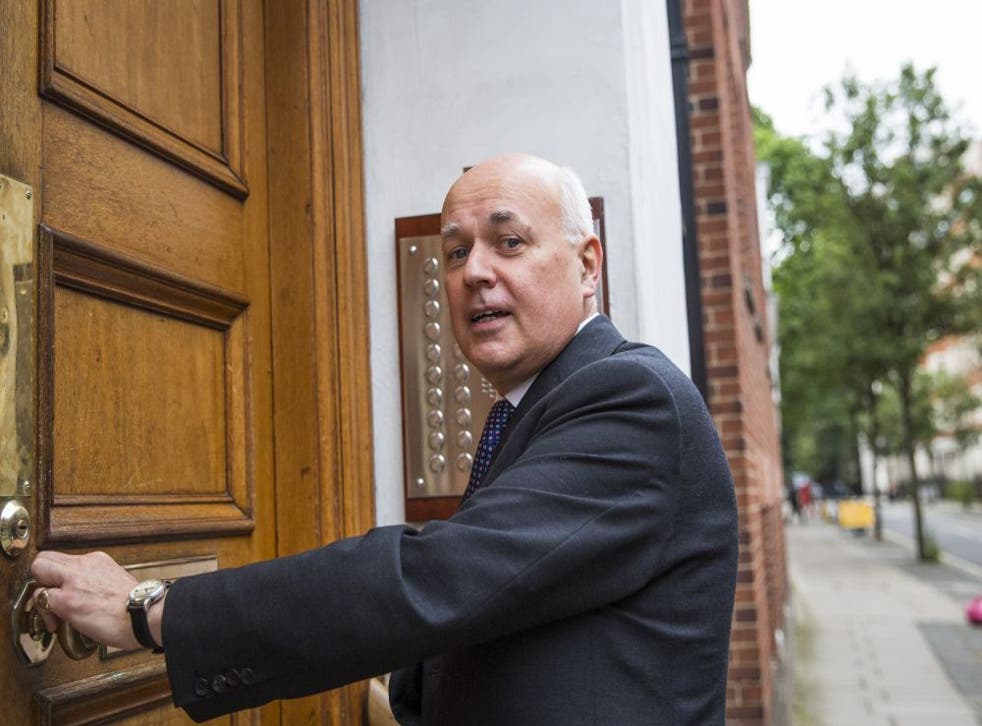 Former Tory leader Iain Duncan Smith has warned Theresa May not go into Brexit talks on "bended knee", begging to get concessions from Europe.
Mr Duncan Smith claimed David Cameron failed to win a decent deal from EU leaders using the same tactic and said the current Prime Minister had to show Brussels it is in their interest to reach an agreement beneficial to both parties.
His intervention, which also saw him call for a clampdown on low-skilled immigrants, increases Tory tensions over Brexit following a drive by Conservatives like Ken Clarke and Nicky Morgan to push Ms May into a moderate position on immigration and the single market.
Mr Duncan Smith told the BBC Today programme: "So, instead of us going over there with this kind of bended knee, special-pleading process, which frankly was one of the problems with the previous negotiation, you know we went around begging people to give us something and they all said no, rather than doing that we should be working on what we can all achieve together that benefits both of us.
"This is where, when you talk to people, they immediately agree. What they don't want to do is find their goods and services end up having charges placed on them when they come to the UK, and they accept that shouldn't be the case.
"So, let's work towards a free trade position where actually goods and services are treated equally and that would work well for both of us."
What experts have said about Brexit

Show all 11
Mr Duncan Smith, who with other senior Tories has produced a paper on plans for quitting the bloc, called for a new work permit system to ease immigration that would be implemented "very strongly at the lower end" to stem the flow of low-skilled workers into the country but have a "light touch" for skilled professionals, such as scientists.
Communities Secretary Sajid Javid on Saturday said any new immigration system would ensure the building sector "has got whatever it needs" to meet the Government's housing targets. The influx of construction workers from across the EU has often been blamed for pushing down wages in the industry.
But Mr Javid told the Financial Times that tackling the housing crisis by building one million homes by 2020 was his "number one priority".
"Wherever we end up, the Government is determined to get a good deal for Britain," he said.
"Whether it's construction or any other sector, we don't want to make it any more difficult for those industries than it is."
Join our new commenting forum
Join thought-provoking conversations, follow other Independent readers and see their replies