Independence referendum: It's the 'Braveheart tendency' vs the women of Scotland
The vote takes place in a year's time. Jane Merrick, Jonathan Brown and John Rentoul report on the 'yes' and 'no' campaigns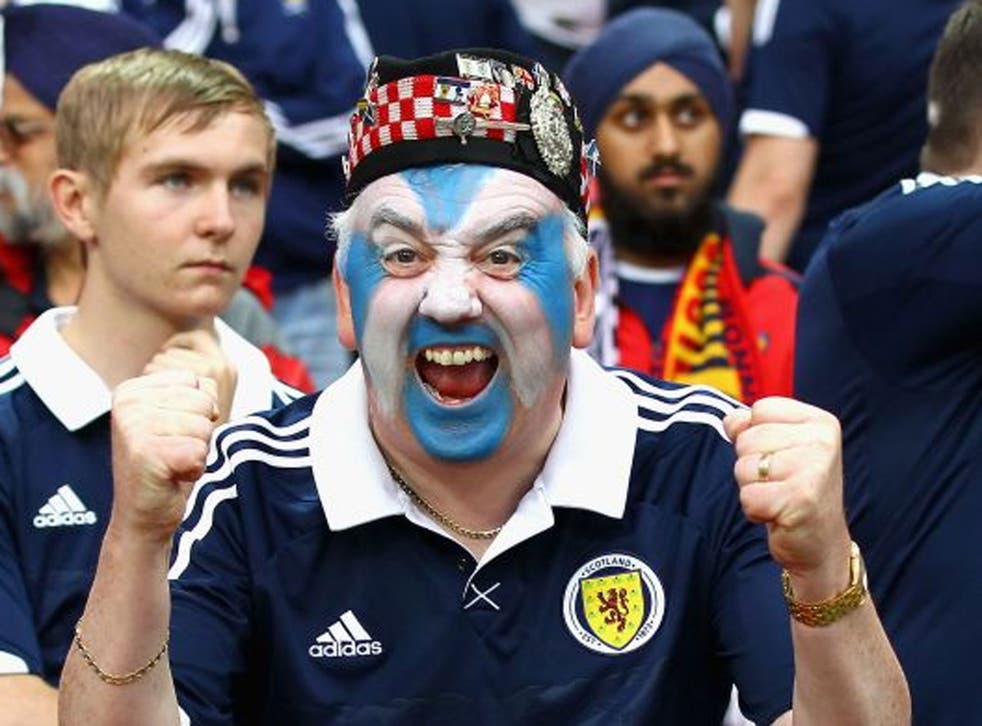 A "Braveheart tendency" is leading to more men backing independence for Scotland than women, one of the most senior Scots in the British government says today.
As new analysis of opinion polling reveals there is a growing gender gap in support for the break-up of the United Kingdom, Jo Swinson, the Glasgow-born Employment minister, says some men take a "macho view towards Scotland the brave".
With this week marking exactly a year to go until the referendum, David Cameron will today warn that Scotland's independence would transform the UK's "family of nations" into a relationship of "second cousins, once removed".
Analysis by The Independent on Sunday of the three most recent polls, for YouGov, Angus Reid and TNS BMRB, shows that more men back independence than women by a margin of 12 percentage points – up from a three-point gap in August 2012. Fewer men than women support the union staying together by a margin of seven points. Polls have shown that Alex Salmond is less popular among women than men. The Scottish National Party has tacitly acknowledged this, by pushing forward Nicola Sturgeon, the Deputy First Minister, in debates about independence. Generally speaking, women could be less inclined than men to favour a major shake-up, and vote on a less emotional basis.
In an interview with The IoS, Ms Swinson acknowledged the gender difference in the polls and added: "There's a variety of reasons that drive what people think of independence. There's a sector of the population that takes a quite macho view towards Scotland the brave, almost like a Braveheart tendency.
"I think that that particular view of independence tends to be more prevalent among men than women, and it's still a fairly small minority of the population – I think the debate on independence is not just on those grounds... It seems to be more men than women, and you've also got your Cybernats, as they're called – quite an aggressive online presence about independence which seems again to be male-dominated."
Ms Swinson, whose constituency is East Dumbartonshire, warned that families risk being pushed apart if Scotland votes "yes": "We have so many families that cross the border – brothers-in-law, sisters-in-law, parents – why suddenly create that separation? I think that would be unnecessary." She added: "It is absolutely the most important vote that I will cast in my lifetime, and I am sure that goes for my parents as well. Because, if we were to vote 'yes', that's for keeps. I don't want to have to choose between feeling Scottish and British."
Her words are echoed by the Prime Minister: "In a year from now, people living in Scotland will be making a choice which could radically change their country for ever. Scotland's future will be in Scotland's hands.
"We are a family of nations within one United Kingdom. Now is not the time to reduce that relationship to one of second cousins, once removed."
Mr Cameron points out that 18 September 2014 is "Scotland's date with destiny. The best of Scotland and the best of British – or a leap into the unknown?"
The SNP claimed last night that there are signs that women could switch to the "yes" campaign as the months go on. The party's research has found that more undecided women, and young Scots, are moving towards "yes" than "no". The SNP also said that it was ahead among families with children. Professor John Curtice of Strathclyde University said the position remained "remarkably stable" with all the major polls since July indicating that there were 59 per cent in favour of the union and only 41 per cent backing independence.
"What you discover is that where people have a strong sense of British identity, they are likely to vote no. Where they have a weak sense, it is more likely to be yes," he said.
Yet there is the potential for a number of game-changing moments in the 12 months before the nation is asked to decide the question "Should Scotland be an independent country?"
Next Saturday, more than 10,000 people are expected to march through the centre of Edinburgh in support of severing sovereign ties with London.
The "yes" campaign will be playing on the prospect, in 2015, of a second general election going Mr Cameron's way, which would consign Scotland to another five years of unwanted Tory rule unless it went its own way.
In the meantime, supporters of the "no" option – particularly Labour – could well consider wooing support by offering greater powers to the Scottish Parliament should the opinion poll gap start to narrow. The major parties have all set up commissions looking at devolution powers.
A critical moment will occur in November when the SNP unveils its white paper on an independent Scotland, which offers a blueprint for life after Westminster. The First Minister will be hoping this begins to shift the numbers in favour of what he describes as a "once-in-a-lifetime" opportunity to divorce the rest of the UK.
But there seems little chance of a head-to-head debate between Mr Cameron and Mr Salmond, and it is claimed that many of the most prominent figures in Scottish civil society are proving reluctant to join the debate. While Sir Sean Connery might be a long-time supporter of independence, other celebrity endorsements are thin on the ground.
Billy Connolly said he was remaining neutral and urged other comedians to do the same, while Emma Thompson, who lives half the year in Scotland, is against independence.
Mr Salmond, who enjoys the backing of the Scottish Greens and Scottish Socialist Party, might also be hoping that Glasgow's hosting of the Commonwealth Games and the Ryder Cup at Gleneagles next year could fuel waves of nationalism.
In the event of a "yes" vote, Scotland would remain in the pound and retain the Queen as head of state. The question of Britain's nuclear deterrent, currently based at Faslane and which Mr Salmond has said he will remove from Scottish soil, remains among the most problematic.
Blair Jenkins, chief executive of Yes Scotland which supports independence, said there are a number of policy areas that could swing the vote: "Issues of identity are playing only a small part in the debate. It is about what kind of country we want to live in and what kind of economy we want to be part of.
"We offer a notion of a fairer society. People want a stronger sense of social justice, to protect public services, prevent marketisation of the NHS – this is what is determining the debate. It is about the daily nitty- gritty of real life – not a dry, abstract theoretical argument."
However, Blair McDougall, campaign director of Better Together, an alliance of Labour, Tories and the Liberal Democrats, said he was "confident but not complacent" in the face of the opinion polls. He said that of the four million strong electorate up to 1.5 million had yet to make up their minds.
He said the independence campaign had been forced to change tack after discovering that an appeal to Scots identity was not enough to win. But Mr McDougall denied that the "no" campaign was playing on people's fears. "Our slogan throughout has been that you get the best of both worlds – that a Scottish Parliament delivers for Scotland, backed up with the strength of being part of a bigger economy," he said.
Countdown to referendum
25 January 2012 The independence referendum consultation "Your Scotland, Your Referendum" was launched on Burns Night.
15 October 2012 David Cameron and Alex Salmond sign the Edinburgh Agreement, pledging to work together to ensure the referendum goes ahead.
30 January 2013 Scottish government accepts the referendum question will be "Should Scotland be an independent country? Yes/No."
12 March 2013 The Scottish Independence Referendum (Franchise) Bill extends the vote to 16- and 17-year-olds.
21 September 2013 Edinburgh is setting for big pro-independence rally.
October 2013 MSPs will take part in the final debate of the referendum Bill before a vote to approve it.
November 2013 Royal Assent anticipated for referendum Bill.
November 2013 Publication of referendum White Paper.
Summer 2014 Sixteen weeks before the referendum will see the start of the campaigning period regulated by the Electoral Commission.
August 2014 Pre-referendum period – government promotional material is banned before actual vote.
18 September 2014 The people of Scotland will vote in independence referendum.
May 2016 If Scotland votes "yes", this is the predicted date for the first elections to an independent Scottish Parliament.
Lottie Morley
Join our new commenting forum
Join thought-provoking conversations, follow other Independent readers and see their replies