New hope for Libyan-supplied IRA victims' compensation after anger over Boris Johnson's block on fund
Exclusive: Legislation to set up fund to clear House of Lords - after criticism Foreign Secretary has 'failed' to act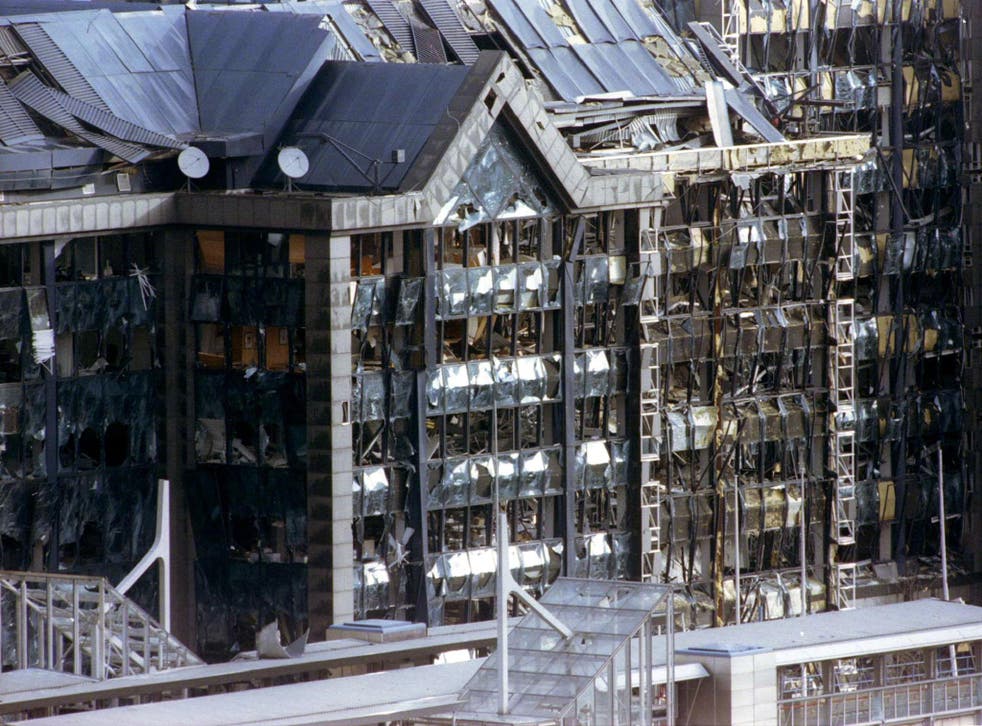 A campaign to win compensation for victims of IRA bombs that used Libyan-supplied Semtex will receive a huge boost next week, amid mounting anger over Boris Johnson's handling of the controversy.
Legislation to set up a reparations fund will clear the House of Lords after the Foreign Office abandoned an attempt to block it, fearing inevitable defeat, The Independent has learned.
The move will be a major embarrassment for Mr Johnson, who enraged campaigners by refusing to establish a fund – despite once describing getting help to the victims as a top priority.
Instead, the Foreign Secretary has floated giving "community support" and pushed for direct meetings between the families and a Libyan minister – leaving them to "fend for themselves," said one critic.
MPs pushing for compensation who held talks with Mr Johnson have complained that he did not have a full grasp of the issue and its urgency, even as some relatives of bomb victims have now died.
"This has been an embarrassment for successive governments, but it now falls to Boris Johnson to act – and, so far, he has failed to do so," a source said.
Muammar Gaddafi's regime supplied the Provisional IRA with tonnes of weapons, including Semtex explosive which provided a powerful booster for atrocities carried out in the 1970s and 80s.
These included the bombing of Harrods department store in London in 1983, an Enniskillen Remembrance Day ceremony in 1987, Warrington in 1993 and at Canary Wharf, in London's Docklands, in 1996.
For years, the Treasury has refused to seize money from the £9.5bn of Gaddafi assets frozen in London, despite the US, France and Germany negotiating settlements for their victims.
One MP said he had recently become aware of a relative of someone killed in one of the IRA bombings who had died, still waiting for compensation for the loss of a loved one.
Now a bill put forward by Lord Empey, a unionist peer, is poised to pass the House of Lords next Wednesday, with the Government expected to concede it cannot obstruct it.
It will then be taken up in the House of Commons by Conservative Andrew Rosindell, putting huge pressure on ministers to back it and take steps to seize some of the assets.
Mr Johnson has also come under fire for refusing to say he will take up the fight if, as expected, the controversy reaches the United Nations in the near future.
Libya descended into bloody chaos after the fall of Gaddafi in October 2011, leaving rival militias fighting for power and currently has two governments and two parliaments.
However, if unity can be achieved, a resolution is likely to be brought before the UN Security Council seeking to unfreeze the country's lucrative assets.
To the disbelief of campaigners, Mr Johnson has indicated that he will refuse to use the UK's security council veto to prevent the funds' release unless compensation is paid first.
UK news in pictures

Show all 50
The Foreign Office has suggested it lacks support for such a step, but, the source told The Independent: "The point is we do not need the support of other members – we have a veto."
Anger over the Government's lack of interest is also fuelled by its willingness to intervene with Libya on behalf of the Lockerbie victims and for the family of murdered PC Yvonne Fletcher.
There are suspicions that the UK is reluctant to act for fear Libya will reactivate a claim for damages for the 1986 bombings of Tripoli and Benghazi by US planes, some allowed to fly from British bases by Margaret Thatcher.
Yet, when he visited the desert country last May, Mr Johnson suggested that he had taken up the cause of the IRA victims.
"He raised it a huge amount and very forcefully," a source told a friendly newspaper at the time.
In meetings with MPs from constituencies that suffered bombings, Mr Johnson promised to be more proactive in raising the issue with the Libyan authorities, but gave no detail. Just one meeting has been staged in the past decade.
Jim Fitzpatrick, Labour MP for Poplar and Limehouse, which includes Canary Wharf, said: "British victims have not received the compensation that US and German citizens have received – and that is totally wrong.
"There are billions of pounds of Libyan assets locked up in banks, including £9bn in London and we should be seeking an agreement to use that money to pay this compensation."
He added: "There will be a security council discussion on this matter. The UK has a veto on that council and we should use it if we need to."
A Foreign Office spokeswoman declined to respond to criticism of Mr Johnson and confirmed it had rejected the idea of a fund, paid for by the UK taxpayer, in lieu of Libyan compensation.
"The Government wishes to see a just solution for all victims of Qadhafi-sponsored IRA terrorism," she said. "The Libyan Government has a responsibility to deal with the legacy of the Qadhafi regime and the UK Government continues to impress upon them the impact of Qadhafi's support for the IRA."
"The situation on the ground in Libya makes progress on this issue extremely difficult, which is why the UK is supporting an inclusive political process in Libya, in order to help create a stable government."
The Asset Freezing (Compensation) Bill, put forward by Lord Empey, calls for "restrictions on assets owned by persons involved in conduct that gives support and assistance to terrorist organisations in the United Kingdom, for the purpose of securing compensation for citizens of the United Kingdom affected by such conduct".
Register for free to continue reading
Registration is a free and easy way to support our truly independent journalism
By registering, you will also enjoy limited access to Premium articles, exclusive newsletters, commenting, and virtual events with our leading journalists
Already have an account? sign in
Register for free to continue reading
Registration is a free and easy way to support our truly independent journalism
By registering, you will also enjoy limited access to Premium articles, exclusive newsletters, commenting, and virtual events with our leading journalists
Already have an account? sign in
Join our new commenting forum
Join thought-provoking conversations, follow other Independent readers and see their replies