Is Simon Stevens really the right person to run the NHS?
Mr Stevens, a senior executive at controversial US firm United HealthCare, was picked out as one of  the 'aggressive new generation of leaders'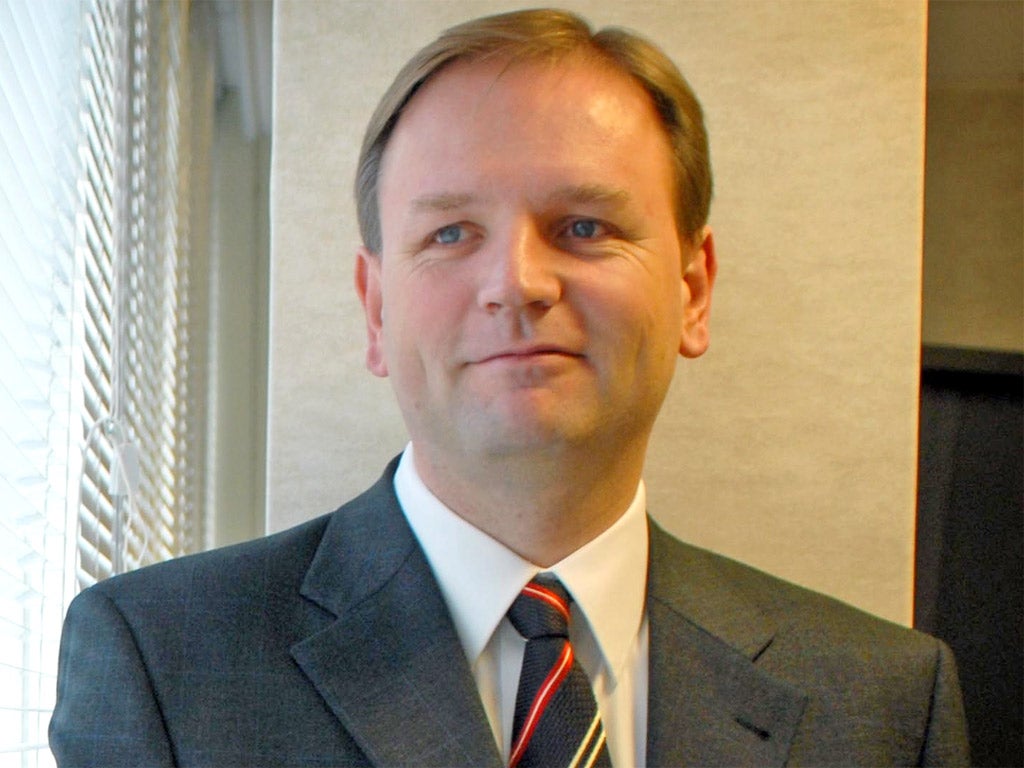 If a firm wanted to find a boss that can aggressively cut costs while claiming to simultaneously improve services, Simon Stevens is arguably the ideal man for the job.
After Tony Blair's former health policy adviser was announced yesterday as the new NHS England chief executive, attention has turned to the US company he has spent the last decade with as a senior executive: United HealthCare.
UHC's phenomenal rise – it is now ranked no 17 in the Fortune 500 list - has not come without controversy. During the 10 years Mr Stevens was a senior executive, the firm was the subject of a class action lawsuit filed by the American Medical Association after it claimed UHC used faulty claims data to underpay doctors and overcharge patients.
New York Attorney General Andrew Cuomo said patients had been victims of "consumer fraud" for a decade in a settlement that saw UHC agree to pay $350m in compensation to the claimants. Investigators had found that insurers using the Ingenix database, a UHC subsidiary, underpaid up to 28 per cent for claims based on inaccurate or insufficient information in the system. As part of the 2009 settlement, UHC also contributed $50m to help fund a new database that would replace the old one ending a "clear conflict of interest" according to Mr Cuomo.
An updated version of Ingenix is again causing controversy today. OptumInsight, another UHC-owned data firm, which uses algorithms to find efficiencies from calculating the most expensive patients, or doctors with the fewest number of patients, has been blamed by analysts for UHC dropping thousands of doctors caring for elderly Medicare patients this month. The company claimed it wants to provide "a network of physicians who we can collaborate with to help enhance health plan quality, improve health care outcomes, and curb the growth in health care costs".
Medical groups across Florida, Rhode Island and Connecticut have begun fighting back as doctors no longer considered "in network" are more expensive and for many patients no longer affordable – unless they pay a higher premium.
After his practice was cut this week from the UHC network Dr Walid Saber, an interventional cardiologist in Rhode Island, told his local newspaper: "This decision is unfair and very abrupt, without any well-communicated reasons. This has not happened before. There has never been an incident where a health insurance company dismisses mass numbers of physicians from different specialties with no reason."
Termination letters arrived at surgeries just as Medicare open enrolment began with the passage of the Obama administration's Affordable Care Act – also known as Obamacare – with many doctors describing patients physically shaking with anxiety at the news.
UHC was also under investigation by the SEC in 2006 when then chief executive William McGuire was ordered to pay back $468m as part of a partial settlement over stock options backdating. The scandal, which led to Mr McGuire's resignation, cost the firm almost $1bn.
Throughout the troubles, Mr Stevens was picked out as one of the "aggressive new generation of leaders" rising through the ranks of UHC's business unit and business has definitely boomed during the incoming NHS's chief's tenure at the Minnetonka-based outfit.
Their interim financial results, filed with the Securities and Exchange Commission last week, showed that annual revenue for 2013 is expected to reach $122bn – a double-digit percentage year-on-year growth.
In March 2004, annual figures show the company paid $4.7bn in medical costs and had total assets of $20.8bn. By the end of June 2013, UHC was paying just under $12bn in medical costs as more patients joined its network, but its total assets had risen four-fold to more than $80bn. Shareholders are certainly not complaining. Their equity is now worth more than $31.4bn – up from just over $5bn at the end of 2003.
Although NHS England said Mr Stevens will "divest himself of any UnitedHealth Group shares before taking up his new NHS post in April, and will comply with all public service rules related to these matters," a review of this agreement by NHS England chairman Sir Malcolm Grant will be made after Mr Stevens's first year. Critics argue that this could pave the way for greater collaboration between the NHS and United HealthCare, which already runs some GP services in the UK.
UHC covers more than 85m people worldwide, employs more than 130,000 people and has a foundation arm which last week spent $9m on new affordable housing in Ohio, one of the many charitable projects it carries out. Its 2012 annual report said that 900 million claims are processed annually with greater than 99 per cent accuracy.
A clue as to how Mr Stevens will run the NHS could be seen earlier this year when he co-authored a report for UHC arguing that the Obama administration could save $500bn in Medicare and Medicaid funding over the next 10 years by more aggressively coordinating medical care for pensioners and the poor.
Ever the Blairite, Mr Stevens said instead of concentrating on either cutting benefits or cuts to doctors and hospitals, the US healthcare debate should focus on a "third way": cutting costs while improving care. A similar challenge awaits him at the NHS.
A spokesman for UNC commended Mr Stevens for his leadership over the company's "truly significant entry into the international marketplace".
He said Mr Stevens was not directly involved in the AMA dispute.
Join our commenting forum
Join thought-provoking conversations, follow other Independent readers and see their replies