Is the party over for the EDL?
The resignation of English Defence League leader Tommy Robinson has dramatically reshaped the landscape of British far-right politics
Eric Randolph
Friday 18 October 2013 16:16 Comments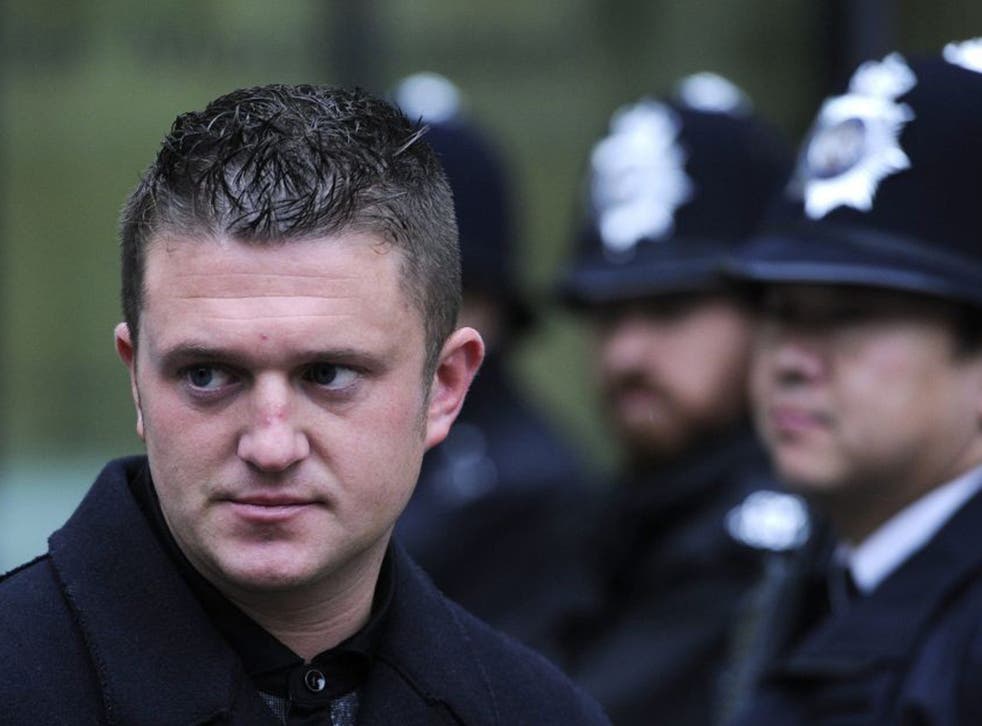 The English Defence League is likely to splinter into smaller regional units with some supporters shifting to more extreme movements in the wake of the leadership's resignation, according to a former member of the police unit that spent years covertly monitoring the group.
Even before last week's shock decision by Tommy Robinson and Kevin Carroll to abandon the anti-Islamic street movement they formed in 2009 - saying they no longer wished to be associated with the far-right extremists that came to their rallies - there were signs that the group was splintering and losing support.
"The EDL is likely to wither and die now. I can't think of anyone left with [Robinson's] standing," said a recently retired officer with the National Domestic Extremism Unit. He agreed to speak on condition of anonymity as a result of the sensitive - and sometimes controversial - work carried out by the unit, which gathers information and intelligence on far-right organisations , as well as left-wing and environmental groups.
"The EDL may survive as separate regional organisations. Most of its activity was at a local level anyway. But prior to the murder of Lee Rigby, it was already seeing a marked decline. One of the reasons was the personal antipathy of regional leaders towards Tommy Robinson - he was not terribly well liked but was accepted as the best leader because he had a certain amount of charisma and cunning."
Local EDL leaders held a Skype conference on 9 October in which they agreed to establish a new committee of regional organisers. They chose a new chairman, Tony Ablitt, a former organiser with the British Freedom Party, a short-lived political front for the EDL. They are due to hold a meeting on 26 October to discuss the group's future strategy.
Appearing at court this week, Tommy Robinson - real name Stephen Yaxley-Lennon - said he had received a number of death threats since resigning and was now "the most wanted man on either side".
"The people who the death threats are coming from are the people who I was opposing anyway - they were the elements that were always on the outside of the English Defence League, they were around it always wanting to hijack it," he told Woolwich Magistrates Court.
As the national movement weakens, disgruntled supporters may find themselves drifting towards more extreme organisations, such as the Northeast Infidels and English Volunteer Force, which are more open in their racist and anti-immigrant views.
"The legacy of the EDL is a few thousand young, working class men who have been radicalised and handed a warped view of British Muslims and their beliefs," said Matthew Goodwin, associate professor at the University of Nottingham. "It is unlikely that now, with the resignations, those men are simply going to abandon those views."
The Domestic Extremism officer could not discuss operational details of his former unit but said they "collate and assess intelligence" on these individuals and "directed out tasks to Special Branches and the police Counter Terrorism network to gather that information".
He said their work often led to paranoia among extreme far-right groups. "There is a huge amount of distrust around the level of state penetration. New individuals are not trusted; there are multiple fallings out with each other. They do our work for us."
He defended the unit's covert surveillance activities - which he accepted were controversial. The unit, which has around 100 staff, has been criticised in the past for employing agent provocateur tactics, including the use of an undercover officer who had a string of sexual relations with environmental activists.
"Some people will never be reassured, but the proportionality test is applied to everything we do covertly or overtly," the officer said.
One of his main reasons for talking to the press, the officer said, is to discourage left-wing activists who show up to protest against EDL rallies.
"Left-wing counter-demonstration are actually feeding the EDL - they're feeding the excitement. The EDL are politicised football hooligans so they respond to having an opposing team. If they held their counter-demonstration five miles away or on a different day, a lot of the EDL supporters would get bored and think 'I don't want spend this amount of money every other Saturday to travel around the country for nothing.'"
Unite Against Fascism, which has spearheaded many of the demos, defended its actions saying they had helped precipitate the EDL's decline by showing the scale of opposition it faced from ordinary people.
"The EDL were growing exponentially until they were met by a greater force," said Weyman Bennett, joint secretary of UAF. "They would come with a few hundred and we would have a few thousand who didn't want them in their town, and they didn't know what to do."
The UAF also argues that by liaising with local mosques and community groups, they were able to prevent people taking matters into their own hands.
"The police want people to go indoors and have a cup of tea and ignore the racists on their streets. But people don't operate that way - they want to confront racism, and we provide an organised response."
For the Domestic Extremism Unit, the priority was often individuals rather than the EDL itself.
"People bring their own ideology to EDL marches. It's a supporter-based organisation rather than membership-based. Some of the attacks on mosques may have been carried out by people with links to the EDL but I'm not aware of any link between those attacks and the leadership."
He added that there is a "risk of terrorism" but that it's limited to individuals or very small groups "that are not terribly sophisticated".
"There have been about 15-18 arrests of people with terrorist paraphernalia and the wherewithal to put them together. Often they have bought the components, but haven't actually put them together. They see the race war as a matter of time, and want to be prepared."
As for Tommy Robinson, he has yet to make a clear statement on his future plans since resigning. He told a press conference last week: ""I have a passion to combat Islamist ideology and I want to lead a revolution against that ideology, but I don't want to lead a revolution against Muslims."
His half-hearted apologies to the Muslim community over the past week and his refusal to denounce his past Islamophobic statements have angered many.
"There's no evidence that his views towards Muslims have changed at all," said Matthew Collins, a reformed member of the right-wing gang Combat 18 who now works with Hope Not Hate. "He's still ranting on about the burqa and other nonsense - still a narrow-minded nationalist. All he's done is exonerate himself for the extremism in the EDL - not even admit that he's a former extremist."
Matthew Goodwin, from the University of Nottingham, agreed that it would be hard for Mr Robinson to change.
"He comes from a section of society that is already likely to feel left behind by the economic transformation of Britain and under threat from immigration and seemingly 'new' groups in society, like Muslims," said Matthew Goodwin. "Those views were forged during his younger years, so it is distinctly unlikely that he will fundamentally overhaul his beliefs. Once we are hard-wired in this way, it is extremely difficult, if not impossible, to move in a radically different direction."
Register for free to continue reading
Registration is a free and easy way to support our truly independent journalism
By registering, you will also enjoy limited access to Premium articles, exclusive newsletters, commenting, and virtual events with our leading journalists
Already have an account? sign in
Join our new commenting forum
Join thought-provoking conversations, follow other Independent readers and see their replies