Islamic State: Legal justification for air strikes on Syria not even 'wafer-thin', says expert
MPs want case for extending attacks beyond Iraq to be shown to Parliament
Mark Leftly
,
Chris Stevenson
Sunday 14 September 2014 10:29 Comments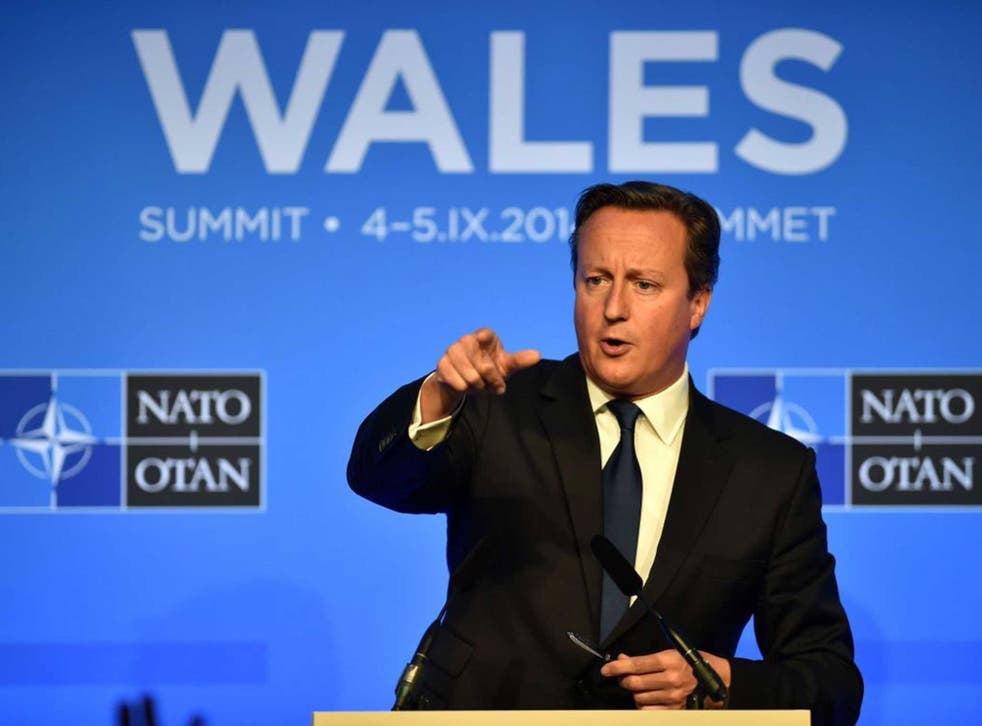 David Cameron does not even have "wafer-thin" legal justification to support the UK taking part in air strikes against Islamic State (IS) in Syria, according to an expert in international law.
Philippe Sands QC, professor of international law at University College London, challenged Mr Cameron to show his legal advice to Parliament. Mr Sands warned that the Prime Minister would struggle to justify UK support for US-led air strikes on Islamist extremists in Syria on three grounds: no authorisation from the United Nations Security Council; no apparent evidence of self-defence; and little precedent for launching any attack on "humanitarian grounds".
Mr Cameron is expected to urge MPs to support air strikes against IS in Iraq, which would be legal because the Baghdad government has requested them. President Barack Obama is keen to extend US attacks from Iraq to Syria in an effort to "degrade and ultimately destroy" IS, which has replaced al-Qaeda as the West's foremost enemy, and is building an international coalition of support.
However, the Bashar al-Assad regime in Syria has not asked for any attacks. In an interview on the Radio 4 Today programme earlier this month, Mr Cameron seemed to argue that the Government did not need permission from President Assad as he had used chemical weapons against Syrian civilians. "President Assad has committed war crimes on his own people and therefore is illegitimate," he said.
On Thursday, Foreign Secretary Philip Hammond insisted that "Britain will not be taking part in air strikes in Syria" only for Downing Street to slap down his comments within hours, insisting that Mr Cameron had "not ruled anything out".
But Mr Sands warned: "Calling this legal argument 'wafer thin' is generous on the basis of the evidence that I've seen, if indeed there is a justification that exists at all. In light of Iraq and Syria, Parliament ought to see the legal advice."
Sir Menzies Campbell, former Liberal Democrat leader and member of the foreign affairs select committee, said yesterday that MPs could be recalled to Parliament to debate the issue. MPs stopped sitting on Friday to break for party conferences.
In pictures: The rise of Isis

Show all 74
"The outstanding legal question on a matter of this importance would have to be considered and, indeed, answered," said Sir Menzies. "Nothing would be more damaging to the coalition that the Americans are seeking to establish than if there was a widespread belief that what is proposed is illegal.
On Friday, Labour MP Mike Gapes and Tory backbencher John Baron questioned the legality of bombing Syria. A legal source added that Mr Cameron's remarks on Today appeared to be "off the cuff" and "not fully formed or considered".
A Downing Street spokeswoman said: "Our position on President Assad is clear – he has committed war crimes on his own people and therefore is illegitimate. The PM has also stated that there needs to be a moral and legal justification for any action." However critics question why, if the Assad regime is "illegitimate", the UN recognised it when signing a deal to destroy chemical weapons in Syria a year ago.
The family of kidnapped British aid worker David Haines have appealed to IS militants to contact them, having previously sent messages to his captors that were not returned. Mr Haines, 44, from Perth, was kidnapped last year while delivering humanitarian aid in Syria. IS has threatened to kill Mr Haines if the US air strikes continue.
In Cairo yesterday US Secretary of State John Kerry called Egypt an "important partner" in the emerging coalition against IS. He said Egypt had a "critical role" to play in denouncing IS ideology. Egypt's foreign minister, Sameh Shukri, at a press conference with Mr Kerry, said ties existed between IS and other militants in the region and that global action was needed to counter the threat. It came as Iraq's Shia Prime Minister Haider al-Abadi said he had ordered his air force to halt strikes on civilian areas, a condition set by Sunni tribal figures for their support of Mr Abadi's campaign against IS.
Register for free to continue reading
Registration is a free and easy way to support our truly independent journalism
By registering, you will also enjoy limited access to Premium articles, exclusive newsletters, commenting, and virtual events with our leading journalists
Already have an account? sign in
Join our new commenting forum
Join thought-provoking conversations, follow other Independent readers and see their replies