Isis: MPs will back air strikes in Iraq, but Fallon warns that war could last for years
Hints that British intervention could eventually extend to Syria as well as Iraq fuel growing fears of 'mission creep'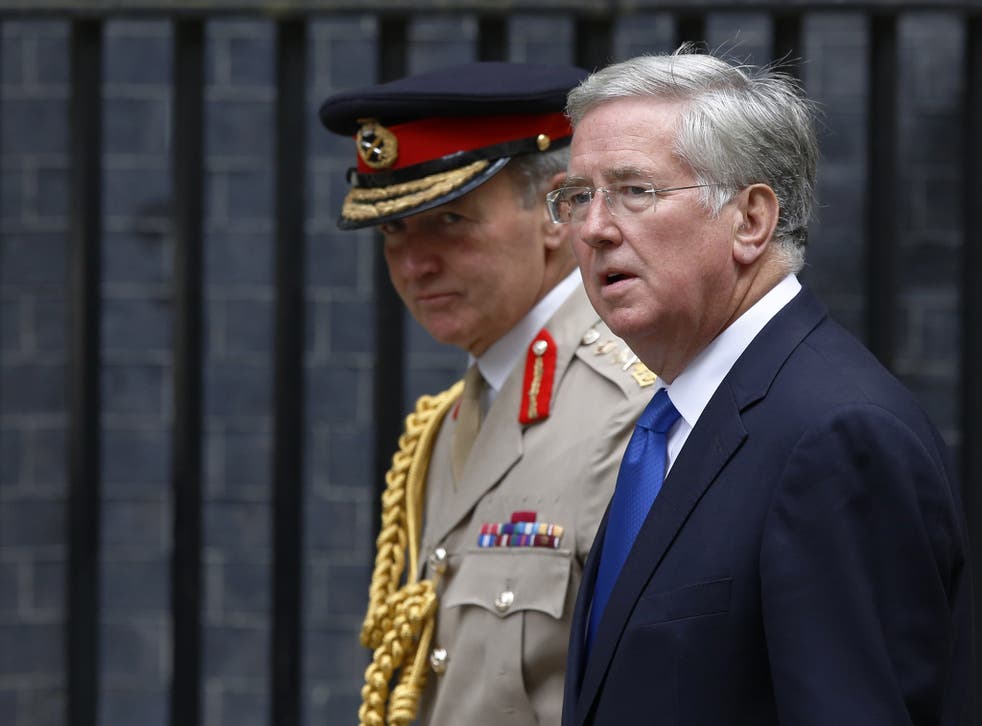 British air strikes against Isis targets in Iraq will begin within days after MPs approve military action today, as ministers admitted that UK intervention could last two or three years.
After an emergency six and a half hour Commons debate, MPs look certain to vote overwhelmingly to support bombing in Iraq.
Although today's motion will promise another vote before air strikes were extended to Syria, there are growing fears at Westminster of "mission creep". Some Conservative MPs are already calling for bombing in Syria because Isis is active there and does not recognise the border with Iraq.
A special Cabinet meeting unanimously backed David Cameron's plan to deploy UK air power following a request from the new Iraqi government. The Cabinet was briefed that air strikes would start within days of the Commons vote. After an initial blitz, there would probably be a pause because the number of fixed Isis targets is limited, following the same pattern as France's bombing campaign.
Hinting that action in Syria could follow, Mr Fallon said the UK needed to help the Iraqi government "first". He accepted that Syria was "different" but added: "We shouldn't resile from direct military action if Isis is going to be defeated. This isn't about containment. This is about the defeat of Isis."
Timeline: The emergence of Isis

Show all 40
Asked whether action could follow in Syria, Philip Hammond, the Foreign Secretary, replied: "We haven't ruled out anything for the future. We will have to see how the struggle against Isis goes."
Labour and the Liberal Democrats do not rule out eventual action in Syria but are not prepared to support it now because the Assad government has not requested intervention.

In return for their support in today's vote, Mr Cameron accepted a Commons motion which "does not endorse UK air strikes in Syria as part of this campaign" and says the Government "will not deploy UK troops in ground combat operations." Mr Cameron could not risk a repeat of the humiliating Commons defeat he suffered on intervening in Syria last year when Labour refused to back him.
In an echo of the 2003 Iraq War, Downing Street published a summary of the legal advice given by Jeremy Wright, the Attorney General, to yesterday's Cabinet meeting. It said: "The Government is satisfied that the consent of Iraq...provides a clear and unequivocal legal basis for the deployment of UK forces and military assets to take military action to strike Isis sites and military strongholds in Iraq."
Nick Clegg, the Deputy Prime Minister, told LBC radio: "If we were to decide to play a fuller role beyond Iraq and in Syria then we would go back to Parliament for another debate and a vote."
Bob Stewart, a Tory MP and former British commander in Bosnia, said ground forces might have to be deployed. "You have got to go to the eye of the octopus, and the eye of the octopus isn't necessarily in Iraq, it is in Syria," he said.
But Nigel Mills, another Tory MP, warned of "a slippery slope", saying: "The real fear I have is that we start with a few airstrikes ...  and in a few months' time it's 'oh, we need some troops on the ground now to finish this off'."
Labour sources predicted about 25 of the party's MPs would vote against the motion despite the concessions. One of them, Paul Flynn, accused party leaders of starting to "strut like petty Napoleons".
The FBI announced it believes it has identified the Isis executioner known as Jihadi John, but is not releasing his name. The executioner, one of four British jihadis known as "the Beatles" holding hostages, has appeared in videos next to hostages Jim Foley, Steve Sotloff and David Haines.
At least three British jihadists are believed to have been killed by US air strikes, including Ibrahim Kamara, a 19-year-old from Brighton.
Join our new commenting forum
Join thought-provoking conversations, follow other Independent readers and see their replies