Israel boycott ban condemned by politicians, union leader and celebrities
Exclusive: Roger Waters and Maxine Peake among figures accusing Government of trying to shield Israel from criticism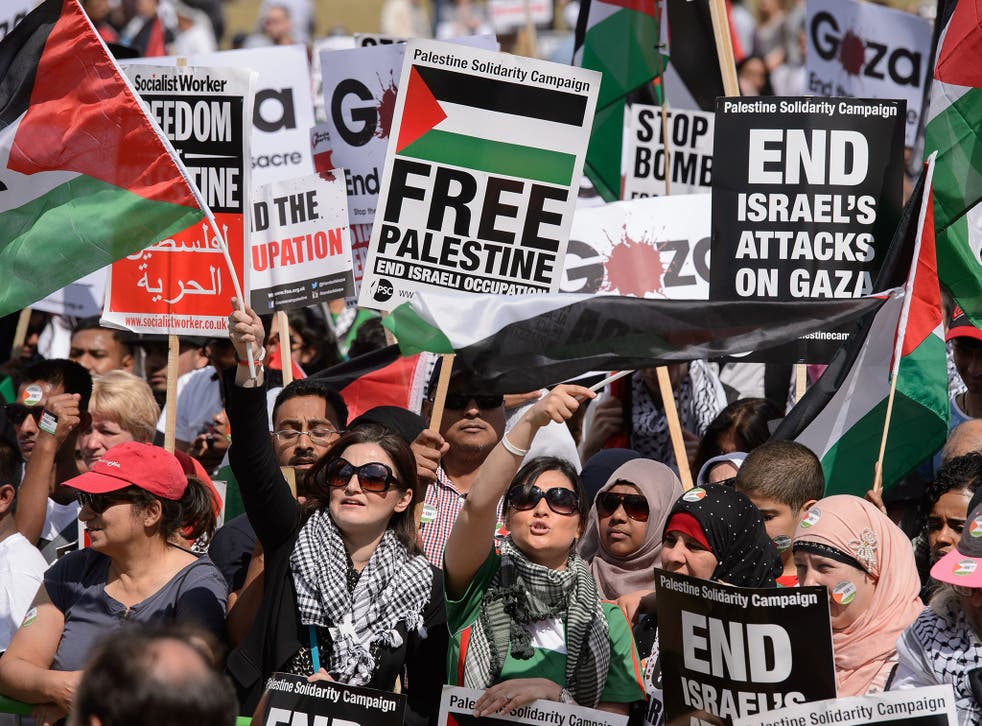 The Government has been accused by a coalition of politicians, union leaders and celebrities of trying to shield Israel from criticism by threatening legal action against councils who want to join boycotts against the country.
Pink Floyd frontman Roger Waters, actress Maxine Peake, trade union leader Len McCluskey and a dozen MPs are among those who said new Cabinet Office procurement guidelines would "effectively force local councils and other public bodies to unethically invest in Israel's occupation and in arms companies".
In an open letter they write: "Local councils, student unions, trade unions, political parties and other democratic bodies across the UK have voted to support the Palestinian call for boycott, divestment and sanctions (BDS).
"BDS is a peaceful and effective way of challenging the international support that Israel receives despite its ongoing human rights abuses and violations of international law. Rather than attacking local democracy and insulating Israel from the consequences of its human rights abuses, the UK government should take steps in support of freedom, justice and equality. An end to the arms trade with Israel would be a good start."
The guidelines, published on Wednesday, said that locally imposed boycotts are "inappropriate" unless the Government has put in place formal legal sanctions or embargoes.
The Cabinet Office warned that boycotts risk breaching a long-standing World Trade Organisation agreement, which requires all those countries that have signed up to the agreement, including the EU and Israel, to treat suppliers equally.
Israel: From independence to intifada

Show all 7
"Any discrimination against Israeli suppliers involving procurements would therefore be in breach of the agreement," it said.
Those who decide to go ahead with a boycott risk being taken to court and fined, the Government warned.
The Cabinet Office said the notice complemented existing government guidance about trading or investing overseas, including with Israel, where the Government advises UK businesses to consider any potential legal and economic risks of doing so.
Simon McCann, a procurement specialist at law firm Blake Morgan, said the language used was "uncompromising".
He said: "The guidance makes the point that serious legal consequences can flow from such illegal boycotts, including damages, fines and ineffectiveness. Even more importantly, the guidance underlines the fact that discrimination on grounds of nationality has no place in procurement."
A growing number of local councils have taken steps to divest from companies they say engaged in Israeli human rights abuses.
Jewish Human Rights Watch is taking legal action against Leicester City Council, which began its boycott of goods from Israeli settlements in the West Bank in November 2014. The council said it opposed "the continuing illegal occupation" of Palestinian territory.
Gaza protests: Jailed journalist on hunger strike
A High Court judge has said both of the claims were arguable and granted permission for a judicial review.
Cabinet Office minister Matthew Hancock said: "We need to challenge and prevent these divisive town hall boycotts. The new guidance on procurement combined with changes we are making to how pension pots can be invested will help prevent damaging and counter-productive local foreign policies undermining our national security."
The announcement came on the eve of Mr Hancock's visit to Israel this week where he met Prime Minister Benjamin Netanyahu, who praised the UK for "standing up to discrimination".
BDS campaigners also urge action against international corporations that supply the Israeli military or illegal settlements in the West Bank.
The Government is yet to respond to the letter.
Riya Hassan, the Europe Campaigns Officer for the Palestinian BDS National Committee, the coalition of Palestinian organisations that leads the BDS movement, said there is a clear difference between the original WTO agreement and what the Government has now announced.
She said: "The WTO agreement that the government is citing makes clear public bodies can pursue ethical policies that reflect public opinion, as does the relevant EU and UK legislation.
"The documents the government published this week are intended as a gift to Israel and are clearly designed to intimidate councils into falsely thinking that they are no longer allowed to exclude companies that violate human rights from tender exercises or boycott Israeli companies over their links to Israel's war crimes.
"French multinational Veolia ended its role in illegal Israeli settlements after local councils in the UK and across Europe listened to their local communities and stopped dealing with the company. The BDS movement will continue to try to work with public bodies to hold to account those companies that help Israel to violate international law."
Register for free to continue reading
Registration is a free and easy way to support our truly independent journalism
By registering, you will also enjoy limited access to Premium articles, exclusive newsletters, commenting, and virtual events with our leading journalists
Already have an account? sign in
Register for free to continue reading
Registration is a free and easy way to support our truly independent journalism
By registering, you will also enjoy limited access to Premium articles, exclusive newsletters, commenting, and virtual events with our leading journalists
Already have an account? sign in