Israeli Prime Minister Benjamin Netanyahu to visit Theresa May for Downing Street talks
PMs expected to meet in London, before Mr Netanyahu carries on to the United States for meeting with Donald Trump
Charlotte England
Thursday 02 February 2017 11:31 Comments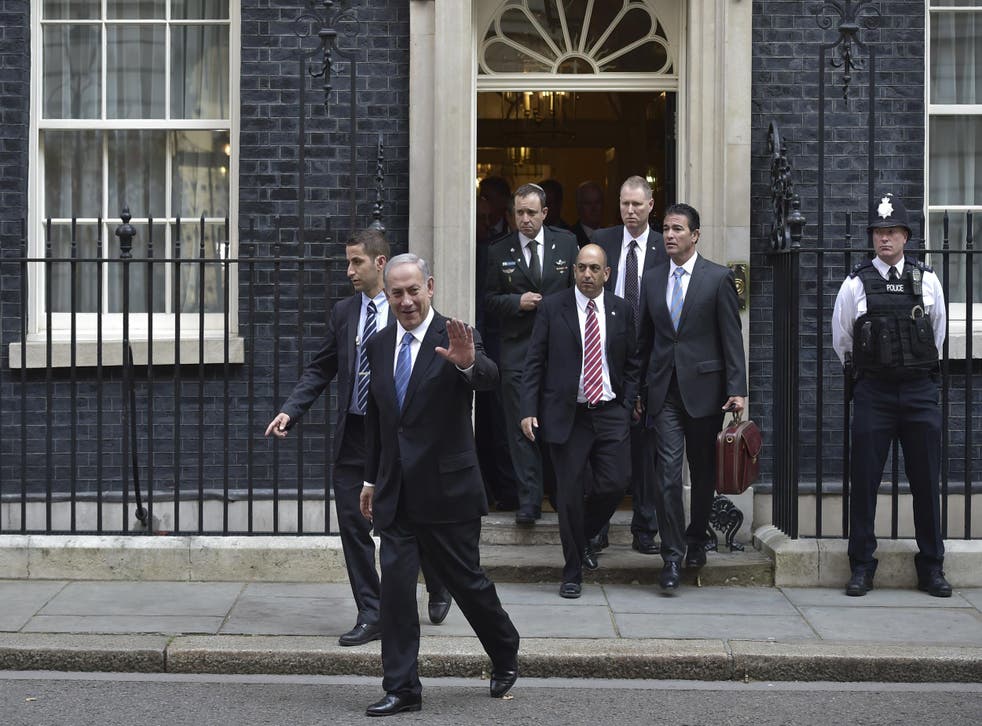 Israel's Prime Minister Benjamin Netanyahu is expected to meet Theresa May in London next week.
The talks at Downing Street on Monday will be the first time the UK Prime Minister has received Mr Netanyahu since she took office in July.
News of the visit comes just days after uproar over Ms May decision to invite US President Donald Trump to the UK. Mr Netanyahu is expected to carry on to the US, where he has been invited to the White House to meet the President.
Earlier this week, Israel announced plans to build 3,000 new settler homes in the occupied West Bank, just days after Mr Netanyahu's government approved an additional 2,500 homes in the West Bank and hundreds more in east Jerusalem.
On Monday, the Foreign Office issued a statement condemning the expansion initiative.
Minister for the Middle East Tobias Ellwood said: "The announcement of further settlement units in the West Bank is part of a growing trend which we condemn.
"We have consistently been clear that settlements are illegal under international law, and not conducive to peace. This spike in settlement activity undermines trust and makes a two state solution – with an Israel that is safe from terrorism and a Palestinian state that is viable and sovereign - much harder to achieve."
Mr Netanyahu is preparing to fly to London on Sunday, according to Israeli media, and is expected to meet with Ms May on Monday, although neither the British nor Israeli government has yet confirmed the meeting. He is due to visit Washington on 15 February.
The Israeli leader met then Prime Minister David Cameron on a visit to London in 2015, but he has never met Ms May, having cancelled a reception during her only official visit to Israel as Home Secretary, in June 2014, due to a crisis in which three Israeli teenagers were kidnapped and killed.
Arrangements were reportedly made for Ms May and Mr Netanyahu to meet on the sidelines of the annual World Economic Forum summit in Davos, Switzerland between 17 and 20 January, but the Israeli Prime Minister is thought to have cancelled the meeting over the UK's support for a UN resolution condemning the building of settlements in the occupied Palestinian territories.
Britain was among 14 UN Security Council members to approve the resolution which declared Israeli settlements "illegal", with British Foreign Minister Boris Johnson later telling parliament the UK was "closely involved" in drafting the resolution, which enraged Israel.
Gaza's junior mechanics

Show all 13
Resolution 2334 states that Israeli settlements have "no legal validity" and are "dangerously imperiling the viability of the two-state solution". In a significant move, the United States abstained from the vote.
The election of Mr Trump, who has promised to be far more supportive of Israel than his predecessor, is believed to have emboldened Mr Netanyahu, and it has been reported that he is now seeking Britain's support for a change in policy against Iran.
Mr Trump derided the Obama administration's nuclear deal with Iran, which Israel has long opposed, during the election campaign, but it is not clear whether he will abandon the deal entirely.
Downing Street declined to comment on the upcoming visit.
Register for free to continue reading
Registration is a free and easy way to support our truly independent journalism
By registering, you will also enjoy limited access to Premium articles, exclusive newsletters, commenting, and virtual events with our leading journalists
Already have an account? sign in
Join our new commenting forum
Join thought-provoking conversations, follow other Independent readers and see their replies