Israeli diplomat caught on camera plotting to 'take down' British MPs - the transcript in full
Senior diplomat would like to 'take down' Alan Duncan and brands Boris Johnson 'an idiot'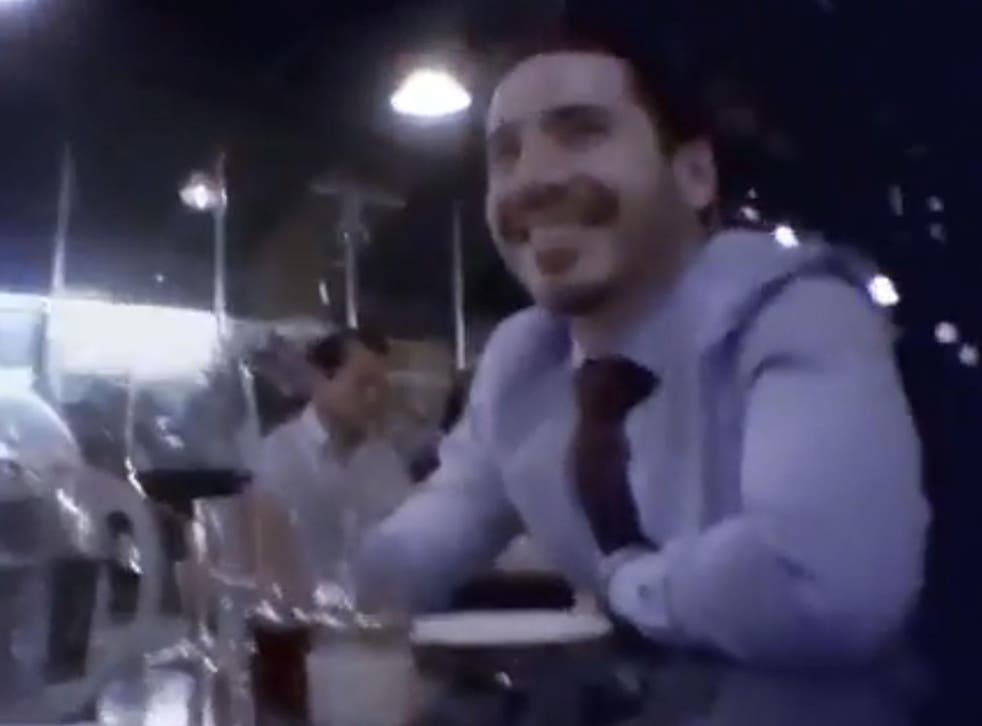 An Israeli diplomat has said there are MPs he would like to "take down" in undercover footage filmed covertly during a conversation with a civil servant.
Shai Masot's remarks to Maria Strizzolo, who is Conservative MP Robert Halfon's former chief of staff, were caught on camera by Al Jazeera's investigations unit.
Mr Masot discusses how to "take down" pro-Palestinian MPs including Foreign Office minister Sir Alan Duncan.
Sir Alan sparked criticism from prominent pro-Israel groups in 2014, when he described settlement building in the Occupied Palestinian Territories as an "ever-deepening stain on the face of the globe".
The former International Development Secretary also equated the situation in the divided West Bank city of Hebron to "apartheid".
Mr Johnson has been less critical of Israel than Sir Alan, dismissing supporters of the Boycott, Divestment, Sanctions (BDS) movement as "snaggle-toothed lefty academics" in 2015, causing Palestinian charities to cancel a string of planned meetings as the then London Mayor toured Israel and the West Bank.
Partial transcript of the meeting which took place in Kensington, London in October 2016
Shai Masot : Can I give you some MPs that I would suggest you would take down?
Maria Strizzolo : Well, you know that if you look hard enough I'm sure that there is something that they're trying to hide
Shai Masot : Well, you know. I have some MPs.
Maria Strizzolo : Well, let's talk about it.
Undercover reporter: Yeah
Shai Masot : (To the reporter) No, she know which MPs I want to take down
Maria Strizzolo : Yeah it's good to remind me
Shai Masot : The deputy foreign minister
Maria Strizzolo : You still want to?
Shai Masot : It doesn't matter.
Maria Strizzolo : You still want to go for it?
Shai Masot : No, he's doing – a lot of problems. It sounds like a conspiracy!
Maria Strizzolo : I thought we had, you know neutralised him, just a little bit, no?
Shai Masot : No
Maria Strizzolo : Ah, Boris is good
Shai Mosot : Boris? He is basically good.
Maria Strizzolo : He is solid on Israel.
Shai Masot : Yeah, he just don't care. He is busy with everything else. Boris is busy. You Know he is an idiot, Yeah he just don't care. So far, You know he is an idiot but so far he has become the minister of foreign affairs without any responsibility so technically if something real happened it won't be his fault.
Maria Strizzolo : Rob was writing articles. He was doing everything, asking questions in Parliament about the terrorist salaries … And when he (Dunca) was a minister in DFID (Department for International Development) … Yeah, and after a while though Rob was doing it and Alan Duncan took him like I think but I don't remember exactly where … but he took him to one side and threatened him, "If you don't stop this I;m going to ruin you I'm going to destroy you" and all of that shit. But he took him to one side and threatened him. And Rob told the whips and the whips just told him to calm down.
Shai Masot : Never say never
Maria Strizzolo : Yeah, you know, never say never. Anyway please don't tell anyone about our meeting
Shai Masot : To who would we tell?
The third person at the table in October was a man known as "Robin", who posed as a representative of the Labour Friends of Israel group while working as an undercover reporter.
The Israeli ambassador, Mark Regev, has spoken with Sir Alan to apologise for the "completely unacceptable" comments.
The embassy sought to play down the incident as the footage was broadcast on Saturday night, describing Mr Masot as a "junior embassy employee", who is not a diplomat.
His business card describes him as "a senior political officer", while his LinkedIn page lists him as having worked for the embassy since November 2014.
Mr Masot says he was Israeli Defence Forces (IDF) major between 2004 and 2011 and describes himself as the chief point of contact between the embassy and MPs, liaising with ministers and officials at the Foreign Office.
"The Embassy of Israel rejects the remarks concerning Minister Duncan, which are completely unacceptable; the comments were made by a junior embassy employee who is not an Israeli diplomat, and who will be ending his term of employment with the embassy shortly," said a statement from the embassy's spokesman.
"Ambassador Regev on Friday spoke with Minister Duncan, apologised for the comments and made clear that the embassy considered the remarks to be completely unacceptable."
Join our new commenting forum
Join thought-provoking conversations, follow other Independent readers and see their replies