It's Bojo vs Jojo – so will Johnson Jr come out in front of his brother Boris?
Jo may lack his brother's flamboyant streak – but as David Cameron brings him to the top table, some say he's the one to watch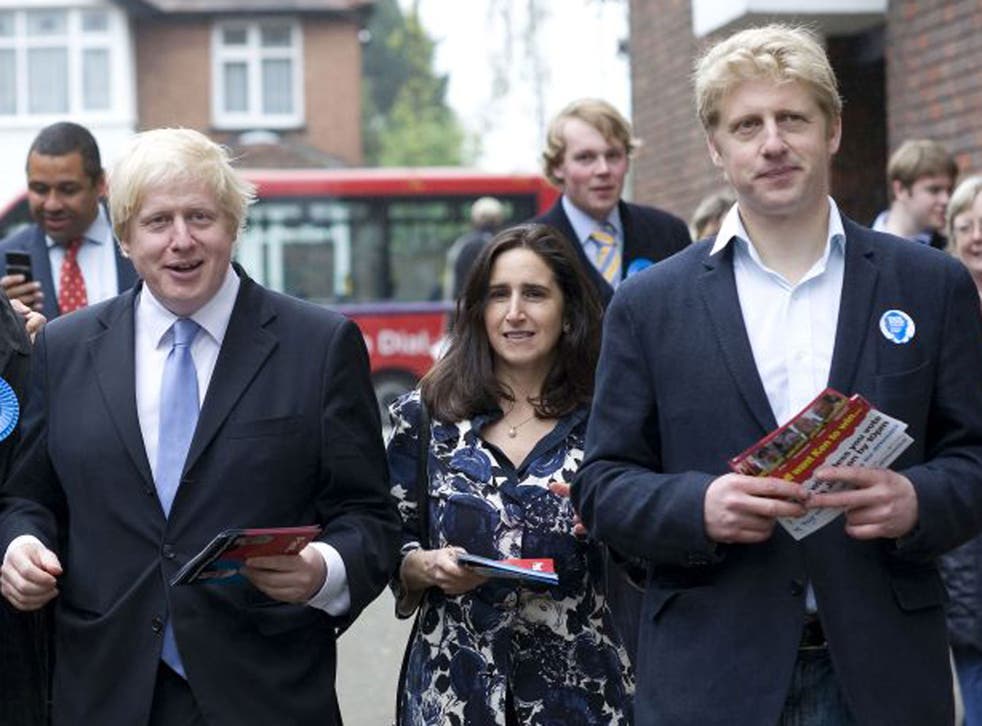 Some people say that the really smart member of the Johnson family is the quiet one, Jo Johnson, MP for Orpington – and we are about to find out a lot more about him. Jo has just been promoted to perform for David Cameron the role that David Miliband used to fulfil for Tony Blair, running the Downing Street Policy Unit. It is expected that his formidable intelligence will be applied to the task of helping to put together a manifesto on which to fight the 2015 election.
The Johnson brothers are clever, competitive and very different. Boris, the older brother, is a show-off and a risk-taker. He had to carve out his own path by running to be Mayor of London because he was held back as an MP by two successive Tory leaders, Michael Howard and David Cameron, neither of whom trusted him, or believed he was capable of being a team player. Howard sacked him from the opposition front bench because of his chaotic sex life. Cameron refused to let him into the Shadow Cabinet.
Jo, by contrast, is a team player, who does not draw unnecessary attention to himself, though there is plenty that he could boast about, starting with the fact that he emerged from Oxford University with a better degree than his older brother – a double first, compared with Boris's 2:1. He is the sort of MP a party leader likes to have around.
Though publicly supportive of his brother, it was notable that – unlike their sister Rachel – he was not interviewed in last month's BBC documentary about the life and times of Boris. The 350-page biography of Boris, by Andrew Gimson, does not even list Jo in the index. This quiet refusal to be part of his brother's life story may frustrate journalists, but it is wise precaution. Being someone's brother is not necessarily a great advantage in politics, as David Miliband could attest.
A study of Jo Johnson's website also reveals a very cautious, disciplined politician. The site is replete with small, worthy news items about his constituency and what its local MP is doing for local people. It tells you that Jo Johnson bought his Christmas turkey from a local butcher. An item headed "Jo praises Pratts Bottom scarecrows" reveals that he visited the Pratts Bottom village fete, judged the competition in which children dressed as scarecrows, and stocked up on the marmalade made by a local resident.
When he pronounces on national issues, he is cautious, pragmatic, and in the Tory mainstream. He believes in low taxes and an export-led economic recovery.
His quiet demeanour brought him relatively late into Parliament at the 2010 election. He is aged 41, and was a journalist, who latterly edited the Lex column in the Financial Times. Once in the Commons, he rose through the ranks relatively swiftly, becoming a junior whip last September.
His latest promotion prompted a few sarcastic remarks about David Cameron's apparent addiction to surrounding himself with old Etonians, preferably old Etonians who have been through Oxford University and the Bullingdon Club. However, others were generous in their reactions. The Labour MP, Ben Bradshaw commented: "I have long said Jo is the Johnson to watch – extremely bright, able and nice."
His father, Stanley Johnson, said: "I have four sons, and it would be totally invidious for me to express an opinion as to who is the brightest. Of course Jo is absolutely superb. Someone who got a first in mods and a first in finals and was head of the Lex column is first class. Forget about the Bullingdon stuff. This is very good news. I'm jolly pleased. Let's hope it helps the Tories win the next election.
"I find, as I get older, that every time I open a newspaper I'm either reading articles about my children, or by my children, or sometimes about my children and by my children. Soon the moment will come for someone to say, 'Enough Johnson – Ed'."
Perhaps, but that time has not come yet. For the next years, we are going to hear a lot about the Johnson family, and not only about the older brother.
The clan: A family of high achievers
Boris may be the most recognisable of Stanley Johnson and Charlotte Wahl's four children, but all members of the brood have used their education to forge successful careers.
Rachel dragged 'The Lady' into the 21st century on becoming its editor in 2009, while Jo and Boris both started in journalism before entering politics.
All benefited, they claim, from Stanley's hands-off parenting which encouraged the children to be self-sufficient. Rachel and Boris crossed Europe by themselves when they were still at primary school age.
Leo, the youngest sibling, graduated from Oxford before establishing a consultancy business. Five years later, the company was sold to PwC, where Leo is now a partner on the climate change team.
Still, he can't shake off the "Boris's brother" tag. On his after-dinner speaker profile, he is advertised as having "the same flair for language" as the London Mayor.
Jo Johnson, 41
Head of David Cameron's Policy Unit
Scandal factor Largely uncontroversial, save for the fact he was a member of the Bullingdon Club.
Loyalty Always on-message, close to George Osborne.
Books Co-wrote the rather dry-looking 'Reconnecting Britain and India: Ideas for an Enhanced Partnership'.
Personality "Excruciatingly serious" according to biographer Sonia Purnell, but clever.
Boris Johnson, 48
Mayor of London
Scandal factor Sacked from the front bench after lying about his affair with Petronella Wyatt, and forced to apologise to the people of Liverpool after an editorial in 'The Spectator' accused the city of "wallowing" in its "victim status".
Loyalty Not above sly digs at No 10.
Books Has written several well-reviewed, non-fiction volumes, including 'Johnson's Life of London' and 'The Dream of Rome'.
Personality Affable and a good public speaker.
Join our new commenting forum
Join thought-provoking conversations, follow other Independent readers and see their replies