It's us or Ukip, says Lib Dem contender Tim Farron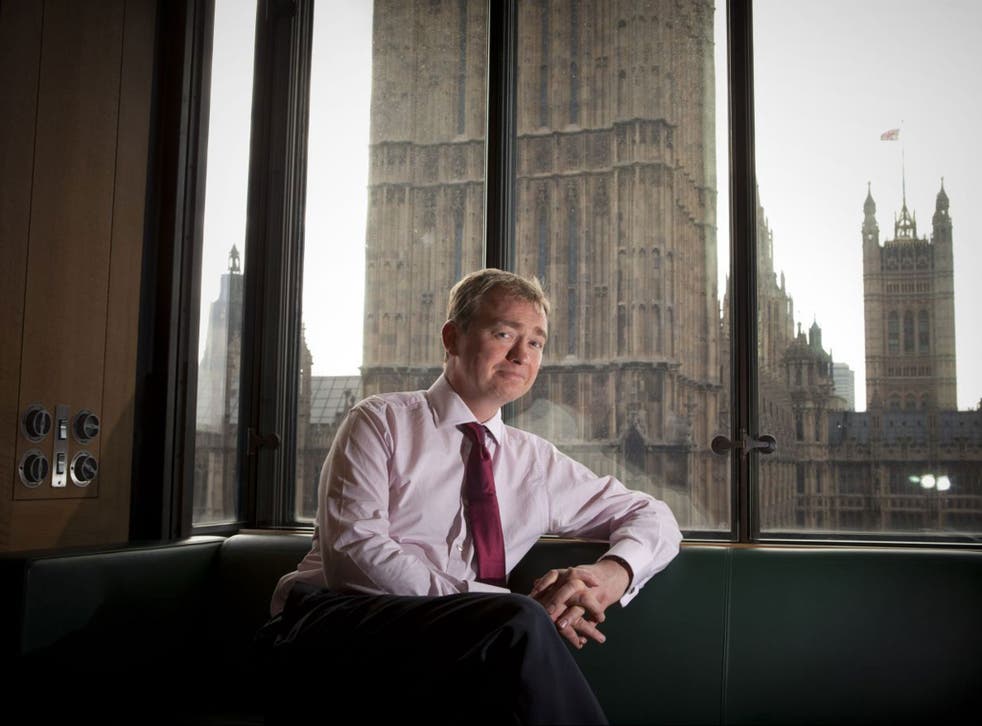 The Liberal Democrat president, Tim Farron, has challenged British voters to choose between his party and Ukip at May's polarising European elections – because they are the parties with the strongest views on Britain's EU membership.
In an interview with The IoS in the run-up to next week's Lib Dem spring conference, Mr Farron said that backing Labour or the Conservatives would be a "wasted vote", as the parties are internally divided over the UK's relationship with Europe.
Mr Farron said: "If you vote Ukip you will be making it very clear what you want, that you're against being in the EU. If you vote Liberal Democrat, you're making it very clear that you're in favour of staying in the EU. If you vote Labour or Tory, no one will know what you meant.
"Do what you like in the local elections – I'm not necessarily asking you to make a party change for ever. In this election, though, there are only two votes that will register, only two votes that anyone will notice."
Mr Farron defined Lib Dem success in the election as holding on to most of the party's 12 current MEPs, which he claimed would show that the Ukip leader, Nigel Farage, has "not got the public mood". A recent YouGov poll suggested that the Lib Dems could lose all of those seats in May, while Ukip is increasingly hopeful of securing Britain's exit from the EU in a possible membership referendum by 2017.
Mr Farron also admitted that the Lib Dems had "let down" Lord Chris Rennard, the Lib Dem peer at the centre of a sex scandal that has threatened to tear apart the party, and that there must be no further "gunboat diplomacy" over the row. A source close to Lord Rennard said last night that this was the first significant softening of the tough stance that the party leadership has shown towards a man who, for decades, was the top Lib Dem electoral strategist, but that the olive branch should have been proffered "long ago".
Both the Liberal Democrat leader, Nick Clegg, and Mr Farron demanded in January that Lord Rennard apologise over allegations of misconduct towards female party activists that surfaced in 2013. The QC behind the party's investigation into the scandal, Alistair Webster, recommended that Lord Rennard apologise to the women even though his report showed that it could not be proved beyond reasonable doubt that he had done anything wrong.
Lord Rennard's fellow Lib Dem peers are frustrated that mediation to settle the bloodbath in private has made slow progress and is unlikely to reach a resolution until after the May elections.
"The party going back in time, over a decade or more, has really not handled this well," said Mr Farron. "I think we've let down not just the women involved, but Chris Rennard as well by allowing this to fester."
Mr Farron has been tipped as a possible successor to Mr Clegg and the MP for Westmorland and Lonsdale in Cumbria is believed to have already begun preparing a leadership bid. He is well-liked by the party's left-wing grassroots who are unhappy about governing with the Conservatives.
However, he denied that he is "plotting for any particular position", adding that "nobody joins the Liberal Democrats as a career move – they would be pretty foolish if they did".
Repeating previous assertions that he would not rule out any jobs that come up in the future, Mr Farron added that all potential leadership contenders would have to put their ambitions to one side as the Lib Dems face the "fight of our lives" over the final 15 months of coalition government. His probable rivals include the Energy Secretary, Ed Davey, and the Chief Secretary to the Treasury, Danny Alexander.
Mr Farron steps down as party president at the end of this year. Having not served in the coalition, he has the advantage of being untainted by the more unpopular concessions the Lib Dems had to make to share power.
Join our new commenting forum
Join thought-provoking conversations, follow other Independent readers and see their replies