Jamal Khashoggi: Jeremy Hunt flies to meet Saudi rulers for first time since journalist's murder
Foreign secretary to raise the case of dissident writer, who was killed at the Saudi consulate in Istanbul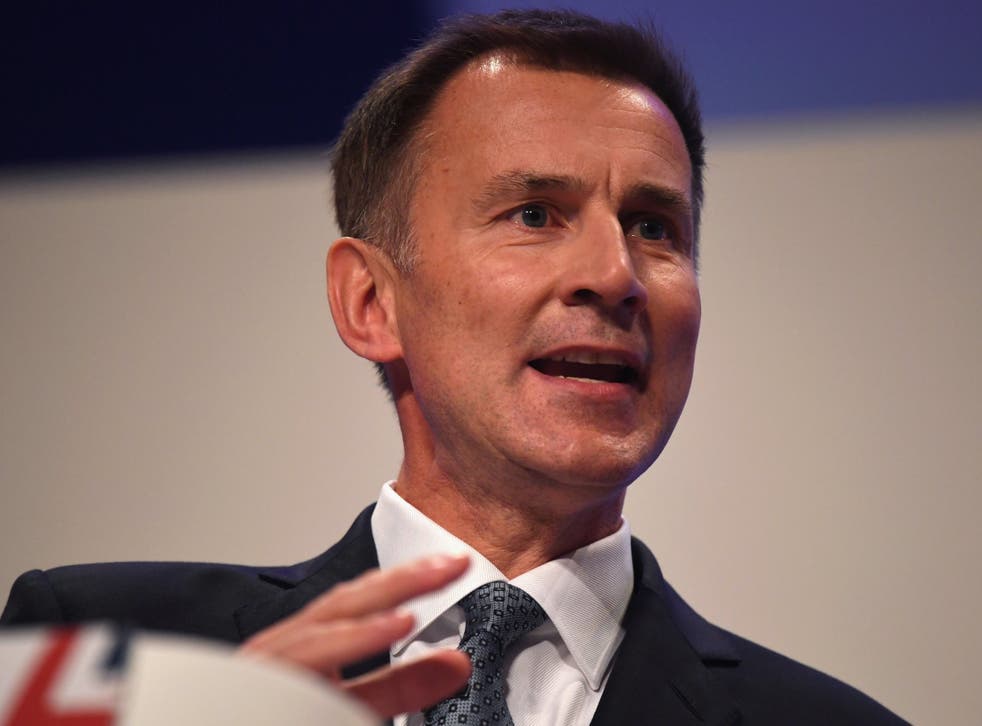 Jeremy Hunt will fly out to meet Saudi Arabian leaders in the first visit from a UK government minister since the murder of the journalist Jamal Khashoggi.
The foreign secretary will raise the case of Khashoggi, a high-profile critic of the Saudi government, who was killed at the Saudi consulate in Istanbul last month, when he arrives on Monday.
Saudi Arabia has admitted that he died in a fight at the consulate but Turkey insists his murder was sanctioned by Riyadh, and has now handed recordings of what it claims are his final moments to Saudi Arabia, Britain, the US, Germany and France.
Mr Hunt will also use meetings with King Salman and crown prince Mohammed bin Salman​ to press for an end to the bloody civil war in Yemen, where three years of hostilities has resulted in a devastating humanitarian crisis.
Speaking before the visit, Mr Hunt said: "The international community remain united in horror and outrage at the brutal murder of Jamal Khashoggi one month ago.
"It is clearly unacceptable that the full circumstances behind his murder still remain unclear.
"We encourage the Saudi authorities to co-operate fully with the Turkish investigation into his death, so that we deliver justice for his family and the watching world."
Saudi Arabia had insisted for weeks after Khashoggi disappeared that he had walked out of the consulate, before changing its account to say he died in a brawl.
Saudi officials describe the killing as a rogue operation carried out by Saudi agents who exceeded their authority.
Mr Hunt, who will also visit the United Arab Emirates (UAE), said he wants to use the trip to help end the bloodshed in war-torn Yemen.
He said: "The human cost of war in Yemen is incalculable: with millions displaced, famine and disease rife and years of bloodshed, the only solution is now a political decision to set aside arms and pursue peace.
"Britain has a unique position, both as pen-holder at the UN Security Council and as a key influencer in the region, so today I am travelling to the Gulf to demand that all sides commit to this process.
UK news in pictures

Show all 50
"We are witnessing a man-made humanitarian catastrophe on our watch: now is the window to make a difference, and to get behind both the UN peace process and current UK efforts in the Security Council."
The government has faced criticism for failing to harden its stance on the Yemeni conflict after the US called for an immediate cessation of hostilities between the Saudi-led coalition and the Houthi rebels.
Theresa May told MPs that the UK supported calls for "de-escalation" in Yemen but the government's position remained that a ceasefire would only work if there is a political deal between the conflict parties.
Kate Allen, Amnesty International UK's Director, said: "It's not enough for Jeremy Hunt to politely ask the Saudi authorities to investigate Khashoggi's murder, there should be a UN investigation.
"Mr Hunt's efforts to secure a peace deal in Yemen would carry far more weight if the UK finally ends its role as a major arms supplier for one side in this terrible conflict.
"One thing the Foreign Secretary absolutely must do while he's in Saudi Arabia is publicly raise the plight of jailed human rights activists, including the women's driving campaigner Loujain al-Hathloul."
Join our new commenting forum
Join thought-provoking conversations, follow other Independent readers and see their replies