Jamie Oliver calls on David Cameron to show big business 'who is boss' and introduce sugar tax
Oliver said successive governments had failed to crack down on unhealthy diets
Charlie Cooper
Whitehall Correspondent
Monday 19 October 2015 19:12 Comments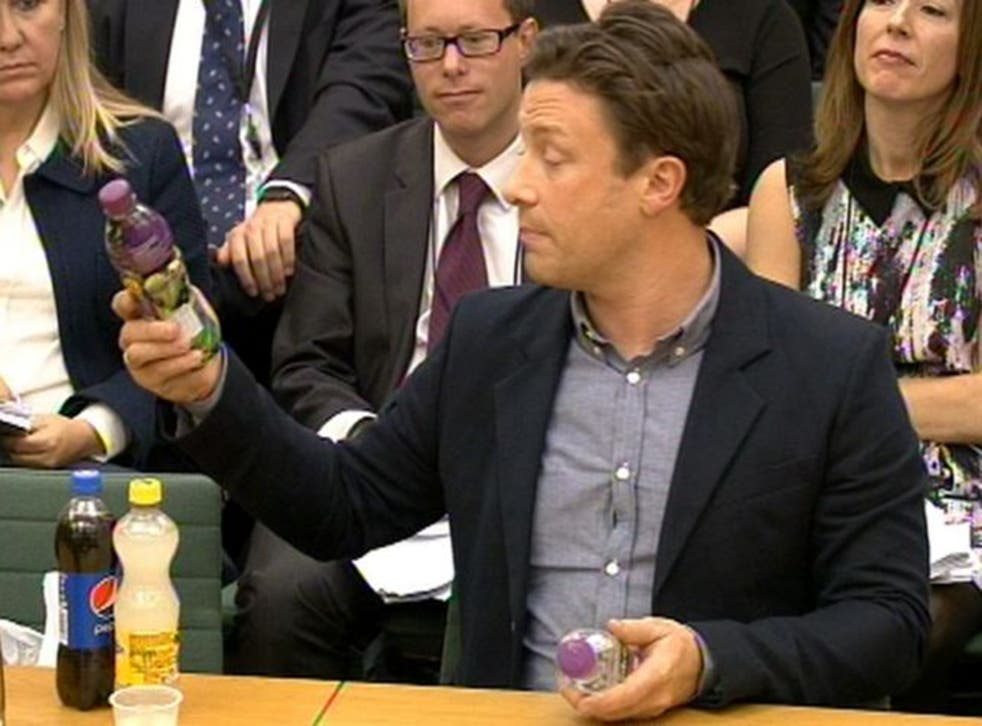 David Cameron should "be brave" and show big business "who is boss" by introducing a tax on sugary drinks, Jamie Oliver has told MPs.
Appearing before the Health Select Committee, the chef, who is spearheading a campaign to cut the country's sugar consumption, said successive governments had done "an incredible disservice" to children by failing to crack down on unhealthy diets.
He called for a hypothecated tax of 20 per cent per litre on the cost of sugary drinks, which he said could raise £1bn to be shared between the NHS and primary schools.
The Government has come under fire in recent days for failing to publish a review of international evidence on measures to cut sugar consumption – including regulation of advertising, and taxes – carried out by the arms-length body, Public Health England.
Mr Oliver said it "doesn't seem right" that the public could not see the evidence. The Department of Health has said the review will be published at the same time as the Government's new strategy to reduce childhood obesity.
Mr Oliver said that he did not think a sugar tax had been "written off".
"The discussions I've had are robust and Mr Cameron is reviewing everything, [and] seems to be interrogating it really well," he said. "We need to make sure that he is brave."
Such a tax would not be "radical" he said, pointing to similar measures already in force in France and Mexico. "When the single largest source sugar into our children and teenagers' diet is sugar-sweetened drinks, at what point can point can business have free rein to be effective and profitable? The tax does just remind them who's boss," he said.
He said ministers should "work out who is running the country".
The six types of obese individuals, according to research

Show all 6
"Is it the businesses that are profiting from ill health in our children or is it us?
Britain has one of the highest childhood obesity rates in Europe and Government nutritionists recently recommended that we cut our sugar consumption in half, amid growing evidence of its contribution to ill health, particularly in the diets of young people.
Mr Oliver, who also called for a ban on TV junk food advertising before 9pm, and tighter controls over food and drink adverts online, said any tax could be tested for three years. A voluntary sugar surcharge in 46 of his own restaurants had led to six to seven per cent reductions in sugar consumption, he said.
"We should hypothecate [a sugar tax] and find a home for it and yes I believe the home should be part NHS – supporting our nurses and doctors and practitioners to have proactive outreach in the home to people who suffer from diet-related disease…and the other side is primary schools," he said. "Half a billion pounds divided by primary schools in this country is £20,000 – that's proper money."
Appearing before the committee immediately before Mr Oliver, Duncan Selbie, chief executive of Public Health England said there had been "no conspiracy" around the failure to publish the evidence on a sugar tax.
He said he had reached "an agreement" with the Health Secretary, Jeremy Hunt to publish the evidence review at the same time as PHE's advice to Government, which is by convention private until the Government has published its own plans.
Dr Sarah Wollaston, chair of the committee, said the decision would give the public and independent experts no opportunity to review the evidence or contribute to the Government's planning, and accused Mr Selbie of setting "that a dangerous precedent to set and rather a patronising one".
A Department of Health spokesperson said: "This Government is committed to turning the tide on childhood obesity. That is why we are developing a comprehensive strategy looking at all the factors, including sugar consumption, that contribute to a child becoming overweight and obese. This will be published in the coming months."
Register for free to continue reading
Registration is a free and easy way to support our truly independent journalism
By registering, you will also enjoy limited access to Premium articles, exclusive newsletters, commenting, and virtual events with our leading journalists
Already have an account? sign in
Join our new commenting forum
Join thought-provoking conversations, follow other Independent readers and see their replies