Ukip MEP compared to Donald Trump after citing non-existent police statement on illegal immigration
Jane Collins claims 'hundreds' of illegal immigrants arrive in UK each week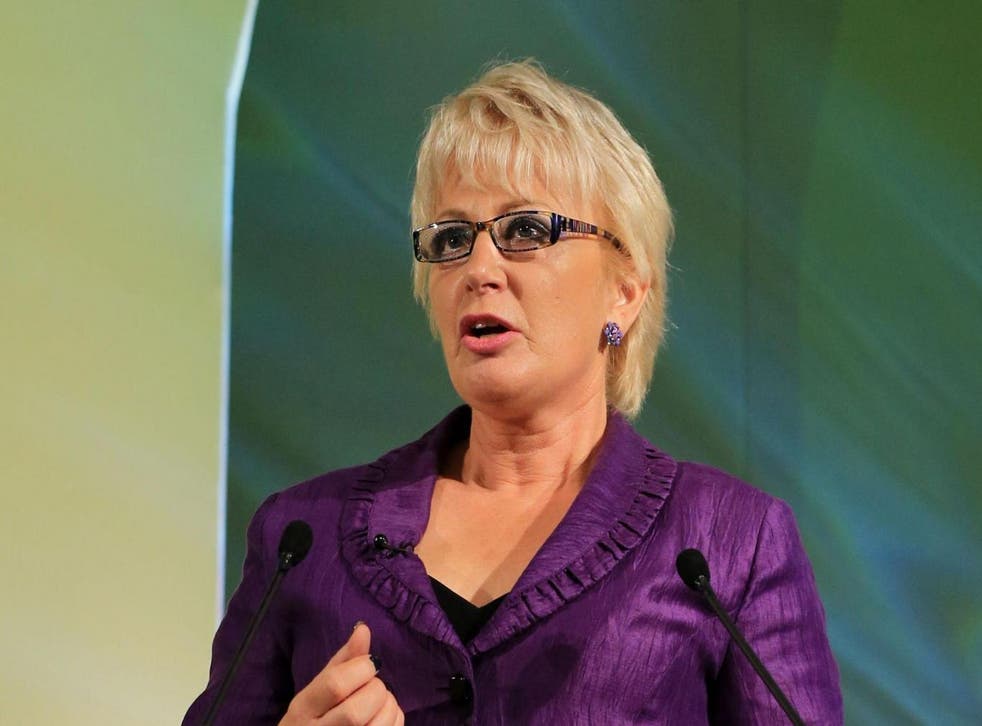 A Ukip MEP has been compared to Donald Trump after she cited a police statement to claim hundreds of illegal immigrants are arriving in the UK every week, only for the police force in question to say the statement does not appear to exist.
Jane Collins, Ukip's Home Affairs spokeswoman, said during a speech to the party's conference in Bolton that the "hundreds" of illegal immigrants were not being arrested when they are caught.
When later challenged about the claim, Ms Collins said her comment was a "direct quote" from Sussex Police.
However, a spokesman for the force told The Independent it had no records of this statement.
He added that the number of illegal immigrants found by police in the region had in fact significantly reduced in recent months, with just three recorded in the last 60 days.
The Ukip MEP told the party conference: "There are hundreds of illegal immigrants arriving each week. And when we do catch them we let them go."
Her comment was later tweeted on the Ukip Twitter page and shared dozens of times.
Asking Ms Collins to back up the claims on the social media site, one user tweeted: "Don't suppose you could back that statement up with any facts now, could you?"
Another simply wrote: "FAKE NEWS".
Responding to LBC journalist Chris Hemmings, who posted a tweet pointing out her lack of evidence, Ms Collins wrote: "I quoted the statement directly from Sussex Police. Unlucky."
When Mr Hemmings subsequently asked her to provide the evidence, Ms Collins failed to do so.
A Sussex Police spokesman told The Independent the last public statement made by the force about illegal immigrants was in April 2016, when an officer said his unit had stopped 119 people in the previous six months.
"The most recent reference I can find about this issue is when Chief Inspector Phil Nicholas, who was then with the roads policing unit, said in an interview with the local daily newspaper The Argus that his officers had stopped 119 illegal immigrants in the past six months," the spokesman said.
"This was in April 2016 when there was a significant number of incidents in Sussex and other forces."
He added: "A search of logged incidents for the last 60 days up to 18 February shows no reports of illegal immigrants being stopped by road policing officers."
"There is one report of two asylum seekers turning up at a supermarket in Chichester on 12 January and another of a man handing himself in at Brighton police station on 11 January.
"We certainly have not reported there being hundreds a week, or even a month."
Several hours after claiming her comments were attributable to Sussex Police, Ms Collins shared a Daily Mail on Twitter article along with the words: "To those people accusing me of lying in my speech".
The article reported how five Iranian men had been detained on Sussex Beach after crossing the Channel in a dinghy, but did not cite anywhere that there were "hundreds" of illegal immigrants arriving each week.
Ms Collins has been approached by The Independent for comment.
Tim Farron, Leader of the Liberal Democrats, compared Ms Collins to US president Donald Trump.
"Comments like this are just classic Trump tactics. It's nasty and just fans the flames of division. No-one can believe a word Ukip say on anything," Mr Farron told The Independent.
How Brexit affected Britain's favourite foods from Weetabix to Marmite

Show all 8
Liberal Democrat MP John Pugh described the claims as a "spurious" and "shameless", saying: "Once again Ukip are making spurious claims in a shameless attempt to spread fear and division.
"This is a party that used posters to demonise refugees and now seems to be reading straight from the Trump playbook of lies and exaggeration. It really is the politics of the gutter.
"Jane Collins should clarify where exactly she got these figures from and apologise if she can't back them up."
A spokeswoman for Mrs Collins has contacted The Independent to clarify that the reference to a Sussex police report was in connection to an example she had cited in her conference speech concerning five immigrants who had been stopped by the police on entry to the UK, but who had not been taken into custody.
In support of her contention that hundreds of illegal immigrants are arriving in the UK every week, Mrs Collins cites a BBC report from last summer, which found — through freedom of information requests — that more than 27,000 arrests for illegal entry to the UK were made between January 2013 and April 2016.
Mrs Collins argues that if an average of some 165 people were arrested per week, the number evading arrest was (and is) likely to be higher. We are glad to set out Mrs Collins' position.
Join our new commenting forum
Join thought-provoking conversations, follow other Independent readers and see their replies