Outrage as far-right leader linked to Marine Le Pen spotted campaigning for Conservatives
Exclusive: Opponents shocked to see Janice Atkinson, vice-president of Marine Le Pen's far-right European Parliament grouping, campaigning for Tory Adam Holloway in Gravesend
Adam Lusher
Saturday 03 June 2017 21:01 Comments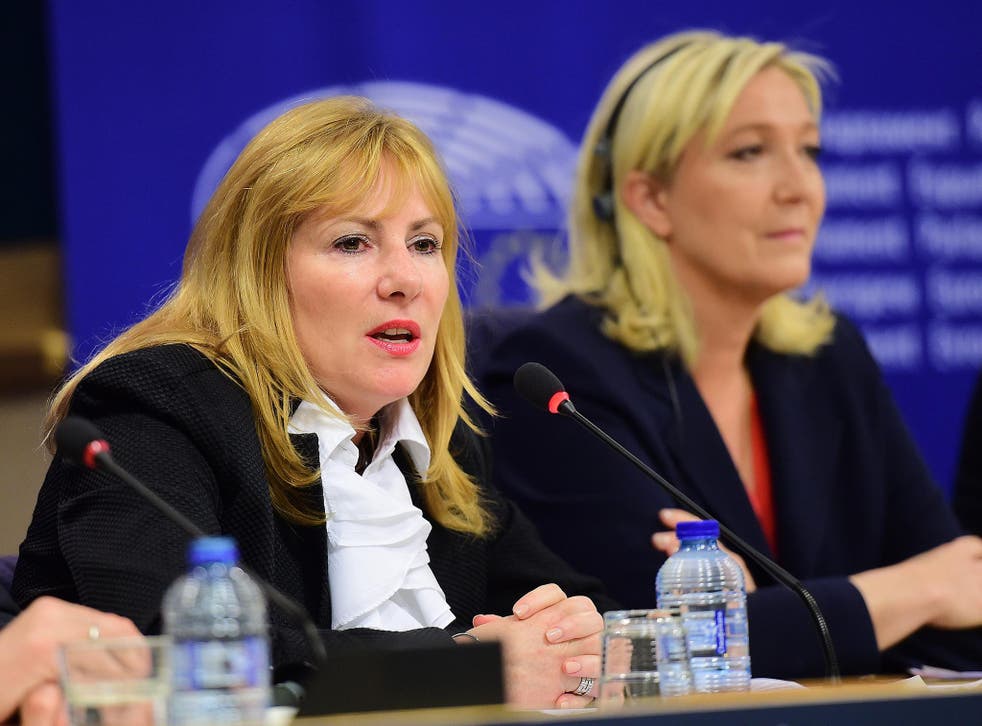 An ex-Ukip MEP who is vice-president of Marine Le Pen's far-right European Parliament grouping has been campaigning for the Conservative Party.
Janice Atkinson, who was suspended from Ukip in March 2015, was seen helping Gravesham Tory candidate Adam Holloway at the Conservative Party stall in the town centre of Gravesend, Kent, on Saturday.
Rival election candidates at their own stalls next door said it was "absolutely outrageous" that such a "divisive" figure was in the constituency backing the Conservatives.
Before defecting to Ukip in 2011, Ms Atkinson, 54, stood in the 2010 General Election as the unsuccessful Conservative candidate in Batley and Spen, the Yorkshire constituency later represented by Labour's Jo Cox who was murdered last year by the far-right extremist Thomas Mair.
She was elected as a Ukip MEP for South East England in 2014, but suspended from the party after allegations about her expenses led to a police investigation over possible fraud.
Ms Atkinson always insisted she had been wrongly accused, and in February 2016 police confirmed they would be taking no action against her.
By that time, Ms Atkinson, as an independent MEP, had become the vice-president of the Europe of Nations and Freedoms (ENF) Group, created by Marine Le Pen, the leader of France's far-right Front National.
On her website, Ms Atkinson also expresses her pride at having backed Donald Trump from the beginning of his US presidential election campaign.
She describes herself as "a leading member of the new populist right which believes in Brexit, President-elect Trump and a new European order based on independent nation states trading freely and peacefully".
Ms Atkinson has praised Ms Le Pen's "great courage and leadership", and in January she offered to "facilitate an introduction" between the Front National leader and the UK if she won the French presidential election.
She told Kentnews.co.uk: "If my friend Marine Le Pen wins the French elections this spring then we will see the end of free movement of migrants through France, none of whom are stopped but just waved through in the hope that they get to the UK."
James Willis, the Liberal Democrat election candidate, said he was shocked to spot Ms Atkinson helping Mr Holloway at the Conservative Party stall.
He said: "I am really bothered about this. Vile people like that should not be encouraged by decent moderate parties."
Gravesham, he said, had returned one of the highest Brexit votes in the South-east in the EU referendum, and he worried about possible divisions in a community that has a sizeable Sikh population, as well as immigrants from eastern Europe.
"We have a job on our hands here as it is. I'm getting all sorts of people in the town centre talking to me about migration. The last thing we need is someone coming to whip it up. To have someone like this in Gravesend, someone who cosies up to Marine Le Pen, is absolutely outrageous."
"What are the local Conservatives up to?" he added. "Is this the return of the nasty party?
UK General Election 2017

Show all 47
"To be friends with someone like that, shows they are quite right-wing behind the scenes. Not all of them – some of the young Conservatives I spoke to were unhappy about her being there.
"I don't think Adam Holloway is an extremist, but he has shown bad judgement. Having her at the stand with you when you are supposed to be a reasonable mainstream MP is shocking."
Mr Willis was backed by Green Party candidate Marna Gilligan, who said: "Janice Atkinson is a really divisive figure. We need to be working together in Gravesend, rather than promoting division, which is what she does."
But Mr Holloway, who is defending a majority of 8,370, defended having Ms Atkinson help with his campaign.
"I am delighted to be a friend of Janice," he said. "She can have her views on things. Mine are rather different, but Janice is one of my friends.
"She came to help, and I will take help from any friends when they offer it."
Mr Holloway, a former Army officer and journalist, said he became friends with Ms Atkinson when she he helped him with constituency communication after he was first elected in 2005.
"I have friends of many different viewpoints," he said. "On election day, I have quite a few of my old friends from the media come and help me after they have voted Labour elsewhere.
"I will always be proud of my friends as my friends. What they choose to do is up to them, but I am loyal and if people extend the hand of friendship to me, I will keep hold of it."
On the home page of her website, Ms Atkinson has written in block capitals: "General Election 2017 – I would urge all Ukip voters to back those MPs who voted Brexit, to ensure we have a Prime Minister who makes Brexit happen. Put country first, not party."
A spokesman for Ms Atkinson rejected descriptions of her as someone who sought to create a nasty party or stir up division.
He said: "It's perfectly clear why she was there: Gravesend is very much her part of the world, and she always supports people who campaign for a proper Brexit."
Register for free to continue reading
Registration is a free and easy way to support our truly independent journalism
By registering, you will also enjoy limited access to Premium articles, exclusive newsletters, commenting, and virtual events with our leading journalists
Already have an account? sign in
Join our new commenting forum
Join thought-provoking conversations, follow other Independent readers and see their replies