Jeremy Corbyn blasts Iain Duncan Smith for 'truly shameful' fake quotes promoting benefit sanctions regime
Labour leadership front-runner adds his name to growing list of critics condemning the DWP after it admitted fabricating comments on leaflets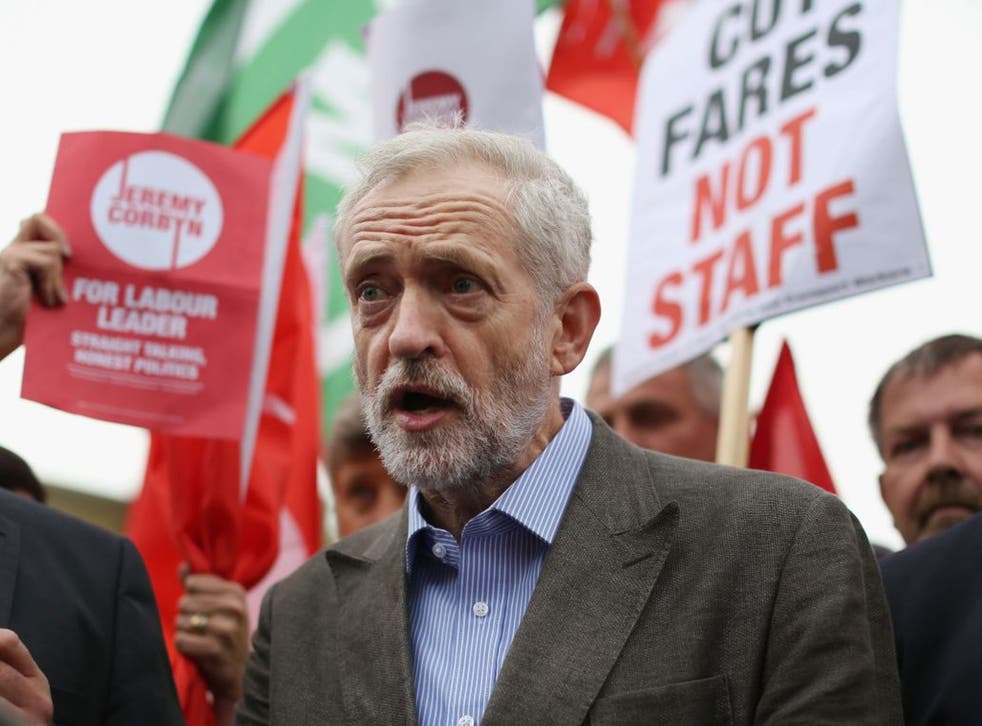 Jeremy Corbyn has described the Government's admission that it used fake quotes to promote its benefit sanctions regime as "truly shameful".
The front-runner in the Labour leadership added his name to the growing list of critics who have condemned the Department for Work and Pensions after it admitted making up comments from supposed "benefit claimants" that appeared in a leaflet about the sanctions system.
Charities accused the Government of misleading the public over the "unacceptable" fabrication of quotes, while the shadow work and pensions secretary Stephen Timms said the admission should lead to the sanctions regime to be scrapped.
But Mr Corbyn, who is on course to be elected Labour leader in less than a month's time, used even stronger language. He told The Independent : "This is truly shameful. The punitive benefit sanctions regime is impoverishing some of the very poorest unemployed and disabled people, driving more people into deeper poverty.
"It is a damning indictment that civil servants are now being forced to make up quotes to cover for the failed political agendas of ministers, after the numerous debacles of Universal Credit, the work capability assessment, and the delays facing disabled people trying to get personal independence payments."
The leaflet, which has now been withdrawn, included positive example stories from people who claimed to have interacted with the sanctions system.
In one example, titled "Sarah's story", a jobseeker is quoted as being "really pleased" after a cut to her benefits supposedly encouraged her to re-draft her CV.
"It's going to help me when I'm ready to go back to work," the fabricated quote reads.
Another, by a benefit claimant supposedly called "Zac", details the sanctions system working well.
But in response to a freedom of information request by the Welfare Weekly website the DWP said the quotes were not actually real cases and that the photos were not of real claimants.
"The photos used are stock photos and along with the names do not belong to real claimants. The stories are for illustrative purposes only," the department said.
The leaflet, a copy of which is available in full at Welfare Weekly, contains no suggestion that the stories are not real.
The controversial sanctions regime, introduced by Work and Pensions Secretary Iain Duncan Smith under the last Government, has also been criticised for operating in an unfair and arbitrary way and has been the subject of legal challenges.
Dan Scorer, head of policy at Mencap accused the Government of misleading the public. "DWP's made up case studies present an unrepresentative view of the sanctions regime and its impact on disabled people," he said.
"Benefits are a lifeline to many people with a learning disability who rely on them to make ends meet. We know many people have been sanctioned because Jobcentre staff don't understand their needs and place unrealistic demands on them while not providing support they need. To mislead the public on the effects of benefit sanctions in this way is unacceptable."
Stephen Timms, Labour's shadow work and pensions secretary, said: "You couldn't make it up – but it seems Iain Duncan Smith can. The only way he can find backers for his sanctions regime is by inventing them.
"Instead of fabricating quotes pretending the system is working, he should scrap unfair sanctions targets for jobcentre staff and do more to protect vulnerable people from facing benefit sanctions."
A Department for Work and Pensions spokesman told the Independent: "The case studies were used for illustrative purposes to help people understand how the benefit system works. They're based on conversations our staff have had with claimants. They have now been removed to avoid confusion".
It wasn't the first time "Sarah" and "Zac" – who have not yet been identified – appeared in government literature as case studies. Though a name wasn't attached, "Zac" can be found in a Department for Work and Pensions' leaflet offering Job Seeker's Allowance (JSA) advice. In contrast to the recent leaflet, however, his JSA was stopped.
"I didn't take part in the Mandatory Work Activity scheme. Then my work coach found me a job that suited my skills but I didn't apply for it, so my JSA has been stopped for six months. If I don't apply for the jobs my work coach asks me to apply for I could end up losing my benefits for three years." (from DWP Job Seeker's Allowance leaflet)
"Sarah" has appeared in another government blog, called The Daily Job Seeker, offering practical advice on interview tips and techniques and information about Universal Credit. Advice under her picture includes "her" top 10 tips "to help get your dream job".
Register for free to continue reading
Registration is a free and easy way to support our truly independent journalism
By registering, you will also enjoy limited access to Premium articles, exclusive newsletters, commenting, and virtual events with our leading journalists
Already have an account? sign in
Register for free to continue reading
Registration is a free and easy way to support our truly independent journalism
By registering, you will also enjoy limited access to Premium articles, exclusive newsletters, commenting, and virtual events with our leading journalists
Already have an account? sign in
Join our new commenting forum
Join thought-provoking conversations, follow other Independent readers and see their replies