Jeremy Corbyn's relaunch dubbed 'day of chaos' after climbdowns on immigration and high pay
Labour leader is accused of embarrassing policy U-turns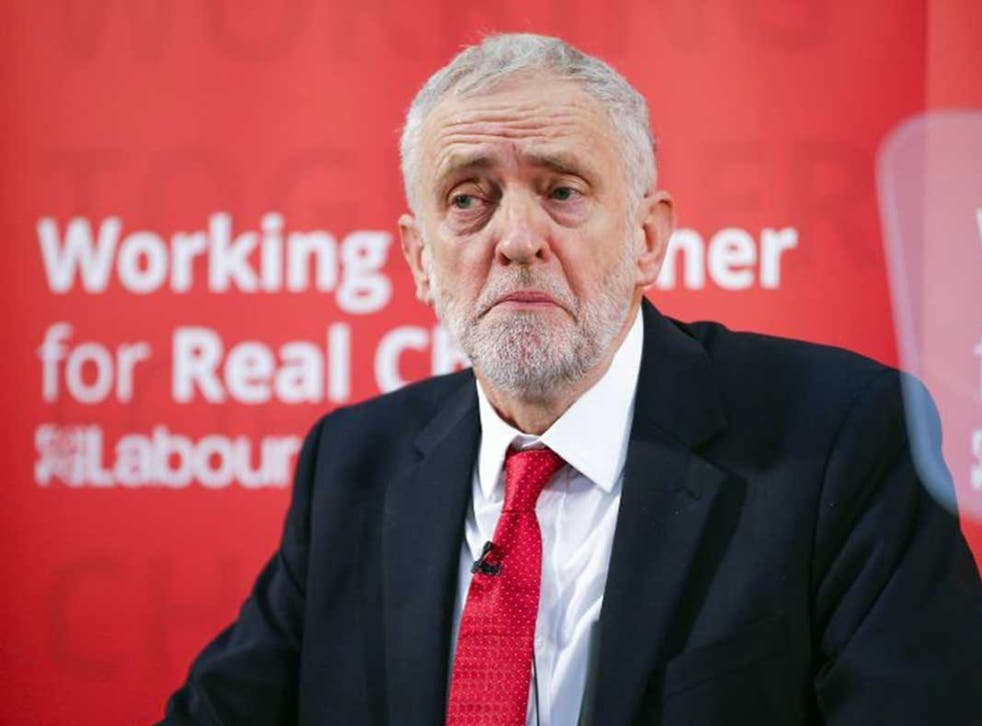 Jeremy Corbyn's leadership relaunch descended into a "day of chaos" when he was forced into embarrassing climbdowns on both immigration and high pay.
The Labour leader left some of his MPs in despair when an apparent pledge to accept the end of free movement of all EU citizens after Brexit was dumped within hours.
His 'relaunch' speech – stating he is "not wedded to freedom of movement" – was altered, confusingly, by adding: "But I don't want that to be misinterpreted, nor do we rule it out."
On high pay, Mr Corbyn sparked even greater confusion, when he suddenly floated – then quickly dropped – an ill-thought out proposal to impose a legal maximum salary.
It was replaced by a plan for maximum pay ratios, but only at companies taking Government contracts.
Any salary above £150,000 at those firms would also have to be signed off by the Cabinet Office, as those of high-earners in the public sector currently are.
However, even those tough proposals could not disguise the U-turn. A spokesman told The Independent that, on high pay, Mr Corbyn had "mis-spoke".
Patrick McLoughlin, the Conservative Party chairman, called it a "day of chaos", saying: "Jeremy Corbyn's day has gone from bad to worse – with his 'relaunch' descending further into chaos.
Jeremy Corbyn calls for 'high earnings cap' to reduce inequality
"Today he showed that Labour simply will not take control over immigration, by saying that he 'doesn't rule out' keeping freedom of movement.
"He suggested a new 100 per cent tax rate, which he U-turned on within hours."
Mr Corbyn proposed an across-the-board maximum pay cap during a radio interview ahead of his first major speech of the year – even though it was billed as focusing on Britain's future after Brexit.
But former close advisers branded the idea "totally idiotic", "lunatic" and "incoherent", while a frontbench ally refused to back the policy.
Instead, speaking in Peterborough, Mr Corbyn suggested the pay ratio cap, set at 20:1, which would impose a ceiling of about £350,000 in any company paying the 'living wage'.
The chief executive of key Government contractors Capita (£2.7m) and G4S (£2.5m), for example, earned many times that sum last year.
Mr Corbyn also floated a kitemark scheme for companies with agreed pay ratios, or for worker-majority boards to be required to sign off executive pay.
He told Labour activists in Peterborough: "This is not about limiting aspiration or penalising success, it's about recognising that success is a collective effort and rewards must be shared.
"We cannot have the CEO paying less tax than the cleaner and pretending they are worth thousands times more than the lowest paid staff."
But, asked about the climbdown, he said: "You could set a limit on top pay. I think it is probably better to look at the ratio issue, because that would then indeed encourage wage rises lower down and ensure a better sharing of the resources and profits in an organisation."
Later, the spokesman said: "He mis-spoke in that interview. What Jeremy was talking about was pay ratios – that's what we have been looking at."
However, Mr Corbyn had gone on to discuss the idea of an over-arching pay cap in a second interview, with Sky, after initially raising it on BBC Radio 4.
On immigration, Mr Corbyn had been expected to say: "Labour is not wedded to freedom of movement for EU citizens as a point of principle."
The late addition, urging the words not to be "misinterpreted", reflected Mr Corbyn continuing to put retaining full single market access ahead of controlling EU migration.
That suggested no real change in policy, despite growing numbers of Labour MPs urging him to accept post-Brexit immigration restrictions, to avoid electoral disaster.
In interviews, Mr Corbyn also made clear his priority remained tackling exploitation of migrant workers and he refused to say he wanted to cut the numbers arriving.
But, asked whether he would rule out visas for EU workers post-Brexit, Mr Corbyn said: "Nothing is ruled out at this stage."
Mr Corbyn also parroted Brexiteers by suggesting savings from EU contributions could fund some of the £350m-a-week notoriously promised for the NHS by Leave campaigners.
Yet respected bodies including the Institute for Fiscal Studies have concluded such savings will be dwarfed by the lost tax receipts from lower growth after Brexit.
And, asked on Radio 4, if he would join the picket lines of striking Southern Rail workers, Mr Corbyn said: "Yes I would because I think Southern Rail have behaved in a terrible manner."
Register for free to continue reading
Registration is a free and easy way to support our truly independent journalism
By registering, you will also enjoy limited access to Premium articles, exclusive newsletters, commenting, and virtual events with our leading journalists
Already have an account? sign in
Register for free to continue reading
Registration is a free and easy way to support our truly independent journalism
By registering, you will also enjoy limited access to Premium articles, exclusive newsletters, commenting, and virtual events with our leading journalists
Already have an account? sign in
Join our new commenting forum
Join thought-provoking conversations, follow other Independent readers and see their replies