Jeremy Corbyn challenges David Cameron to annual TV debate
'No political leader should shrink from the chance to engage more fully with the public'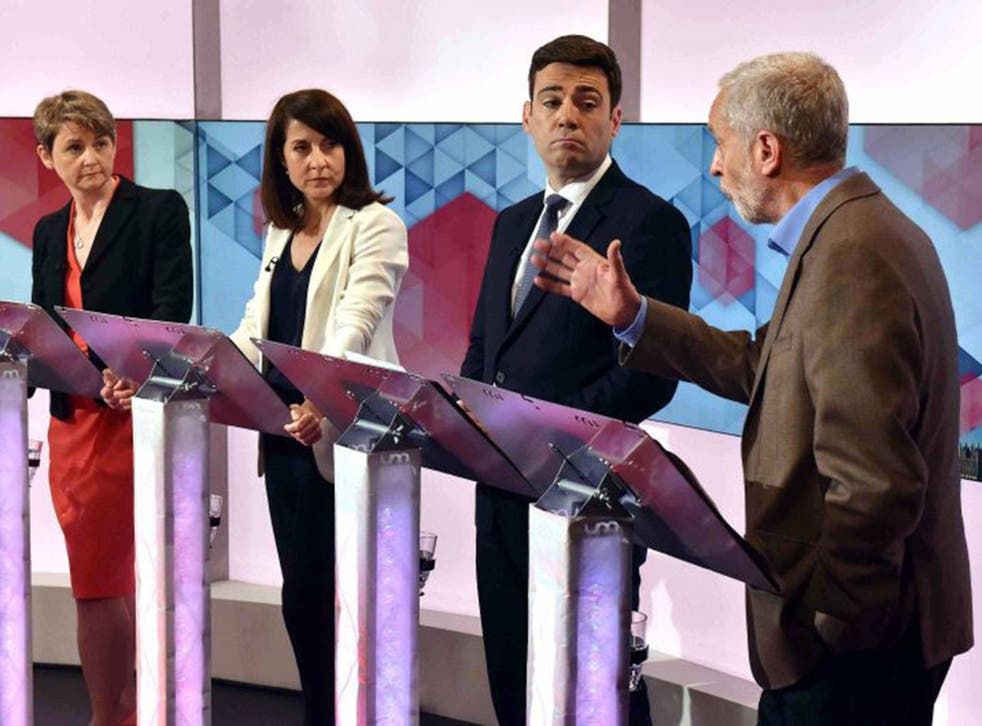 Jeremy Corbyn has challenged David Cameron to take part in an annual, televised "state of the nation" debate between Britain's national political leaders. The Labour leader told The Independent that he hoped the Prime Minister would sign up to a cross-party initiative to debate the dominant issues of the year and allow party leaders to be questioned by voters. He said that "no political leader should shrink from the chance to engage more fully with the public" and to "test their arguments in debate".
Such an event, he added, would help the public to "engage more in politics in way that has been shown to be effective". Labour sources suggested that, if such a debate had been held this year, topics for questions might have included Syrian air strikes, tax credits and the recent flooding in northern Britain.
The Independent approached the Scottish National Party leader, Nicola Sturgeon, and her Liberal Democrat counterpart, Tim Farron, to ask if they would participate. Both said they would endorse Mr Corbyn's plan and take part in the debates if Mr Cameron agreed. Last night, a No 10 source said it would be prepared to "look at the formal details of any proposal".
Mr Corbyn's move comes after an academic study of the televised debates that took place during the last general election campaign found that they had an overwhelmingly positive effect on voter engagement.
The research, by Leeds University, found that the debates increased viewers' interest in politics by 30 per cent; almost half of those who tuned in said they were "not very interested" beforehand.
As many as 70 per cent of first-debate viewers said that they now knew "more about what the party leaders were like" while three-fifths said that they now knew "more about some of the policies that were being put forward".
But since those debates took place, two of the parties that took part have new leaders and Mr Cameron has announced that he will no longer be Prime Minister by 2020.
Mr Corbyn said voters were "entitled" to know more about all the leaders who wanted to represent them outside of elections. "I am challenging the Prime Minister to an annual televised 'state of the nation' debate of the party leaders," he said. "People are entitled to know more about their political leaders and to have their government held to account by the elected opposition in every way possible.
"It is crucial that the Prime Minister and Government are held to account, both inside and outside Parliament, throughout their period in office – not just at election time."
General election 2015: The worst gaffes and controversies

Show all 36
Mr Corbyn said that part of his rationale for proposing the debates was to build on his election campaign and to try to engage more directly with voters. "One of the central aims of my leadership of the Labour Party is to increase the involvement of citizens in politics, and that is a key responsibility of all political leaders," he added. "Democracy relies on the participation of the people. No political leader should shrink from the chance to engage more fully with the public and to test their arguments in debate.
"It is clear that televised debates can engage more people in politics, so we should seize the opportunity to hold them more regularly."
Jeremy Corbyn's first 100 days in 60 seconds
Mr Corbyn did not set out how the debates might operate or when they would take place. However, the election debates were agreed between the parties and broadcasters in the months leading up to the election. Any "state of the nation" debate would almost certainly have to include the seven main Westminster parties and be approved by the Electoral Commission.
Mr Farron said he was prepared to debate with the other leaders "anywhere and at any time". He added: "David Cameron said in 2010 that he supported debates and in 2015 did all he could to avoid them. He has been two-faced about this issue for years. He should, for once in his life, match his words with deeds. I will lay out why the Liberal Democrats are the only real alternative to the Conservatives – both socially just and fiscally responsible."
A spokeswoman for the SNP said Ms Sturgeon was keen to participate. "The televised debates earlier this year brought the election campaign alive and were far, far better for having a full range of participants – unlike in 2010 – which properly reflected the diverse range of political choices," she said.
A No 10 source said: "We will look at the formal details of any proposal. Of course, the PM is happy to be held to account every week at Prime Minister's Questions by MPs."
The televised debates provided some of the most memorable moments of the last two general election campaigns. In 2010, Nick Clegg's strong performance saw the Lib Dems soar in the polls and Mr Cameron and Labour's Gordon Brown clamber over each other to assert: "I agree with Nick".
In 2015, the Tories' reluctance to commit to a lengthy series of debates with less prominent leaders led to months of talks. Eventually, a deal was struck to stage three debates – one head-to-head clash between Mr Cameron and Ed Miliband, one "seven-way" debate between all of the party leaders (Con, Lab, Lib Dem, Green, Ukip, SNP and Plaid Cymru) and a third "five-way" contest for the leaders of opposition parties.
Mr Sturgeon was deemed to have performed particularly strongly, helping to boost the SNP's electoral prospects.
Join our new commenting forum
Join thought-provoking conversations, follow other Independent readers and see their replies