Jeremy Corbyn was in Derbyshire when ex-Czech spy claims they met in London, leader's records show
The Labour leader's spokesman branded the former agent's claims 'utterly ridiculous' as Theresa May joked about them in the House of Commons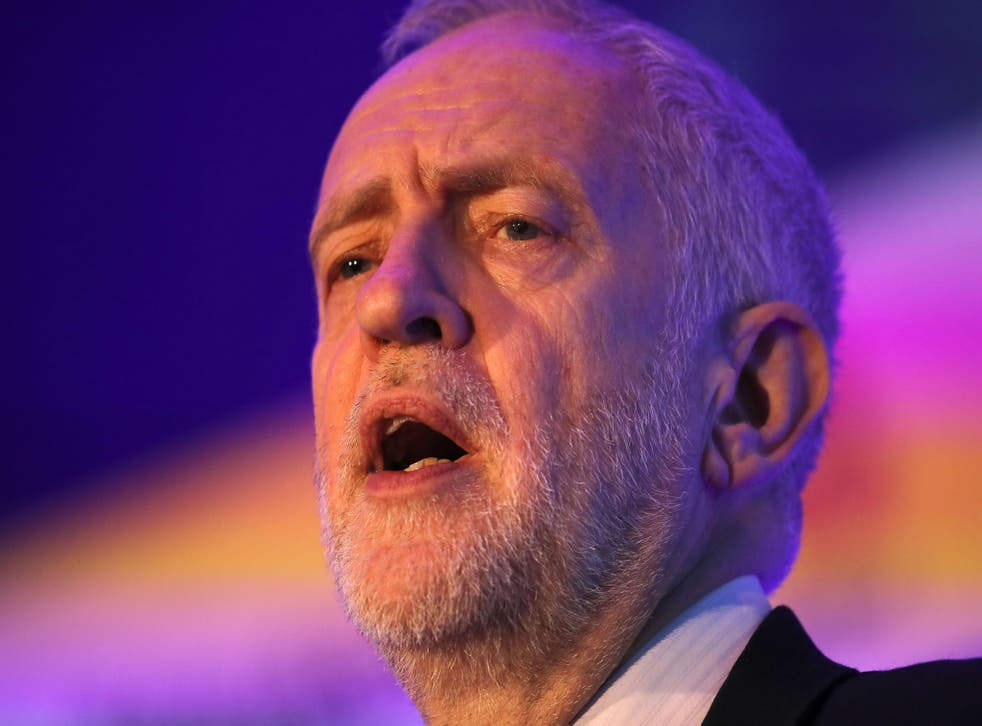 Jeremy Corbyn has revealed he was at a meeting in Derbyshire at the exact time that a former communist spy claims to have been with him in London.
The Labour leader said his records prove he attended a gathering of socialists in Chesterfield in October 1987, when the Czech agent claims to have been talking with him in the House of Commons.
It also happened to be the day after Mr Corbyn's mother died and a Saturday – when the Commons does not sit – making the alleged meeting in Westminster more unlikely.
Mr Corbyn's office released the new details from his records as sections of the press continued to dig for links between the leader and Jan Sarkocy, who has made a string of unsubstantiated allegations.
The Labour leader does accept he met a Czech diplomat once in 1986, but says he had no idea the man was a spy and strongly denies handing over any information.
But Mr Sarkocy is also behind historical documents that have just been released from the Czech archives, which claim there were further meetings.
Addressing claims on Wednesday, Mr Corbyn's spokesman said: "Jeremy recalls having one meeting with a Czechoslovak diplomat in 1986 and that meeting was in the House of Commons.
Jeremy Corbyn denies having worked as a 'Czech spy'
"In the original documents, which you'll remember were secret documents at the time, the agent who claims to have been at the meeting also claimed to have been at other meetings … including having a meeting with Jeremy on the 24th October 1987 in London, in the House of Commons.
"As it happens we can confirm on that day Jeremy was in fact in Derbyshire, at the Chesterfield Socialist Conference."
The new information raises questions over the claims being made by Mr Sarkocy, who also said the Czech government was behind organising the Live Aid concert in 1985.
Mr Corbyn's spokesman went on: "[The October 1987 meeting] was the day after [Jeremy's] mother died.
"There is no possibility that he was at a meeting with a Czech diplomat, or someone posing as a Czech diplomat, in the House of Commons, on a Saturday, in London, at the same time.
"It's just another example of how what is reported as fact, and claimed even in the original documents, let alone in the complete surreal set of allegations ever since, are demonstrably false as well as being utterly ridiculous."
Jeremy Corbyn hits back at communist spy claims
Mr Sarkocy, who worked for the Statni Bezpecnost secret police during the Cold War, says he met Jeremy Corbyn a number of times between 1986 and 1987, including twice in the House of Commons and once in the Islington North MP's constituency office.
The ex-agent also claims other senior Labour figures shared information with Eastern bloc spies, and has alleged that 15 Labour MPs were informers and were paid between £1,000 and £10,000 for information.
Mr Sarkocy, who now lives in Bratislava, also claimed to have personally organised the Live Aid concert in 1985, which he said was "funded by Czechoslovakia".
Labour has hit back in recent days claiming sections of the press in the UK have reported unsubstantiated claims as fact.
Earlier this week, deputy leader Tom Watson wrote for The Independent accusing some newspapers' proprietors of abusing their power to print "poorly sourced" stories simply because it suits their political agenda.
The issue flared up at Prime Minister's Questions after Theresa May made a joke at Mr Corbyn's expense about the alleged meetings. Later her spokesman said politicians had to answer questions from journalists and not "shoot the messenger".
Register for free to continue reading
Registration is a free and easy way to support our truly independent journalism
By registering, you will also enjoy limited access to Premium articles, exclusive newsletters, commenting, and virtual events with our leading journalists
Already have an account? sign in
Register for free to continue reading
Registration is a free and easy way to support our truly independent journalism
By registering, you will also enjoy limited access to Premium articles, exclusive newsletters, commenting, and virtual events with our leading journalists
Already have an account? sign in
Join our new commenting forum
Join thought-provoking conversations, follow other Independent readers and see their replies